DFC Global Corp. (NASDAQ:DLLR) could be one of the last truly cheap financial stocks. Many major financial stocks like Bank of America (NYSE:BAC) seemed to have worked through a lot of litigation and investor pessimism in recent months, which leads me to seek out other industry laggards that could be poised to play catch up. DFC Global is not as well known to many investors as some companies, but that could be creating an even bigger buying opportunity.
It has a significant customer base and many stores throughout Europe, the United States, Canada and other countries. Under a number of different brand names (depending on the country), this company provides secured and unsecured loans to consumers. It also offers a range of financial services such as Western Union money transfers, check cashing, and more. In-store loans and financial services make up about 42.2% of revenues, and it also has Internet lending which comprises nearly 23% of its business and other services account for the rest.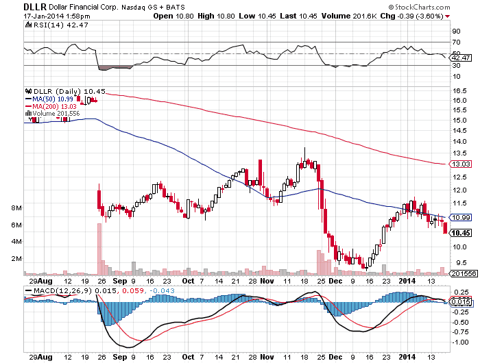 Click to enlarge
As the chart above shows, this stock was trading for about $13 in late November, but then tax-loss selling pushed the shares lower into December. More recently, the stock is showing signs of strength and it is now trading close to the key support level of its 50-day moving average which is right around $11 per share. This move could be positioning the stock to return towards the 200-day moving average which is around $13 per share (and where the stock traded before tax loss selling pressure). However, in the long-term, the upside potential appears much more significant and a higher share price can be supported by a both a strong rebound in earnings and a major share buyback program.
This stock is trading for nearly half its 52-week high because new industry regulations in the United Kingdom have increased costs in the short-term. This has led to a drop in earnings estimates but the decline in the stock price appears overdone since analysts expect earnings to rebound to "normalized" levels in the next few quarters. Furthermore, the stock looks very cheap even based on the "depressed" earnings estimates of about $1 per share for 2014.
However, things get very interesting when you consider that analyst earnings estimates are at $1.75 per share for 2015 and $2.97 per share for 2016. That is the kind of earnings rebound that could make this stock a potential multi-bagger in the next year or two. It's very important to note that DFC Global is already almost halfway through its fiscal year for 2014, as it will be reporting second quarter earnings (for fiscal 2014) on January 30, 2014. This means that those much higher earnings estimates for fiscal year 2015 and 2016 are a lot closer than many investors realize.
Even though analysts expect the company to return to much higher levels of profits in the coming quarters, that hasn't stopped some attorneys from filing shareholder lawsuits claiming that the company did not adequately disclose these "fiduciary" issues (such as a potential temporary drop in earnings) to shareholders. As most experienced investors know, these types of lawsuits happen to public companies all the time and are often a sign of a bottom in the stock as some investors sell cheap over "headlines" that often end up being nothing of substance relative to the big picture.
It's worth thinking about how many investors made the mistake of selling Bank of America share over litigation headline risks. I am using the current weakness caused by these repeated press releases by attorneys to accumulate the stock. This company remains profitable and the new industry regulations in the United Kingdom is likely to end up boosting profits for DFC Global in the long-term as smaller lenders that don't have adequate compliance resources go by the wayside.
DFC Global has a solid balance sheet with about $205 million (which is equivalent to over $5 per share) in cash, and this reduces risks for investors. It also gives the company the financial flexibility to pursue new business opportunities and other shareholder friendly activities like stock buybacks. This company bought back about 1 million shares in the first quarter of fiscal 2014 at an average price of $13.10, which completed its 5 million share re-purchase authorization. It's worth noting that this company only has about 38.8 million shares outstanding and what seems to be little known by the market is the fact that this company recently authorized another 4.5 million shares to be bought under a newly authorized share re-purchase plan.
That means the company plans to buy more than 10% of the outstanding shares which indicates that management believes the stock is undervalued. This 4.5 million share buyback could keep regular buying pressure on the stock, and it could also boost earnings per share in the future. Since the company was buying 1 million shares at about $13, last quarter, and with significant earnings rebound potential, the recent weakness appears to be an ideal buying opportunity.
Analysts at Credit Suisse are bullish on this beaten-down stock and gave it an outperform rating and set an $18 price target. In the short-term, I believe this stock is heading back to $13 which is the key level of the 200-day moving average, but in the long-term, the upside potential could be somewhere around $30, if the company earns nearly $3 per share for fiscal year 2016, based on a price to earnings ratio of about 10 times.
Here are some key points for DFC Global:
Current share price: $10.60
The 52 week range is $9.25 to $19.97
Earnings estimates for fiscal year 2014: 97 cents per share
Earnings estimates for fiscal year 2015: $1.75 per share
Earnings estimates for fiscal year 2016: $2.97 per share
Annual dividend: n/a
Data is sourced from Yahoo Finance. No guarantees or representations are made. Hawkinvest is not a registered investment advisor and does not provide specific investment advice. The information is for informational purposes only. You should always consult a financial advisor.
Disclosure: I am long DLLR, . I wrote this article myself, and it expresses my own opinions. I am not receiving compensation for it (other than from Seeking Alpha). I have no business relationship with any company whose stock is mentioned in this article.