At CES 2014, we were able to get a closer look at Qualcomm's (NASDAQ:QCOM) Snapdragon 805 and Adreno 420 GPU. It's safe to say that Qualcomm's dominant market position will remain well-established going into 2014, despite Intel's (NASDAQ:INTC) entry into 4G LTE modems, mobile processors (Bay Trail), and graphics.
Qualcomm Snapdragon 805
The Qualcomm Snapdragon 805 is a 2.5 GHz quad-core Krait 450 CPU. The Snapdragon 805 comes paired with the Adreno 420 GPU, which is expected to be 40% faster than its predecessor (Adreno 330).
Source: AnandTech
The above picture by AnandTech illustrates the performance difference between the Adreno 420, which had a GPU utilization of 57%, versus the Adreno 330, which had a GPU utilization of 100%. The full 40% performance gain was proven in a real-world test, which implies that Intel is falling even further behind on the graphics front.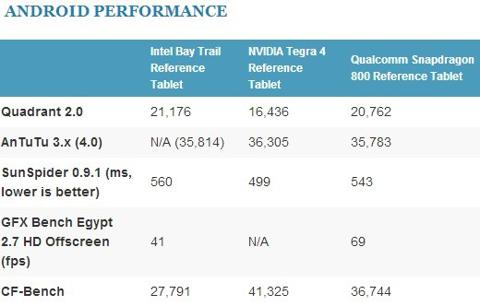 Source: Hardware.Info
In previous tests, the Intel Bay Trail Atom Z3770 fell short on graphics benchmarks when compared to the Snapdragon 800. What's worse is that the Snapdragon 805 SoC is going to push an additional 40% performance gain against the Intel-based chip. The spread between graphics performance is why Samsung is going with the Snapdragon 800 and Adreno 330 for the Samsung Galaxy S5, despite the performance advantage that Intel has when it comes to its CPU. While Intel boasts of the best processing tech roadmap, it gets crushed when it comes to both graphics and modem technologies, making Qualcomm the better option for mobile OEMs overall.
What's worse is that Intel doesn't have modem technologies that can compete with Qualcomm yet. Its most recently released modem, the Intel XMM 7160, comes with 4G LTE support but doesn't have LTE-Advanced technologies, TD-SCDMA, and TD-LTE. This is a huge blow to Intel, because it doesn't support the LTE FDD technologies that China Mobile (NYSE:CHL) is using for its cell towers. LTE-Advanced technologies can generate peak rates up to 1Gbps versus the 300Mbps for 4G LTE.
Granted Intel is hoping to release the XMM 7260 within 2014, which will support LTE-Advanced, TD-LTE, and TD-SCDMA. This will keep Intel's modem technologies relevant enough to compete with Qualcomm's SoCs. But then again, Qualcomm will have better graphics capabilities despite running on 28nm manufacturing tech. It was only recently Intel decided that graphics was going to be an important component to its long-term business strategy.
Qualcomm's next-generation modem (MDM9x35) is expected to ship with the Snapdragon 805 and Adreno 420, which gives the company the most superior system on chip for the first half of 2014.
The MDM 9x35M is expected to come in 20nm manufacturing tech with further carrier support using the WTR3925, which is Qualcomm's first single-chip carrier aggregation solution, according to AnandTech.
Intel will not make any significant headway in the mobile space despite the vast improvement in its mobile CPU, GPU, and modem technologies. Things are expected to brighten assuming Intel's transition to 14nm Cherry Trail goes smoothly. Intel's Cherry Trail mobile SoC is expected to come in the first quarter of 2015, implying that Qualcomm has plenty of time to release a 20nm GPU and CPU solution in the second half of 2014. Also, Taiwan Semiconductor Manufacturing (NYSE:TSM) is expected to have 16nm FinFet technologies by November of 2014, which should give Qualcomm enough time to release a 16nm mobile GPU and CPU in the first quarter of 2015. The Cherry Trail (14nm) arrives in the first quarter of 2015, but will most likely be outclassed in terms of graphics and modem technologies.
Qualcomm Snapdragon 805 expected in the Nokia Lumia 1525 and 1820
Nokia's next flagship product is the Nokia 1820 (NYSE:NOK), which will use Qualcomm's fourth generation MDM 9x35M, making for an easier global launch of the handset. Qualcomm's fourth generation Gobi modem will allow Nokia to market and sell one version of its upcoming handset.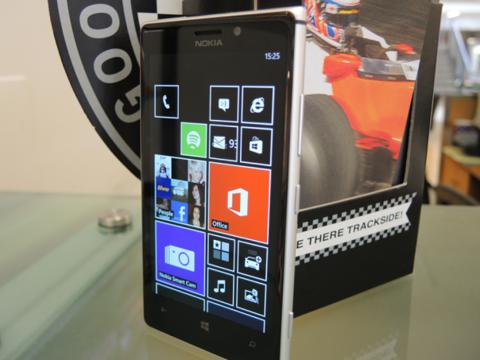 Source: Stuff
The upcoming Nokia handset is expected to come with a 2048x1080p resolution display at 5.2''. The device will pack the Windows Mobile 8 OS, and is Microsoft's (NASDAQ:MSFT) most well-timed mobile product update to date. The Snapdragon 805 won't be ready until the end of Q1 2014, which misses the expected timing of the Samsung (OTC:SSNLF) Galaxy S5 launch. The Galaxy S5 will come with Snapdragon 800 in order to push for an earlier release date. On the bright side, the Samsung Galaxy S5 will have superior display technologies and an updated version of the Android operating system (Android 4.4 KitKat).
The Nokia Lumia 1820 will come with a 3,200 MHa battery, and 3GB of RAM (nearing the 4GB threshold for taking advantage of a 64-bit Windows OS version). The phablet version of the device (Lumia 1525) will come with a 25/30 MP camera, and a 6" display.
It looks like Microsoft's product roadmap is well on track. The timeliness of Qualcomm's CPU, GPU, and modem technologies has put Intel out of the mobile race for 2014. Qualcomm also operates at greater economies of scale, giving it a well-established price advantage in the event of an Intel and Qualcomm price war.
The Nokia Lumia 1525 looks to be the most superior device overall for Q1 2014. It inches ahead of the Samsung Galaxy S5 because of the better hardware specs, and the utility of the Windows 8 mobile OS (Windows applications are expected to become cross-compatible between PC and tablets when Windows 9 is released in 2014, according to industry rumors).
Conclusion
With Qualcomm securing its SoCs across Samsung's, Sony's, HTC's, and Nokia's next-generation flagship products, we can safely ignore Intel's presence in mobile for 2014. Towards the second half of 2014, I can't help but anticipate another product update by Qualcomm that would incorporate a 20nm GPU and CPU into its SoCs. Granted, even at higher manufacturing tech, Qualcomm's graphics solutions are superior to Intel's Bay Trail platform. Also, Qualcomm's modem technologies are likely to experience another update by the time Cherry Trail is in distribution in the first quarter of 2015. Since Qualcomm's position in modems, CPU, and graphics looks well-established between fiscal year 2014 and 2015, I think Qualcomm and TSM remain the safest bets for those who want exposure to mobile semiconductors.
The upcoming Nokia handset is definitely a game changer. Somehow, Microsoft was able to time its product launch better than Samsung. I think that Microsoft will firmly establish its operating system going into 2014 based on the specs of the Nokia handset. Microsoft has both the expertise and financial resources to compete head-to-head with Samsung. This implies that Samsung's blanket marketing will be countered by Microsoft's trash talking going into the first and second quarter of 2014.
Disclosure: I have no positions in any stocks mentioned, and no plans to initiate any positions within the next 72 hours. I wrote this article myself, and it expresses my own opinions. I am not receiving compensation for it (other than from Seeking Alpha). I have no business relationship with any company whose stock is mentioned in this article.