Analysts are forecasting another drop in earnings this quarter for Johnson & Johnson (NYSE:JNJ). JNJ finds its greatest source of revenue through its pharmaceuticals division. However, in recent quarters, JNJ has seen the output of its R&D decrease as the pressure has now mounted for the company to develop more drugs and get them approved. Nevertheless, JNJ has seen a slow increase in revenue, thanks to sales in its over-the-counter medications. In addition, though this quarter might not be a great increase in EPS, JNJ is preparing to release a new batch of products that may help push growth to new heights in the next few quarters.
Johnson and Johnson is expected to report FQ4 2013 earnings on January 21st. The information below is derived from data submitted to the Estimize platform by a set of Buy Side and Independent analyst contributors.
The current Wall Street consensus expectation is for JNJ to report $1.20 EPS and $17.923B revenue while the current Estimize.com consensus from 21 Buy Side and Independent contributing analysts is $1.24 EPS and $17.996B revenue. The magnitude of the difference between the Wall Street and Estimize.com consensus numbers often identifies opportunities to take advantage of expectations that may not have been priced into the market. In this case, we're seeing a smaller differential between the Estimize and Wall Street numbers compared to previous quarters.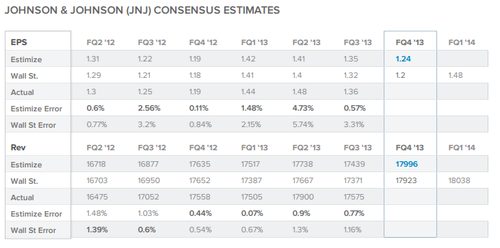 Over the past four months the Wall Street consensus trend for EPS has fallen from $1.32 to $1.20 while Wall Street revenue expectations have increased from $17.371B to $17.923B. The Estimize EPS consensus has shot up this quarter with EPS going from $1.22 to $1.24 and the revenue has increased from $17.439B to $17.996B.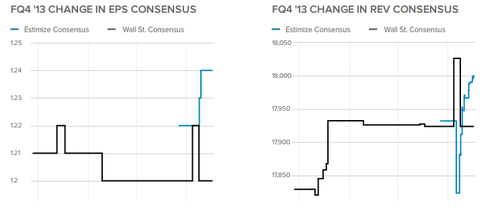 Over the previous 6 quarters, JNJ has beaten the Wall Street consensus for EPS and revenue every time. Over the same time period JNJ has beaten the Estimize EPS consensus 4 times and the Estimize Revenue 3 times.
The distribution of estimates published by analysts on Estimize range from $1.18 to $1.27 EPS and $17.497B to $18.150B revenues. We're seeing an average distribution of estimates this quarter for JNJ compared to previous quarters. The size of the distribution of estimates relative to previous quarters often signals whether or not the market is confident that it has priced in the expected earnings already. A wider distribution signaling the potential for greater volatility post earnings, a smaller vice versa.
The analyst with the highest estimate confidence rating this quarter is Gordon who projects $1.25 EPS and $17.835B in revenue. Estimate confidence ratings are calculated through algorithms developed by our deep quantitative research which looks at correlations between analyst track records and tendencies as they relate to future accuracy.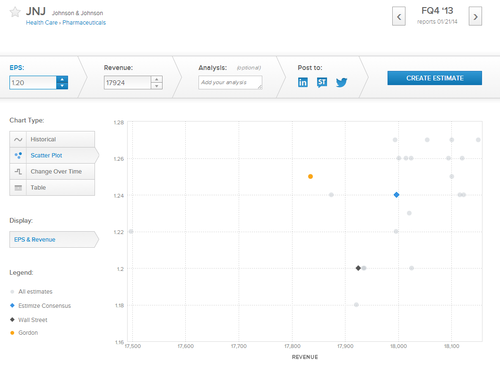 Although EPS fell this quarter, analyst views on JNJ are still optimistic. JNJ has a broad consumer reach with its diverse product lines. Despite the decline in expected EPS this quarter, JNJ still hasn't exactly run out of gas. With a new product line of drugs coming out, analysts are expecting JNJ to put up better numbers in both EPS and revenue in the next few quarters.
Disclosure: No positions