The existence of cell free DNA and RNA in the human circulatory system has been known since the 1950s; however, intensive research in this area has been conducted for the last ten years. One of the companies that have been making progress in this area is Trovagene (NASDAQ:TROV), a small-cap diagnostic company that has a unique technology platform, which is capable of analyzing systemic cell-free DNA and RNA isolated from urine. The company's proprietary technology has the potential to provide truly non-invasive diagnostic capabilities across various disease areas and health conditions, including cancer, infectious diseases, transplant medicine and prenatal diagnostics. However, Trovagene is primarily focused on developing a platform of diagnostic tests to monitor key mutations that drive cancer. The company's technology platform requires further validation, but based on early available data, there could be a significant market opportunity for Trovagene's technology longer-term.
This week, I have the pleasure of having Trovagene's CEO Dr. Antonius Schuh speak on his company and his expectations for the future. Dr. Schuh was named President and CEO of Trovagene in October 2011 and was simultaneously appointed to the firm's Board of Directors. Prior to joining Trovagene, Dr. Schuh served as Chairman of the Board and CEO of Sorrento Therapeutics (NASDAQ:SRNE), a biopharmaceutical company based on a proprietary fully human antibody discovery platform. From April 2006 to September 2008, Dr. Schuh served as CEO of AviaraDx, a molecular diagnostic testing company focused on clinical applications in oncology. In 2008 He led the sale of the company to bioMerieux. From May 2000 to April 2006, Dr. Schuh served as CEO of Arcturus Bioscience and President and Chief Executive Officer of Sequenom (NASDAQ:SQNM). Dr. Schuh is a certified pharmacist and earned his PhD in pharmaceutical chemistry from the University of Bonn, Germany.
Ben Yoffe: Dr. Schuh, how unique and potentially productive is Trovagene's cell-free molecular technology?
Dr. Schuh: Our uniqueness lies in our ability to utilize cell-free DNA in urine for diagnostic purposes in general and for cancer monitoring in particular; we are the only company using urine as a platform to develop multiple molecular diagnostic tests that can monitor cancer and the impact of treatment. We have pioneered the idea and refined the ability to detect rare genetic mutations in urine, which has only recently become commercially feasible due to the advances in molecular genetic technology (Digital PCR and Next Generation Sequencing).
In addition, our diagnostic tests are designed to monitor oncogene mutation levels in the urine of cancer patients to provide information useful for the selection of the most appropriate drugs and to determine the effectiveness of treatment. As a result, cancer therapy can be modified, if needed, to better treat the disease and improve an individual's treatment outcome. Additionally, if a treatment is not producing an effect, there is no need for the patient to be subjected to the therapy and its side effects. Using our technology, a clinician may find, in near real-time, that switching to a different treatment may be warranted, and importantly, the healthcare system only pays for those treatments that are benefiting the patient. In fact, new research is emerging that cancer patients should be treated based on the "actionable" mutation driving the cancer, rather than simply treating the cancer based on anatomical site (ex. breast, lung, colon cancers), which supports the use of our tests. Our diagnostics can eventually also enable cancer survivors to take a simple urine test once or twice annually to determine if their cancer has returned. Early detection of a recurring cancer can give patients a much greater chance of beating that cancer again, and living longer. This is true personalized medicine and we are focused on developing a new standard of care to manage cancer.
Yoffe: Could you tell us a little about the intellectual property portfolio that the company has built around its proprietary?
Dr. Schuh: Cell-free DNA (or cfDNA) in urine is comprised of very short genetic sequences. This demands specific extraction, purification and detection approaches. TROV is the technology leader in the detection of short cfDNA in urine and has controlling method IPs. Further, the company is building a portfolio of composition-of-matter IP around the specific assays that the company designs.
Yoffe: Trovagene has recently launched its cell-free BRAF oncogene diagnostic which is the first commercially-available urine-based cancer mutation monitoring test. Could you describe the commercial opportunity that exists around the launch?
Dr. Schuh: The value proposition at Trovagene is about a platform of urine-based molecular diagnostic tests to detect and monitor actionable mutations that drive the many types of cancer. As such, Trovagene's value proposition is not about one test and its sales ramp right out of the gate. Having said that, the launch of our BRAF mutation test is significant because now clinicians can begin to use this test to monitor the progress of treatment for BRAF-associated cancers like melanoma, demonstrating the value of our technology. Importantly, many new cancer therapies that target specific mutations are emerging, making our platform that much more valuable for the monitoring of such treatments and their effectiveness in the real world. Our solution fits with companies like Foundation Medical (NASDAQ:FMI), which is tailoring treatment to individual cancer patients by utilizing clinical tests to evaluate mutational status at the biopsy stage and to determine appropriate cancer therapy. Our technology builds upon this approach with an ability to monitor qualitative and quantitative changes in mutations as therapy proceeds. The clinical and commercial opportunity is large, as demonstrated by the value the market is placing on shares of FMI. Meaningful revenues from our platform are expected to really begin next year as more of our urine-based oncogene tests are launched, physician awareness of our tests becomes more widespread, and appropriate reimbursement levels for our tests are in place. Our goals in 2014 are based around these three initiatives as well as entering into partnerships and collaborations to further validate the utility of our platform. In the near-term, we believe that value creation for Trovagene should be based on the launch of our tests, the adoption of our tests by major cancer centers under clinical collaborations, and additional strategic partnerships with pharmaceutical companies and larger life science or diagnostic companies that are expressing interest in the utility of our platform.
Yoffe: Are there other tests expected to be launched in the upcoming months?
Dr. Schuh: With the integration of next generation sequencing as a detection platform into our analytical process, we will expand coverage to a set of KRAS mutations in the near-future. Subsequent coverage extensions will include EGFR and PIK3CA mutations. An estimated 2.3 million Americans are actual cancer patients or cancer survivors who could benefit from monitoring their BRAF, KRAS, or PIK3CA-mutationstatus regularly. For the treatment of cancers associated with EGFR mutations, such as lung cancer, understanding the specific mutation status of EGFR, including mutations like T790, can significantly influence treatment choices. Given that lung cancer is the most common cancer in the world, detecting and monitoring for EGFR mutational status also can be a large opportunity.
Yoffe: Can you provide insight into your commercialization strategy?
Dr. Schuh: We continue to enter into collaborations with major cancer institutions and treatment centers to develop data on the clinical utility of our cell-free molecular diagnostic tests. We recently issued a press release on our collaboration with US Oncology, a subsidiary of McKesson (NYSE:MCK). As additional data is presented at medical meetings, and doctors using our tests in clinical trials become familiar with the benefits of near real-time monitoring of cancer mutations, the broader medical community is expected to begin adopting our technology for use in practice. We are supporting these efforts by ensuring that physicians and patients are not denied access to our tests due to early reimbursement bottlenecks, which goes hand-in-hand with building the body of clinical evidence demonstrating the value of using our urine-based cancer monitoring tests to improve patient outcomes.
Yoffe: What are your plans with respect to reimbursement?
Dr. Schuh: Reimbursement for our novel tests is a top priority, as physician and patient access to our technology is key to widespread adoption of our products. To gain initial reimbursement, our qualitative tests will be billed and reimbursed under established Tier I codes for their respective mutation (i.e. BRAF, KRAS, EGFR, etc.). These are CPT codes from the American Medical Association (MoPath system), which should enable us to bill and obtain reimbursement for our tests without much issue. As we develop our tests and demonstrate novel clinical utility in cancer monitoring, supported by our high analytical sensitivity, quantitative performance over a large dynamic range, and clinical experience, then Trovagene will pursue a "Not Otherwise Classified" (NOC) code for billing and reimbursement. Under these conditions, premium pricing is expected. Over time, Trovagene will pursue a permanent CPT code for its cancer monitoring diagnostics once sufficient value is being assigned under the NOC code system. We will engage with 3rd party payors including integrated healthcare networks and Medicare for reimbursement of our tests, with the goals of obtaining strong adoption of our tests, positive coverage decisions, and appropriate valuation of our tests on a widespread basis over time. We believe the proper groundwork has to be laid in order to maximize the value of our test platform, and 2014 is about developing clinical evidence and interacting with payors for our initial diagnostics such that in 2015, we can gain real market traction.
Yoffe: How is the company funded, and for how long could the current funding carry it?
Dr. Schuh: Trovagene ended 3Q 2013 with $27.8 million in cash. We stated on our 3Q 2013 earnings call that "We are comfortable with our financial position, and our ability to create shareholder value". We have also stated that "We believe our current cash position will enable us to meet our operating needs through 2014". In the first three quarters of 2013, the company's cash burn averaged about $1.8 million per quarter, so based on that math, the company has an ample cash runway to execute on its business plan. As Trovagene develops additional tests and commercializes them, the use of cash is expected to rise. However, we also have potential to raise non-dilutive capital should we enter into partnerships with other diagnostic and pharmaceutical companies seeking to leverage our technology.
Yoffe: In closing, could you please summarize the key events that could maximize shareholder value in the next 12 months?
Dr. Schuh: We expect the following key events and milestones to occur over the next 12 months, which should maximize shareholder value in both the near-term and long-term:
Additional partnerships with larger molecular diagnostic (or life science) companies and pharmaceutical companies
Additional clinical collaborations with major academic centers and institutions
Additional diagnostic test launches including those targeting KRAS, EGFR, and PIK3CA mutations
Announcements of clinical data supporting the utility of our cancer monitoring tests
Presentations and/or peer-reviewed publications of such clinical data at key medical conferences and/or medical journals, respectively.
Monetizing value from non-core applications of our platform in other diseases or conditions via out-licensing opportunities (HPV, prenatal genetics, transplant monitoring).
Conclusion:
TROV is targeting launch of the transrenal cell-free (CF) KRAS mutation assay in its CLIA lab and signing on additional clinical study partnerships with leading oncology centers and pharmaceutical and biotech companies by year-end. Based on early available data, there could be a significant market opportunity for Trovagene's technology longer-term, which could represent significant upside for shareholders.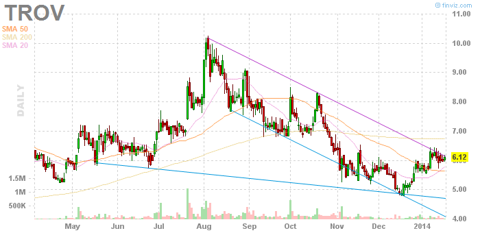 Disclosure: I have no positions in any stocks mentioned, and no plans to initiate any positions within the next 72 hours. I wrote this article myself, and it expresses my own opinions. I am not receiving compensation for it (other than from Seeking Alpha). I have no business relationship with any company whose stock is mentioned in this article.