I recently wrote an article that outlined my decision to own a risk allocation of Annaly Capital (NYSE:NLY). While I still believe that the stock should be viewed as a dividend opportunity, risk position, dividend income seeking investors could actually see some capital appreciation as well. I am basing my opinion on the action of the longer-term interest rate movement since the Federal Reserve announced the beginning of tapering of its quantitative easing program in December.
The fact of the matter is that the fear of tapering and the pursuant rapid interest rate rise and fluctuations, in many aspects led to the disruption of the mREIT business model. Simply put, the sector couldn't keep up with all of the gyrations. In reality, since the tapering actually began, interest rates have been reasonably stable!
Take a look at this chart as it relates to the share price of NLY since tapering began: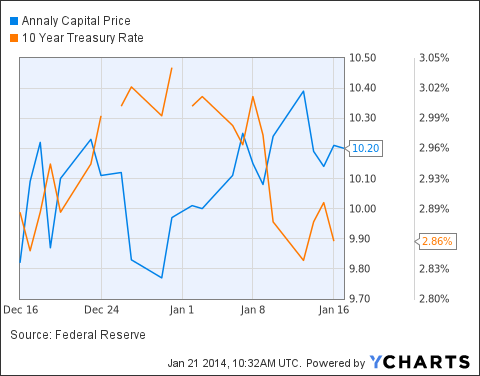 The blue line is the share price of NLY and the orange line is the 10-year Treasury rate. As soon as it became apparent that interest rates would not (at this time) spike higher, quicker, and out of control, the share price of Annaly began to increase, and level off.
As far as I am concerned, this is an indicator that owning shares of Annaly, and even American Capital (NASDAQ:AGNC) could be advantageous to dividend income seeking investors right now.
Why Did The Fed Decide To Taper?
The speculation of tapering obviously was far more of a concern than the announcement that the Fed would actually begin. It based its decision mainly on the following chart: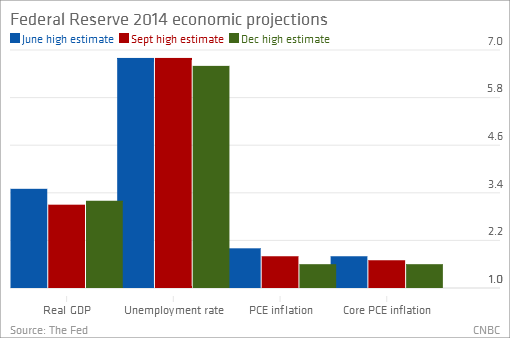 A rise in the GDP showing improvement in the economy.
A relatively rapid drop in unemployment showing greater strength in hiring.
A stable, if not dipping, inflation rate showing price stability.
The Fed did not go into the QE "forever" debate as so many pundits have pointed to, and did not touch on the fact that the buying of mortgage-backed securities and longer-term treasuries could NOT go on indefinitely.
The overall market itself responded favorable with an increase in the Dow of more than 150 points. This also led to the tipping point for the mREIT sector as now it would actually see the after affects of the announcement. As far as I can tell, thus far of course, it was much ado about nothing!
Of course leading up to the announcement had basically all of the uncertainty itself.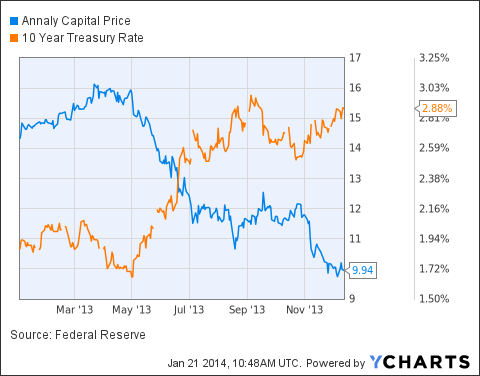 You can pinpoint the time when the talk of tapering began to put fear into the sector right around mid summer, 2013. I do not claim to be a great market timing, but clearly this time was almost perfect. I bought a risk position at $9.77/share (I could not get the $9.65/share price I was seeking). Actually it was not about timing, but about watching the actual events unfold. It is always nice to be accurate, and lucky.
So What Lies Ahead?
Well, as we all know, the jobs number came in pathetically low and might not be just an anomaly. As noted in this Fox Business report:
The U.S. added a meager 74,000 jobs last month despite December typically seeing a surge in hiring in seasonal retail sales for the holiday shopping season...A few days later retail giant Macy's (NYSE:M) announced it was slashing 2,500 U.S. jobs in an effort to save $100 million a year. Macy's stock leaped the next day. That's great for investors but not so much for those facing layoffs...Then banking giants Bank of America (NYSE:BAC), JPMorgan Chase (NYSE:JPM), and Wells Fargo (NYSE:WFC) all reported quarterly profits that beat Wall Street's expectations this week. All three banks slashed payrolls last year: BofA announced plans in October to cut more than 4,000 jobs; JPM reduced its workforce by 7,557 last year (with plans to cut thousands more in 2014) and Wells Fargo shed 6,200 jobs.
So let's see; if the retail and banking sectors offers a clue as to jobs growth and employment, then it appears that these two enormous sectors are not hiring, but firing! To me this does not bode well for jobs growth right now. On the other hand, since job growth has seemingly stalled, and inflation or wage growth is still non-existent, that gives me a clue that the economy is still sluggish and further tapering, or accelerated tapering, might not happen for quite some time.
The key takeaway for me, is that we should be in for a relatively stable interest rate environment for another extended period. That would seem quite positive for NLY and the mREIT sector.
Short Term Rates Are Still Solidly In Place
While the Fed announced the beginning of tapering, it also re-affirmed its stance as to ZIRP (zero interest rate policy) for the short-term rates as noted in this WSJ article:
...ZIRP is here to stay at least until its sixth birthday (and likely longer). The Fed will be working hard, today and in coming months, to convince investors that its interest-rate target isn't moving off the floor for quite some time.
With short term rates staying at near zero, and a more stable interest rate environment for longer-term rates, I believe that even though the mREIT sector will continue to face the usual headwinds, NLY will be able to adjust its hedging, define its level of leverage, and "turnover its inventory". In my opinion that should mean a more stable dividend in 2014/2015 as well as if not a rising share price, a stable share price.
The Bottom Line
We have already put a toe into the Annaly waters with a risk allocation to benefit from the current dividend. If we stay within a risk allocation, now might be a good time to go to the high end of that risk allocation (for me, it is 4%).
Dividend income seeking investors should benefit from this more stable interest rate environment with shares of NLY.
Disclaimer: The opinions of this author is not a recommendation to either buy or sell any security. The author is NOT an mREIT expert and investors should do their own research prior to making any investment decisions.
Disclosure: I am long NLY, WFC. I wrote this article myself, and it expresses my own opinions. I am not receiving compensation for it (other than from Seeking Alpha). I have no business relationship with any company whose stock is mentioned in this article.