The majority of investors want to wait and see what the Fed has to offer at next week's FOMC meeting before taking the plunge. The rest have managed to invest in a not so quiet forex market, where a number of currencies are beginning to test their multi-year outright lows. Expect the US "token" taper to remain on the table, especially now that recent data is looking on the bright side, and this despite last month's disappointing jobs report. That dismal headline print has been successfully explained away under the pretext of weather irregularities. Up until now the forex market has been under the impression that any notion of Fed tapering is data-dependent. This may not be wholly accurate as U.S. policymakers are increasingly keen to reduce the Fed's monthly asset purchases with or without any noticeable improvement on the jobs front.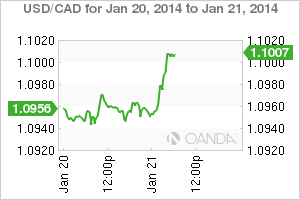 Global rate divergence is expected to be one of the main drivers of the forex market throughout this year. Tomorrow the Bank of Canada gets to comment on its own monetary policy and on a currency that has given up close to -6% since the October central bank meeting. Back then; Governor Poloz happened to omit their tightening bias, one that was inserted 12-months prior by Governor Carney. The omission of a few words has many believing that the loonie has further to fall against its largest trading partner, the US. Mind you, Canada's own horrid December employment report has not helped the loonie's flight of late. Earlier this morning the CAD managed to fly through 1.1O for the first time since 2009. A dovish reaction by Canadian policy makers will justify the loonie's downfall so far in 2014. Governor Poloz could easily strengthen the language on disinflation or maybe even revise inflation forecasts lower – it's because of this that the majority prefer being short CAD outright and with many investors looking to add to their USD position on dips.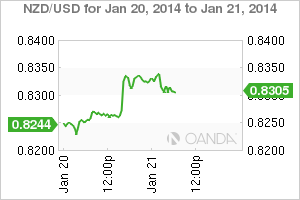 New Zealand, Australia and Canada all report December inflation numbers this week and the market is anticipating further divergence amongst the commonwealth counterparties. Disinflation is less of a concern for the antipodeans, with both the Kiwi's (+0.1% q/q) and the Aussies expected to show a pickup in CPI. The market seems to be getting ahead of itself when looking at the Kiwi's futures rate market. Thus far, the fixed income market has priced in nearly +110bps over a 12-month horizon. This is probably a tad rich, especially with Governor Wheeler from RBNZ continuing to keep an eye on their strong NZD (0.8309).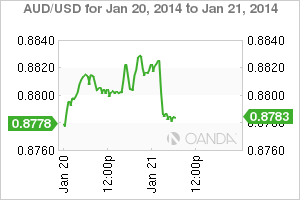 For the Aussies, concerns over China's slowing economic growth and EM currency outflows could eventually end up weighing down the AUD even more. For now, the PBoC has been able to inject funds into the financial system by expanding a lending facility to include smaller banks as rising cash demand before the Lunar New Year has managed to drive money-market rates up by the most in seven-months. This increased liquidity will keep money markets rates on the straight and narrow while temporarily supporting the regional bourses and a tapped out AUD for the time being. If commodity currencies were unable to gather strength from the PBoC actions, it would suggest that owning any of them would get more expensive over time.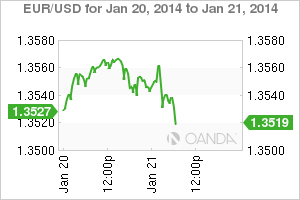 It's near impossible for the 18-member single currency to escape any form of persecution. With US/German 10-year spreads widening further (+108 bps), it would suggest that selling the EUR on rallies remains an investor's priority. The spread is as wide as it was just before the release of last month's disappointing NFP report. With the lack of EUR shorts in the market, it implies that any immediate single currency rally will tend to be limited. This morning's German ZEW leaves the EUR even more unimpressed. German economic expectations have fallen in January, defying forecasts (61.7 vs. 64.0 expectations), but still remains elevated. Some payback was to be expected given that last month's reading was at the highest level in eight-months (62.0). Despite the headline index coming in weaker, the breakdown reveals that current conditions continue to strengthen with this month's print coming in at 41.2 compared to 32.4 in December. This would suggest that the German economy remains on firmer footing. Data last week revealed that the German economy expanded at a rate of +0.4% in 2013. Current market sentiment expects Germany to continue to outperform its regional peers.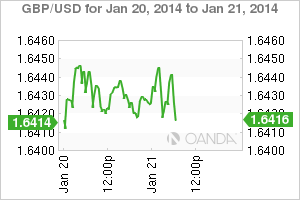 Sterling remains better bid, mostly on the back of currency dealers focusing on speculation that the IMF is about to raise UK's GDP growth forecast from +1.9% to +2.4% when its releases its World Economic Outlook update later today. Some dealers are going so far as to think that the UK could face a sovereign upgrade if the IMF follows through in the improvement in its growth forecast. However, expect the BoE's Carney and company to be preoccupied with trying to understand the strength of Britain's labor market this week, especially if unemployment keeps falling as fast as economists are predicting. The jobless rate declined to +7.3% in the three-months through November, bringing it even closer to the +7% threshold at which officials have said they will review borrowing costs. All of this has to be putting added pressure on the MPC to reassess its guidance policy, even as it seems no closer to understanding the reasons for the labor market's health. Tomorrow's MPC's release of the January minutes should give the market a better insight.