[Editors' Note: This article covers stocks trading with less than a $100 million market cap. Please be aware of the risks associated with these stocks.]
After having described the framework of my investment approach here, I would like to discuss in this article the aspect of diversification in my stock allocation and provide a quick update on my 'sustainable portfolio'.
As I am holding individual stocks rather than ETFs or mutual funds, diversification among my stock holdings is of particular importance to secure
- Downside protection and
- Upside exposure.
The downside protection part shall simply make sure that I am not overly exposed to a single underperforming stock. I did not look for hedges against the normal fluctuations in the stock market, as like in the Permanent Portfolio it is the other asset classes that are meant to dampen any downturn in equities.
The Permanent Portfolio is also my point of reference in terms of upside exposure. In a Permanent Portfolio equities are meant to generate the returns in periods of growth. Therefore, I looked for significant long-term trends that would point towards growing markets. While I felt comfortable making a call on a trend that could be underpinned by reasonably robust data, it was a different story to find the right way to play the trend. The link between the trend and specific sectors and stocks may have been plausible to me, but will prove to be rather weak in real life. This is where diversification shall make sure the portfolio captures the identified trends, even if single holdings fail to ride the wave.
Mixing ingredients is not the same as cooking
As someone who is not very interested in cooking, I was once told by a fellow student in the dorm kitchen:
You are mixing lots of ingredients, but you are not cooking.
A similar finding applied certainly to my early days as stock investor, when I was using stock screening tools that I thought could help me finding stocks that were undervalued. I then discovered that, irrespective if the stocks that caught my attention really were undervalued or not, this approach would create a mixture of many stock holdings, but not necessarily a portfolio. What I lacked was a plan for the composition. For my 'sustainable portfolio' I followed two simple rules as a basis for my stock screening:
- Each holding should be linked to at least one of the long-term trends I wanted to capture
- No twins in terms of industry, market-cap and target markets.
Let's review how the plan has been executed and what this means in terms of correlations among my holdings.
Each holding linked to a trend
There are four major trends that I want to capture with my stock picks: environmental challenges, growing demand for healthcare, increasing consumer spending in emerging markets and growth in data traffic -- with emphasis on the first two. I have tried to corner the trends by finding a number of different angles on them, which is illustrated in the summary of trends and plays below:
(1) Increasing environmental challenges
In the previous article I presented data on climate change. There are a number of different angles on how people could respond to climate change and what industries may benefit:
-- Increasing share of clean energies
► Plays:
Power generation and project development: Energiekontor (no U.S. listing)
Solar modules, components for fuel cell systems: Kyocera (NYSE:KYO)
Specialty Finance: Hannon Armstrong Sustainable Infrastructure Capital (NYSE:HASI)
Properties: Power REIT (NYSEMKT:PW)
-- Shift to more efficient modes of transport
► Plays:
Railway transportation: Canadian National Railway (NYSE:CNI)
Components for buses, trains and railway infrastructure: Schaltbau Holding (no U.S. listing)
Railway infrastructure: Power REIT
-- More efficient use of resources
► Plays:
Efficiency in use of energy and water: Ecolab (NYSE:ECL)
Recycling: Sims Metal Management (OTCPK:SMSMY)
-- Insurance cover to catch up with increasing exposure to severe weather risk
► Play:
Reinsurance: Swiss Re (OTCPK:SSREF)
-- Another 'green' investment theme that I like is the growing demand for organic food. A recent market report by Research and Markets concludes:
[…] the organic food market in United States will grow at the CAGR of about 14% during 2013-18
► Plays:
Organic food: SunOpta (NASDAQ:STKL)
Natural colors: Christian Hansen (OTCPK:CRTSF)
(2) Growing demand for healthcare
There are two underlying trends that are relevant here: Firstly, population ageing which has become a 'global phenomenon' according to the United Nations:
In 2012, older persons accounted for 11 per cent of the world's population. […] By 2050, […] its proportion will reach about 22 per cent.
Secondly, the increased healthcare coverage in emerging markets, where healthcare spending can be expected to grow in line with incomes. EY's report Hitting the sweet spot predicts:
By 2030, two-thirds of the global middle class will be residents of the Asia-Pacific region.
At the same time World Bank statistics show that per capita total health expenditure in e.g. Germany was still more than 17 times the amount spent in China in 2011.
► Plays:
Pharmaceuticals: Novartis (NYSE:NVS)
Medical products, 'intimate healthcare': Coloplast (OTC:CLPBF)
Bioscience, probiotics: Christian Hansen
Cleaning and sanitizing services for healthcare facilities: Ecolab
Medical and dental implants: Kyocera
Healthcare properties: HCP
(3) Increase in consumer spending in emerging markets and Asia in particular
EY's Rapid-Growth Markets Forecast July 2012 points out:
[…] in 2011 Emerging Asia accounted for just 14% of global consumer spending in US dollars. By 2020, its share will be 25% and by 2030 that share will be 40% - a near threefold rise in just 20 years.
► Play:
Consumer discretionary/luxury goods: The Swatch Group (OTCPK:SWGNF)
(4) Growth in data traffic / 'The internet of things'
The OECD-report Building Blocks for Smart Networks presents the following expectation:
Estimates vary but at present a four-person family with teenagers, in the OECD area, may have around 10 Internet connected devices. In five years this is likely to be around 25 and in 10 years as many as 50.
► Plays:
Software development tools for embedded systems: IAR Systems (OTC:IARSF)
Data centers: Digital Realty (NYSE:DLR)
My 18th holding, GPT Group (OTC:GPTGF), is an Australian property group that invests mainly in shopping centers and offices. GPT Group does not really fit into any of the categories above despite their outstanding environmental policies. The position was a result of my early stock screens and I decided to hold it for the time being.
'No twins'
The following table gives details on the holdings' head offices, market caps and target markets:
| | | | | | | |
| --- | --- | --- | --- | --- | --- | --- |
| | | Industry | Market cap m$ | | Regional focus | % turnover |
| NVS | CH | Pharmaceuticals | 220,783 | mega-cap | Europe | 35% |
| SSREF | CH | Reinsurance | 32,578 | large-cap | Europe | 42% |
| SWGNF | CH | Luxury goods | 31,766 | large-cap | Asia | 53% |
| CLPBF | DK | Medical products | 13,012 | large-cap | Europe | 67% |
| CRTSF | DK | Bioscience | 4,907 | mid-cap | Europe | 49% |
| SLT | DE | Transportation technology | 401 | small-cap | Europe | 77% |
| EKT | DE | Renewable energy | 95 | micro-cap | Europe | 100% |
| IARSF | SE | Software | 89 | micro-cap | North America | 38% |
| CNI | CA | Railroad | 45,567 | large-cap | North America | 100% |
| ECL | US | Commercial services | 30,715 | large-cap | North America | 50% |
| KYO | JP | Technology diversified | 18,535 | large-cap | Asia | 64% |
| SMUPF | AU | Recycling | 1,927 | small-cap | North America | 63% |
| STKL | CA | Food | 688 | small-cap | North America | 78% |
| HASI | US | Specialty Finance | 218 | micro-cap | North America | 100% |
| HCP | US | REIT (Healthcare) | 17,357 | large-cap | North America | 100% |
| DLR | US | REIT (Data centers) | 6,740 | mid-cap | North America | 79% |
| GPTGF | AU | REIT (Retail, offices) | 5,715 | mid-cap | Australia | 100% |
| PW | US | REIT (Infrastructure) | 15 | micro-cap | North America | 100% |
When I looked into how the companies self described their businesses, there were some unsurprising overlaps: The keyword 'healthcare' was used by five of them, 'food', 'transportation', 'components' and 'services' by three companies each. Where I arguably derailed as a European investor is that half of the picks are mostly plays on North America. This may be due to concerns about the single currency and/or too much exposure to Seeking Alpha. When the REITs have recovered I will probably replace one or two North American REITs by European ones (if I can find any that I like).
The question mark
Still, while the above looked pretty diverse to me, Eric Weisburg put a question mark behind the assumed diversification as he commented on my previous article:
[..] I don't think you are as diversified as you believe in your equity allocation. Small Cap, Lge Cap and Intl are highly correlated.
I went on a fact finding mission to see, what the correlations do actually look like. As putting together comprehensive sets of data would have cost too much time and could not be easily replicated with the tools available to me, I built my analysis on six data points for each holding that I could copy from an investor website to my spreadsheet in one go. The data covers a period from three years back in time to current prices. Stocks not included in the matrix are HASI and PW, because I wanted to limit the exercise to stocks with listings in EUR to keep things simple and consistent.
The most straight forward way to present my findings is to look at how each of the holdings correlates with the average performance of my stock allocation. The results should be taken with a grain of salt because of the limited number of data points, but the overall picture makes sense to me.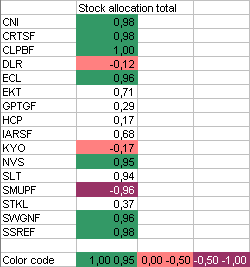 Eric certainly has a point with regard to the large-cap stocks in the selection. It looks as if the larger the market-cap, the less likely it is that loose correlations are added to the matrix. Still, I was quite keen to have well-established companies in my selection and I am not sure, if this effect could have been avoided in the given framework of investment themes. At the same time, there are three categories of stocks that have significantly contributed to diversification:
REITs
Small-/Micro-caps
Asian-Pacific equities.
The average correlation of my holdings with the stock portfolio's total performance is 0.54. As mentioned above, I would like to see ideally no inverse correlations among my stocks. However, if you consider REITs as an asset class in its own right and separate the currency risk that has been weighing on KYO and SMUPF from the stock market risk my portfolio seems to work roughly as intended. The stock picks form a broad international portfolio rather than a cluster of similar sector plays. In that sense this may have been my first step to becoming a true cook eventually.
Further updates
The following snapshot provides more details on how my 'sustainable portfolio' would have performed since 1 January 2013 -- here in comparison to a Permanent Portfolio consisting of the same holdings as the sustainable portfolio, but excluding the REITs, and the iShares S&P 500 EUR Hedged ETF (note that the do-it-yourself portfolios are assumed to be rebalanced per 1 January). To date the latter is obviously leading the 'race to retirement' with a huge margin thanks to its outstanding performance in 2013.

Please note that I have done some maintenance work on the above calculations which is why the 2013 figures differ slightly from the ones presented previously. 'Cash' is now equivalent to the EONIA total return index which is a more objective measure than the (higher) interest rates available at local banks that I used before. Plus, the government bonds are now split 50:50 between German and Danish 30-year government bonds. I have included the Danish bonds because they allow me to spread counterparty risk and currency exposure. The benefit of their denomination in DKK is that there is virtually no currency risk today as the DKK is pegged to the EUR, but optimism on the currency's long-term existence may be considered slightly more warranted compared to the EUR.
Final thought
Despite the great variety in how investors set up their portfolios there is one thing that has been repeatedly pointed out in articles on Seeking Alpha: The importance of having a plan and sticking to it. The most relevant among my selfish motivations for writing articles on Seeking Alpha is that the articles help me staying on course. Sharing your plan strengthens your commitment to the plan.
Disclaimer: This article is meant to provide food for thought and by no means advice or recommendations of any kind.
Disclosure: I am long CLPBF, CNI, CRTSF, DLR, ECL, GPTGF, HASI, HCP, IARSF, KYO, NVS, PW, SMUPF, SSREF, STKL, SWGNF. I wrote this article myself, and it expresses my own opinions. I am not receiving compensation for it (other than from Seeking Alpha). I have no business relationship with any company whose stock is mentioned in this article.
Additional disclosure: I am long Energiekontor (EKT) and Schaltbau Holding (SLT) as well.