The back end of 2013 found me following the Herbalife (NYSE:HLF) story closer and closer. I had been carried out of a small short position earlier in the year based on Ackman's original thesis, but finally decided I was going to re-enter short as I was rebalancing for the coming year. The 15 positions that I'm slipping into for the year can basically be summed up here and here - give or take a few that I haven't taken, and a few that aren't on that list that I'm currently researching.
So, for 2014, I staked my short in Herbalife again with a cost basis of right around $78-$79.
For all of those who will comment that I have no stake in the game, I now officially do again. And, for those who will comment that this piece is "biased" because I'm short, it's not. My position is biased because of the content in this (and other pieces). I don't stake positions randomly and then pull from the content dragnet to try and defend them one way or another. I do my research, then stake my position, then point out why - and that's nothing more than staking a claim in the Darwinist market and showing your work to back it up.
Herbalife has been ducking a lot of the "pyramid scheme" criticism, trading up 61% in the last twelve months alone - but yielding well over 100% to those that bough at the Ackman-induced lows and sold over the past couple of days in the $80s.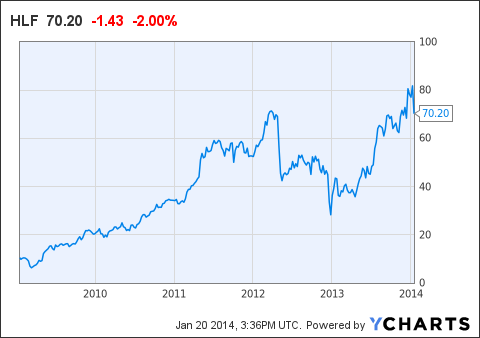 HLF data by YCharts
Herbalife hasn't just sat back and taken the short positions in stride. They've engineered one of the biggest campaigns against their shorts that I've seen from a company since I've been investing - even going so far as to urge Bill Ackman's clients to pull their money out of his fund. That kind of behavior leads me to ask, "if Herbalife is totally innocent, and knows they are - why go to such great lengths to try and discredit their critics, as opposed to simply executing their business model and turning over whatever the FTC or other agencies would need for an investigation?" Something about that move stinks to high heaven, in this investor's opinion.
Early this year, it was reported that the company spent over $1 million in lobbying in Washington in 2013 - a record amount that's almost one and a half times as much as it usually spends:
It even surpasses pharmaceuticals, whose need for regulatory drug approval keeps them forking over the cash.

For example, Herbalife outspent McKesson Corp., whose $37 billion market cap is more than quadruple Herbalife's $7.9 billion. McKesson spent only $1.13 million, records show.

Herbalife also outspent its foe, Ackman's Pershing Square, almost tenfold. Pershing Square, which has a $1 billion short bet on Herbalife, spent $138,000 lobbying this year.
To wrap up 2013, S&P Capital IQ analyst Tom Graves issued a report stating that Herbalife's good news was all super-saturated in its stock price at around $80:
In his sell report, S&P Capital IQ analyst Tom Graves said that all the good news - and then some - is already baked into the price at recent levels.

"We still expect that concerns about its business model, the sustainability of its growth, and possible regulatory scrutiny will limit valuation of the model," S&P said in its report.
Naturally, the stock ran on news of the downgrade - continuing to prove that it was apparently bulletproof. That is, until the Nu Skin news that came out last week.
A Chinese op ed piece on NuSkin (NYSE:NUS) - another MLM company - surfaced last week and pulled Herbalife down with it almost 11%. Today, it was announced that China was, in actuality, probing NuSkin with a formal investigation, claiming the company is a "suspected illegal pyramid scheme". Nu Skin stock was punished nearly 40% - Herbalife was clipped as well, to the tune of 11%, showing the nerves that lie under the surface for the otherwise stonefaced Herbalife longs.
I maintain my stance that there's an enormous portion of Herbalife wrongs who know - deep down - that the company may not be operating legally. But, they're making money, so why rock the boat, right?
Herbalife does a considerable amount of business in China - roughly 11% of its business. If the company were to implement stricter rules for MLMs - or bans altogether - it could not only set a precedent for other countries to do so, but it could hit Nu Skin and Herbalife's bottom line extremely hard.
Additionally, if some longs start to turn on Herbalife, I think we could get a snowball effect that could move the stock downward exponentially and compress it just as quickly as it moved up. All eyes will be on China and Herbalife's next earnings.
So, naturally, Ackman - smelling blood - is going to pile on next month, according to the NY Post:
Hedge fund activist Bill Ackman plans to make a presentation next month that he claims will lay out evidence that Herbalife likely operates illegally in China, The Post has learned.

The date and place of the presentation --which he first hinted at in a recent investor letter - is not yet set, sources familiar with Ackman's strategy said.

The Ackman development comes as shares of Herbalife and other multilevel marketing companies got pummeled Thursday on news that the Chinese government said it is investigating claims in a state-run newspaper that a second multilevel marketing firm, Nu Skin Enterpristry.

Nu Skin, which first denied the report but later said it was conducting its own review, fell 26.4 percent, to $84.80.

Herbalife shares fell 9.8 percent, to $71.63, losing almost 10 percent of their value.

It was the biggest one-day decline for the Los Angeles nutritional supplement distributor since Ackman called it a pyramid scheme in December 2012.
Setting a precedent in China would be a major step in the right direction for those in the short camp. If China comes out and rules against Nu Skin or Herbalife, it's likely going to force the regulators hand in the U.S. - making them once again take a look at the two companies domestically.
Here's what the headlines looked like to end the week last week: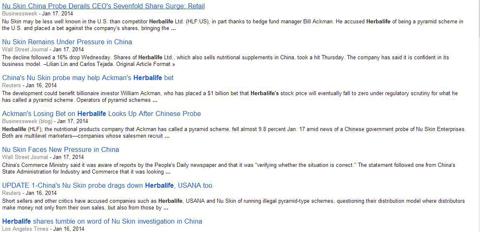 It bears repeating that since the inception of Ackman's short, Herbalife still cannot come up with a method to track where their sales are going. After the CEO came out on CNBC last year and threw out two completely different, random numbers, it's become clear that neither he, nor the company has any clue as to where it product sales are going - nor do they seem to care. Herbalife IR could have at least put together an answer for the CEO so he wouldn't have been so - clearly wrong on national TV. I'd hate to be Herbalife's general counsel watching that interview.
Again, the big part of the short thesis is that the sales of the product are going to distributors, and not to retail. That's why Herbalife's Formula 1 remains one of the only billion dollar brands that you've probably never heard of.
For the short term, the $68.50 support level is going to be the coveted metric. Large buying has come in at that level on two occasions now - if Herbalife loses it, it'll likely head at least 2-3% lower. If it holds, Herbalife could move back up to its high $75-77 range.
The level that investors are watching is the $68.50 level: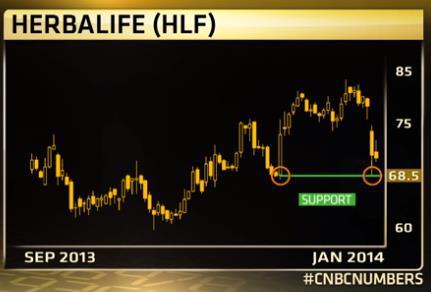 From a long-term perspective, Herbalife is definitely back under the microscope here. While I admit it isn't a slam dunk, regulators will likely be looking into the company in the year to come more and more. The allegations of whether or not Herbalife operates legally are almost too easy to prove at this point - the question remains whether or not anyone will do anything about it.
In the case of an FTC intervention or a regulator shut down, Herbalife longs could take massive losses. Even on "no news" news like last week's Nu Skin news, shareholders that bought in the $80s watched about 12% of their equity disappear into thin air.
There are so many other vehicles for investment out there, Herbalife has to be off the table at these levels.
Best of luck to all investors.
Disclosure: I hold HLF short and also hold a $68 long straddle on the company for a short term trade. I am short HLF. I wrote this article myself, and it expresses my own opinions. I am not receiving compensation for it (other than from Seeking Alpha). I have no business relationship with any company whose stock is mentioned in this article. I hold a $68 long straddle, too.