Last Friday, the FDA gave Medtronic (MDT) the green light to start selling CoreValve, its minimally invasive transcatheter aortic heart valve, in the U.S.
The approval, which came three months earlier than anticipated, is bound to impact the valuation of both Medtronic and Edwards Lifesciences (EW), the current leader in the market. Medtronic shares gained 0.7% and Edwards shares lost 6% on the news.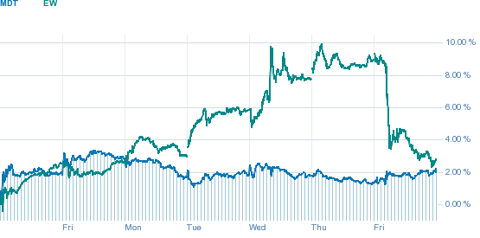 The FDA granted the approval after reviewing clinical outcomes from the Extreme Risk Study of the CoreValve U.S. pivotal trial without an independent device advisory panel review.
The Extreme Risk Study, which demonstrated that the CoreValve System is safe and effective with high rates of survival and low rates of stroke and valve leakage, met its primary endpoint of death or major stroke at one year with a rate of 26%, 41% lower than was expected. 76% of patients were still alive at one-year.
CoreValve, which is approved as a minimally invasive replacement to damaged aortic heart valves in patients too frail for traditional surgery, is the second such device to be approved in the U.S. Edwards Lifesciences' Sapien was first when it was approved in November 2011.
The approval allows Medtronic to begin competing against rival Edward's in the U.S. However, CoreValve has been approved for patients who are too frail to undergo open-heart surgery for severe aortic stenosis while Sapien has been approved for both patients who are too frail to undergo open-heart surgery as well as those who are eligible for surgery but are considered at high risk for complications.
Edwards, which currently sells Sapien and expects to have Sapien XT approved in the first half of this year, realized approximately $370 million in U.S. sales during 2013.
Transcatheter aortic heart valves, which have been available in Europe for several years, are considered to be a major new source of sales growth for Medtronic whose bread-and-butter product lines, including pacemakers and implantable defibrillators, have come under pricing pressure from insurers.
CoreValve obtained European CE Mark approval in 2007 and, since then, has been successfully implanted in more than 50,000 patients outside the U.S.
The company estimates that roughly 100,000 people in the U.S. have severe, symptomatic aortic stenosis, and about a third of those are at an extreme risk from surgery.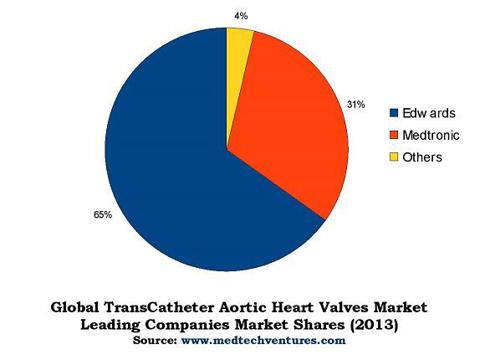 According to estimates by Medtech Ventures' analysts, the worldwide market for transcatheter aortic heart valves reached $1.1 billion last year, of which Edwards controlled about 65% and Medtronic had 31%.
The U.S. market hasn't grown as quickly as Edwards expected due to strict Medicare reimbursement guidelines which require hospitals to document that patients aren't good candidates for surgery.
Medtronic projects that the worldwide market could grow to $2.5 billion annually by 2020 if further clinical studies expand regulatory approvals to lower risk patients.
Medtronic and Edwards have been locked in a legal dispute over patents for the technology and a federal jury has ordered Medtronic to pay $394 million in damages to Edwards for violating its intellectual property.
Edwards is seeking a preliminary injunction that would bar Medtronic from selling CoreValve in the U.S. However, such a ruling is considered unlikely and Medtronic is appealing the original verdict.
Medtronic is planning to start selling the device immediately to the 45 medical centers that already have experience with the device during its period in clinical trials and will begin training new centers over the next 12 to 18 months.
Disclosure: I have no positions in any stocks mentioned, and no plans to initiate any positions within the next 72 hours. I wrote this article myself, and it expresses my own opinions. I am not receiving compensation for it (other than from Seeking Alpha). I have no business relationship with any company whose stock is mentioned in this article.