Introduction: Swedish Match AB (OTCPK:SWMAY) is a Sweden-based tobacco company. The Company's operations are divided into three reportable segments: Snus and snuff, Other tobacco products (cigars and chewing tobacco), and Lights (matches and lighters). The Snus and snuff segment comprises smokeless tobacco products that are produced and sold primarily in Sweden, Norway and the United States. The Other tobacco products segment comprises chewing tobacco and mass market cigars manufactured and sold on the United States market. The Lights segment includes the manufacture and distribution of matches and lighters.
Recently, we discussed Imperial Tobacco (ITYBY), which is largely a cigarette company. Swedish Match, however, offers no cigarettes at all. The company divested its cigarette operations in 1999 and aspires to be a global leader in smoke-free products. Nevertheless, it does offer some smoking products, such as cigars, pipe tobacco and fine cut tobacco, through its 49% interest in Scandinavian Tobacco Group (formed in 2010).
Swedish Match also has a partnership with Philip Morris International (NYSE:PM), established in 2009, to commercialize snus outside of Scandinavia and the United States.
Product Portfolio:
From the recent company presentation: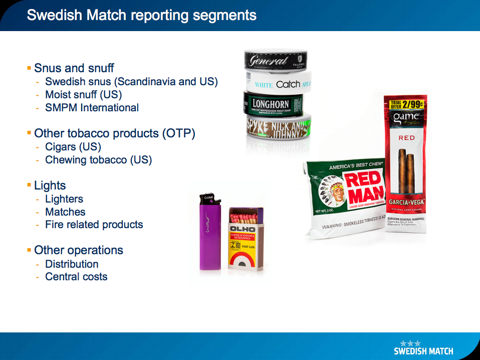 The snus and snuff segment is the largest: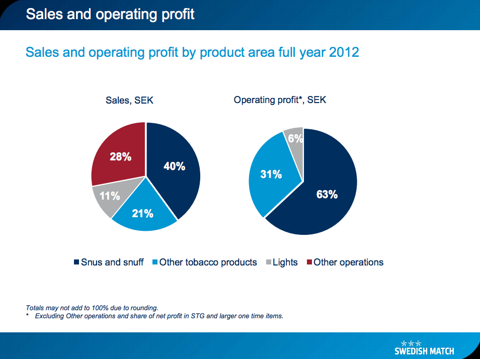 Swedish Match currently holds the leading position for snus in Scandinavia and is the third largest producer of moist snuff in the US.
The company is also the largest manufacturer of US chewing tobacco with market leading brands, such as Red Man and Southern Pride. Nearly all the chewing tobacco products are sold exclusively in the US. Swedish Match also sells mass-market cigars in the US.
The company also sells matches and lighters in many markets across the globe.
Partnerships:
Scandinavian Tobacco Group - On October 1, 2010, Swedish Match and Scandinavian Tobacco Group created a new Scandinavian Tobacco Group - a company with a focus on cigars. STG is the world's largest manufacturer of cigars, number one in US long filler cigars and number one in European machine made cigars. STG is also the number one global manufacturer of pipe tobacco and holds strong market positions in fine cut tobacco, primarily in Scandinavia and the US.
Partnership with Philip Morris International - SMPM International is a 50/50 joint venture. Since being formed, it has already made significant strides. I think that one of the key advantages of this venture is its ability to use powerful Philip Morris brands. For example (P. 18):
Test launch of General in Canada started in December 2010 and is now in 3,000 stores.
Test launch under the Parliament (A valuable Philip Morris brand) brand in St. Petersburg, Russia, started in December 2011. Now also in Moscow and other cities, and in more than 500 stores.
Test launch of Marlboro (An iconic Philip Morris brand) in Tel Aviv, Israel in July 2012, now in more than 400 stores.
Trends in smokeless tobacco
In Sweden, in recent decades, cigarette volumes are decreasing and the snus volumes are growing. From the recent company presentation: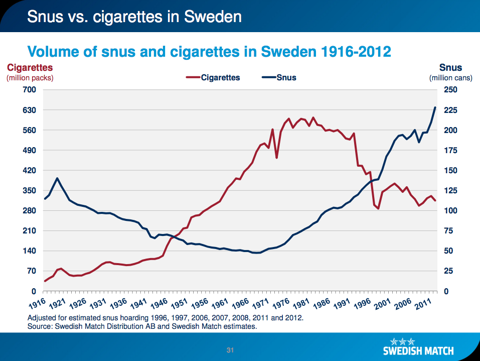 The Norwegian market has grown by more than 10 percent in recent years, and is estimated to have grown by 14 percent in 2012 versus prior year. Snus is banned in the remainder of European Union. It is now also banned in Russia. The use of snus in the US is probably growing.
Health aspects of smokeless tobacco
A well-referenced and surprisingly balanced (for a tobacco company publication) summary on snus is available on the Philip Morris International website. The best WHO document to review is probably here.
The salient points from the above-referenced sources (but this summary is neither comprehensive or scientific, please do your own due diligence) include:
Smokeless tobacco is addictive because it still contains nicotine
While snus, since it is not smoked or inhaled, will not cause cancer of the lungs or chronic obstructive pulmonary disease (probably the biggest problems associated with smoking), it still contains some cancer-causing chemicals, such as nitrosamines.
Smokeless tobacco can cause cancer of the oral cavity and the esophagus and perhaps other health problems.
Smokeless tobacco has potential to reduce harm in a selected subset of population, such as those unwilling or unable to completely abstain from tobacco. This is because most of the harm of smoking comes from components other than nicotine.
Some scientists spoke in favor of snus: "Snus is the least harmful of the smokeless tobacco products because of how it is produced and stored, and 'everyone who has studied this agrees there is a 95%-99% reduction in the health risk of snus, compared to use of cigarettes,' said Kenneth Warner, Ph.D., dean of the School of Public Health at the University of Michigan in Ann Arbor."
The subject is, and will for the foreseeable future, remain controversial. The risk of investing in Swedish Match is reviewed in a separate section below.
Earnings, margins, competition and valuation:
The recent EPS trend is not encouraging. 2013 is on track to be not as good as 2012.

CEO Lars Dahlgren explains: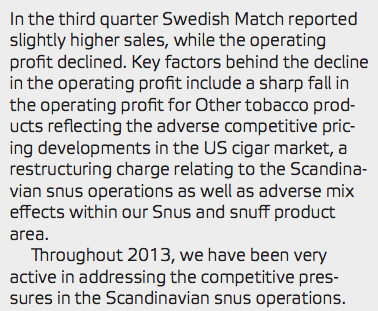 So competitive pressures resulted in lower margins. The CEO also tells us that the strongest competition, in both the Scandinavian snus and the US cigar markets, has been in the low price segment. This is less impactful for Swedish Match, since it retains its status as the leader of the full price segment. Swedish Match tells us who and where is the competition: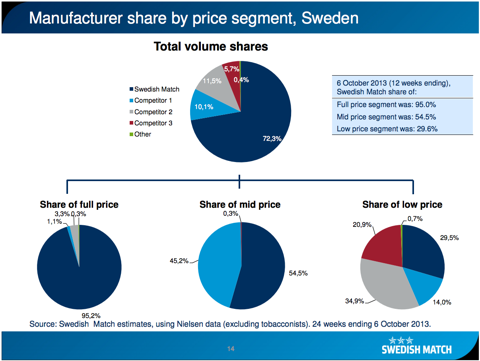 More precisely, as the following very small image on the company website tells us: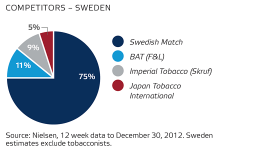 Note the dates on the images. It seems Swedish Match lost some overall market share in the interim. So did British American Tobacco (NYSEMKT:BTI). Imperial Tobacco and Japan Tobacco (OTCPK:JAPAF) gained what the others lost. In fact, in the Q3 2013 report, we find the following:
On the Swedish market, for the twelve week period ending October 6, 2013, Nielsen (excluding tobacconists) reported a total market share for Swedish Match in volume terms of 71.8 percent compared to 76.2 percent in the corresponding period of the previous year and in value terms a total market share of 78.4 percent compared to 81.6 percent in the corresponding period of the previous year. This decline is mainly attributable to the growth of the low price segment. While Swedish Match participates in the growth of the low price segment, its market share within this segment is lower than in the other price segments.
I could not find any information on what percentage of sales come from each of the price segments for snus. Perhaps the company is not willing to break this down? In any case, investors are advised to further watch market share trends.
With the current price of 197 SEK, the stock trades at 15.7 times my projected 2013 earnings. This is similar to British American Tobacco and Philip Morris International.
Shareholder friendliness
Swedish Match has a dividend policy as follows: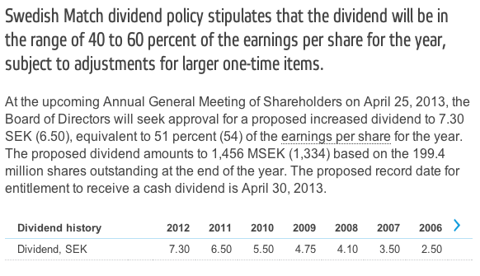 The trailing dividend yield is about 3.7% with yearly payout. Based on the company's track record, the dividend is likely to be increased in 2014.
The company has also been a consistent repurchaser of its own shares.
Sustainability and growth prospects
Given the growing usage of smokeless tobacco and an extremely permissive, even downright favorable, WHO attitude towards snus, it is reasonable to expect the trend to continue. In fact, it would not be impossible to witness near to intermediate term ban reversals in the European Union. The potential for significant new tax revenue may drive EU governments to support such reversals.
Owners of note
Thomas Russo has a small position, preferring to hold a large position in Philip Morris International.
Risks
Risks include, but are not limited to:
Competition. Imperial Tobacco and British American Tobacco can prove formidable competitors due to their large size, marketing reach and existing global footprint.
Emergence of new evidence of smokeless tobacco causing harm may result in increasing bans and tighter regulation.
Changes in customer tastes may shift away from snus and smokeless tobacco.
Conclusion and disclaimer
Swedish match is not a perfect investment opportunity. However, the company's dominant position in reduced-harm (but still addictive) tobacco product market suggests that it is in a great business. Its valuation is reasonable and it pays an attractive dividend.
This article is not a recommendation to use any form of tobacco, nor is it meant to imply that use of reduced-harm tobacco products is safe. Readers preferring to invest in a socially responsible manner will probably not experience lower investment returns.
Disclosure: I am long ITYBY, PM. I wrote this article myself, and it expresses my own opinions. I am not receiving compensation for it (other than from Seeking Alpha). I have no business relationship with any company whose stock is mentioned in this article.