Since July 2013, the EURGBP has been on a steady downtrend as shown clearly on the chart below. This represents the divergence of economic performance between these 2 economic regions. Europe remains mired in a mixed recovery as different countries have different recovery rates. Overall sentiments remain bearish for Europe.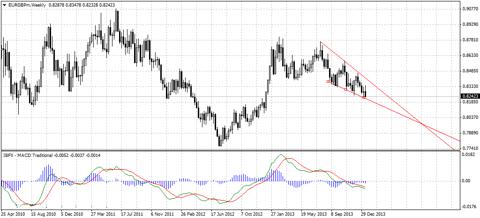 In contrast, there has been consistent recovery in the UK. The chart below shows quarterly changes in the GDP of the GBP since 2010. Over this period, there has only been 4 quarters of negative growth, which is not more than -0.4%, and the recovery is substantially better.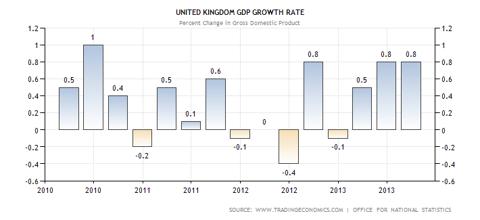 The December 2013 Retail Sales reported by the UK's Office of National Statistics (Pending:ONS) shows better than expected growth at 2.6% vs. expectations of 0.5% and previous growth of 0.1%. This is the latest result to show that the UK recovery is picking up steam. This will be tested once again in this week's economic releases.
This week, UK is releasing its unemployment rate and claimant counts change. The market expectations are a reduction of 32.3k of claimant and an improvement to 7.3% compared to 7.4% last month respectively. It has been observed that consumer spending is highly correlated with labor markets conditions.
The BOE will release its Asset Purchase Facility Votes and Official Bank Rate Votes this week too. Both are expected to remain constant at 0-0-9. The Consumer Price Index (CPI) released last Tuesday shows that inflation in December 2013 held steady at 2.0%, which fits in with the BOE inflation target of 2.0%. For the past 3 months, CPI has fallen from 2.7% in October 2013 to 2.2% in November 2013 and then 2.1% in December 2013. This gradual softening of inflation reduces pressure on the BOE to raise rates to contain inflation.
Major economic events affecting the Euro (NYSEARCA:FXE) include the German Constitutional Court ruling on the Constitutionality of the Outright Monetary Policy (OMT) policy on Tuesday. They are not expected to rule negatively against the OMT. If they do, it will be a boost the British Pound (NYSEARCA:FXB). In addition, there is the German ZEW Economic Sentiment on Tuesday and the France and German Flash Manufacturing PMI on Thursday. It is unlikely that these reports from Germany and France are going to change the market's view on the euro in the short run.
Along the current path, barring any unexpected events, the GBP is set for a period of steady strengthening. EURGBP is one of the better pairs to express the view of a strengthening GBP due to their contrast in economic trajectory and superior liquidity. Their spread is mostly contained with 3 pips. It is likely to break through to the 0.8185 resistance level for this trading week.
The forex market is a volatile space and nasty surprises are common. So be careful when trading and not to over-commit your position size to stay in the game and be nubile in the face of changes. Have a profitable week trading ahead.
Disclosure: I have no positions in any stocks mentioned, and no plans to initiate any positions within the next 72 hours. I wrote this article myself, and it expresses my own opinions. I am not receiving compensation for it (other than from Seeking Alpha). I have no business relationship with any company whose stock is mentioned in this article.