With annual revenues exceeding $45 billion FedEx Corporation (NYSE:FDX) is no small player in the logistics and cargo delivery sector. Thanks to recent shipment delays by its rival United Parcel Service (NYSE:UPS) whose services were contracted for Amazon (NASDAQ:AMZN) FedEx could be in line to win a long term contract in the future to service the shipment needs of this online retailer. However, that's not all FedEx has lined up and I wouldn't place my bet on this news alone. There are a lot more events going on for the company that makes it an attractive investment for long term buyers.
The year 2014 is going well for FedEx. During its last (2nd) quarter, the company increased its sales to $11.4 billion reflecting a 3% increase since the same quarter a year ago. This resulted in higher product volumes and yield increases. The less dominant segments saw increasing revenue and the company's highest revenue generating segment, FedEx Express that provides delivery services all around the world, was supported by the bottom line profit improvement initiatives that flourished despite revenue decline.
Thanks to the Profit Improving Initiatives, FedEx Express saw a 43% jump in Operating Income
The initiatives such as modernizing the fleet to allow for lower maintenance costs was the reason that even though the Express service's revenues remained stable during the last quarter the company was able to report an operating income increase of 43% taking the absolute value to $326 million! If these initiatives are maintained I expect the efficiency to settle at a decent rate in the future.

Source: 10Q
The most important point about the Express segment is that during the last quarter the company experienced increasing growth from international & US based packages and Trade Network customers but this was offset by lower freight revenue as well as negative impact from fuel surcharges that caused the total segment revenue to remain nearly stable. The company picked up on the trend of higher package volume since the beginning of 2014 (graph above).
Freight revenue made up only $1 billion (average) of the company's quarterly revenue. Removing fuel surcharges could allow FedEx to generate even more improvements within the segment. With the initiatives already in place and growing volume trend we can be almost certain that the segment will improve its performance in the upcoming period.
With regards to costs, FedEx's operating expenses are positively related to its revenue and volumes. FedEx incurred a lower pension expense and a modest benefit from the voluntary employee severance program it announced in 2013. Similarly, depreciation and fuel expenses also declined as a percentage of total revenue. A majority of these costs that increased, such as purchased transportation, were a result of the company's expansion plans (in FedEx Trade Network) as well as those that were positively correlated to revenue and volume growth. All in all, operating costs fell 80 bps as a percentage of revenue bringing the operating margin to 7.3%.
The diluted EPS reported by the company reflected a 13% increase to $1.57. It is important to note that the 2013 result's included a $0.11 impact that was related to superstorm Sandy. However, to the delight of investors, even if we exclude the total impact from the quarterly diluted EPS, FedEx experienced a 4.67% increase since the corresponding quarter of 2013. That was higher than the overall increase the company experienced with regards to its revenue.
FedEx Continues to Increase its International Presence Last year, the company made an agreement to acquire its service provider, Supaswift that caters to most of FedEx's operations in the 5 countries of Southern Africa along with 2 new countries. Increased control in its regions of operation will allow the company to expand further and bring more markets into its reach. The acquisition is supposed to be completed this year and with that comes further assurance that the delivery revenues particularly for the Express segment will be enhanced.
These expansions are being financed through the company's CFO. The company has no short reserves available but $3.9 billion was available last November after paying for tax refunds and financing pension obligations. This means that the company can further sustain such programs in the future.
The Buyback
A few days ago, FedEx announced that it was selling $2 billion senior notes and will use the proceeds to buy back shares as part of its newly implemented buyback plan. I do not believe that issuing more debt will harm the company as it already trades below the industry's debt to equity ratio of 0.6. The 0.2 D/E of FedEx will only come a little in line with the industry and will bring in more value for investors through the positive sentiment it spreads and create price appreciation.
Conclusion
FedEx has seen its product mix shift towards more economical offerings than the high priced alternatives. By expanding into new markets and lowering costs through profit management initiatives I believe it can sustain the changing mix. Adding everything up, there are small positive improvements going on in the company: profit initiatives, expansion and buybacks. All of this exists amidst an economy that is expected to grow moderately in the short term.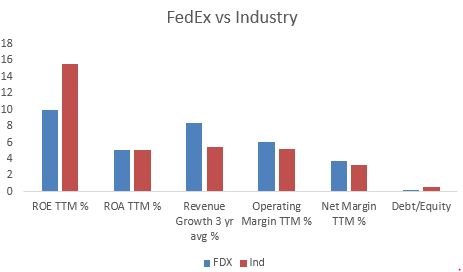 The share price has increased by 45% adding nearly $45 to its present value of $142. The company has profit margins above that of the industry although the trailing ROE has floated at 10% and is below the industry's 15.6%. Nonetheless, the share price appreciation has provided more than what has been short of dividends. The factors above make me certain that FedEx will continue riding this growing share price trend and bring continuing value to shareholders. Therefore I recommend buying the stock.
Disclosure: I have no positions in any stocks mentioned, and no plans to initiate any positions within the next 72 hours. I wrote this article myself, and it expresses my own opinions. I am not receiving compensation for it (other than from Seeking Alpha). I have no business relationship with any company whose stock is mentioned in this article.