About a year ago, there was a lot of speculation about what silicon would be powering the next generation Surface Pro 2/Surface 2 designs. At the time, many of us had believed that NVIDIA (NASDAQ:NVDA) would win the Surface RT 2 (given NVIDIA's enthusiasm for the Windows RT platform) and that Intel (NASDAQ:INTC) - with its Haswell chip - would yet again power the Surface Pro 2.
Of course, there were some who believed that the next generation Surface Pro 2 would be powered by AMD's (NYSE:AMD) "Temash" system-on-chip. Now, at the time I remember pointing out that not only would Temash be a significant step back in performance from the Ivy Bridge chip found in the original Surface Pro, but would also likely be far inferior from both a performance and a power management perspective relative to the Haswell-ULT chip that would be available for the Surface Pro 2's launch timeframe.
What Actually Happened?
Well, AMD didn't win any Surface sockets and that NVIDIA/Intel won them as the vast majority of investors had expected. While there's never any guarantee of the accuracy of any rumor, it's just shocking that anybody actually fell for it. Remember, "Temash" and "Kabini" (AMD's tablet and low end notebook SoCs, respectively) are missing several critical features (such as Windows 8.1 connected standby) that make them unsuitable for high battery life tablets.
Also, if you actually take a look at the performance levels that "Temash" actually delivered in the few 13" tablets/convertibles that it was designed into, you'll see that it's actually not that great relative to its competition on a performance/watt basis at all:

Note that the AMD A4-1250 from AMD is a chip rated at an 8W "TDP":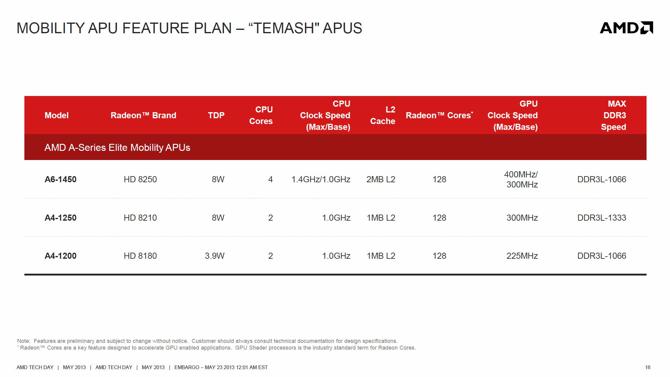 Now, while Intel claims a "2W" SDP for its Z3770, I realize that this isn't exactly a "fair" metric by which to try to derive performance/watt numbers. So, instead of using the "SDP" for its tablet chip, I will actually use the TDP rating of the equivalent Bay Trail-M product (i.e. notebook oriented Bay Trail). This actually does Intel a slight disservice (since Bay Trail-M integrates a lot of I/O that isn't present on the Bay Trail-T and Bay Trail-M also sports a 28% higher clocked GPU), but it gets us closer to a fair comparison than the "SDP" number.
In this case, the "equivalent" part is the Intel Pentium N3520, which is rated at a 7.5W "TDP":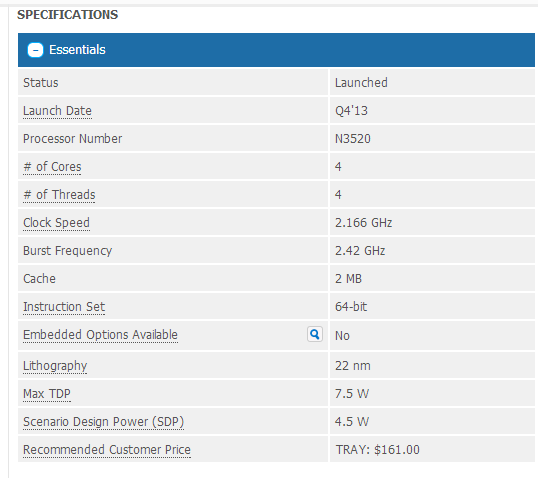 So, it's clear as day that AMD's tablet chips today aren't very competitive from a performance and power standpoint. Is it any surprise that no small tablets sport AMD's chips and even 10-11" thin/fanless designs are very tough to find?
Conclusion
It's important to do bottom-up analysis whenever a rumor shows up, particularly if you're planning to invest based on it. It never really seemed plausible for AMD's "Temash" to power a Surface Pro 2, and - even if you didn't want to do the bottom-up technical analysis - it should have been clear that AMD wasn't going to be in the Surface Pro 2 simply from Microsoft's own statements at various conferences. In particular, Microsoft had always cited that Windows 8.1/RT would support three major platforms: Tegra 4, Snapdragon 800, and Bay Trail.
Will AMD's next generation "Mullins" APU be a suitable contender for small, thin, and light Windows 8.1 tablets? It's quite possible. However, it's also important to keep expectations in-check and realistic. AMD has had a very tough time competing in PCs in no small part due to the weak performance/watt of its processors. In the tablet world, where even the likes of Intel are struggling to try to put out leadership parts, there is no room for an uncompetitive AMD.
Until AMD's mobile processors can show some real teeth on a performance/watt basis (and, longer term, on an integration basis), the company will be relegated to the low end of the PC market. This isn't a terrible place to be given the right cost structure, but this market is going to become more competitive as Intel rolls out Bay Trail-M and as both Intel and the ARM guys duke it out in tablets.
If AMD just focuses on trying to do a few things well, it could succeed brilliantly. However, with its eggs scattered across many baskets, it's just tough to see AMD put out products that really knock its customers' socks off.
Disclosure: I am long INTC, NVDA. I wrote this article myself, and it expresses my own opinions. I am not receiving compensation for it (other than from Seeking Alpha). I have no business relationship with any company whose stock is mentioned in this article.