The rural economy expanded for the 16th month in a row according to Midwestern bankers, despite lower commodity prices. Bankers are concerned though about the rural economy over the next six months and the uncertainty of the Farm Bill. Farmland values and farm equipment sales continue to trend lower from last month, which can be attributed to the uncertainty of the commodities market entering 2014.
The Rural Mainstreet Index, ranging between 0 and 100 with 50.0 representing growth neutral, decreased to 50.8 from a 56.1 in December, remaining above growth neutral for the 16th month in a row. Ernie Goss PhD., economist at Creighton University, suggests the reason for slower rate of growth is due to the decrease in corn, soybean and wheat prices. Goss stated, "Over the past year, corn, soybean and wheat prices have declined by 41 percent, 10 percent and 16 percent, respectively. Weaker farm prices are clearly negatively influencing the rural economy."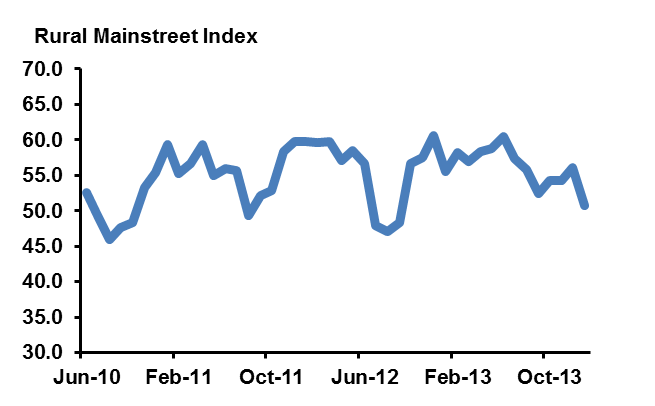 The Farmland Price Index decreased to 43.8 from 47.0. Goss believes the decrease in commodity prices have influenced farmland values. "This is the second straight month that the farmland and ranchland-price index has moved below growth neutral. As agriculture commodity prices have moved lower, so have farmland prices. On the other side of the economic coin, ranchers and livestock producers are experiencing record prices and a very healthy economic outlook," commented Goss.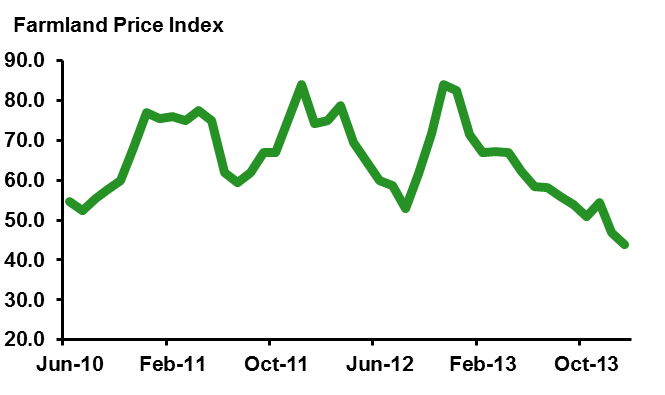 Farm equipment sales sank to 41.0 from 44.3. Goss again attributes falling commodity prices to the decline in equipment sales saying, "Over the past year, commodity prices for all farm products have declined by roughly 8 percent. This has significantly reduced farmers' willingness to undertake major agriculture equipment purchases."
Bankers were asked this month about ending the Federal Reserve's bond buying program (QE3) and the impact of the EPA's recommended cuts to required ethanol blending if implemented. Nearly half of the bankers want the Fed to continue the bond buying program dependent on data, while 27.2% wanted QE3 to be completed by the end of 2014. The majority of bankers believed the EPA's recommended cuts to the ethanol mandate would have a modest negative impact on the rural economy.
Table 1: Rural Mainstreet Economy Last Two Months and One Year Ago: (index > 50 indicates expansion)

Jan-13

Dec-13

Jan-14

Area economic index

55.6

56.1

50.8

Loan volume

39.0

66.7

57.8

Checking deposits

78.1

66.0

68.2

Certificates of deposit and savings instruments

42.2

37.2

41.6

Farmland prices

71.5

47.0

43.8

Farm equipment sales

63.8

44.3

41.0

Home sales

55.6

53.1

49.3

Hiring

52.4

56.9

53.8

Retail business

44.5

54.7

46.2

Confidence index (area economy six months out)

55.5

47.0

49.2
Source: Creighton University
Survey
This survey represents an early snapshot of the economy of rural, agricultural and energy-dependent portions of the nation. The RMI is a unique index covering 10 regional states, focusing on approximately 200 rural communities with an average population of 1,300. It gives the most current real-time analysis of the rural economy.
For daily articles on farmland and agriculture, visit here.
Disclosure: I have no positions in any stocks mentioned, and no plans to initiate any positions within the next 72 hours. I wrote this article myself, and it expresses my own opinions. I am not receiving compensation for it. I have no business relationship with any company whose stock is mentioned in this article.