By Craig Bowles
Overview
eBay, Inc. (NASDAQ:EBAY) is slated to report 4Q2013 earnings after the bell on Wednesday, January 22. The earnings release is expected at approximately 4:15 p.m. EST with a conference call to follow at 5:00 p.m. that is webcast through investor.ebayinc.com/events.cfm.

Outliers & Strategy
Key measures:
Non-GAAP EPS: The value for Non-GAAP EPS is typically comparable to consensus estimates. The current Street estimate is $0.80 (Source: Yahoo! Finance), the mid-point of the company guidance of $0.79-$0.81.
Revenues: Revenues are seen rising 14% y/y to $4.55 bln, the mid-point of the range provided in October.
Adjusted Earnings Per Share (EPS) Guidance (1Q 2014): The current consensus is $0.73. If the low end of the guidance range is at or above $0.73, look for potential upside.
Revenue Guidance (1Q 2014): The Street is looking for a 14.8% increase to $4.30 bln.
Adjusted Earnings Per Share Guidance (FY 2014): The current estimate is $3.12.
Insiders have unloaded 1.7% of their holdings the last six months but still retain 10% of shares outstanding. Buybacks are helping support share prices since the high with 2Q2013 reported at $355 mln while announcing plans for an additional $2 bln.
eBay shares haven't done much since early last year but are still close to 2005's all-time high and showing none of 2005's volatility. The stock now trades at 25.4x trailing earnings and above the 5-year average of 19.5x.
eBay's having expanded into more traditional online retail is increasingly compared to Amazon.com (NASDAQ:AMZN) and a price chart comparison of the two companies back to 1999 shows share prices nearing parity, so quarterly results could impact Amazon which is reporting a week after, as well as Google, Inc. (NASDAQ:GOOG), Groupon, Inc. (NASDAQ:GRPN) and Overstock.com (NASDAQ:OSTK).
eBay shares tend to see close to a 1% move off earnings, so the 1-day average price change on earnings is -0.17% is a little deceiving. Also, the index futures are more apt to be impacted by surprising results from eBay given its stature and influence in the marketplace.
Recent News
12/14: eBay's ownership of PayPal is giving significant growth benefits, according to a post on Barron's Blogs.
Technical Review
eBay shares couldn't push through $57.50 early last year and have come off a bit since while maintaining support around $50.00. Shares are currently trading close to the $53.75 mid-point of these support and resistance areas and are still close to double the 2011 lows ahead of Wednesday's earnings release. eBay shares have at times acted counter-cyclical, so aren't ideal for swing traders playing a risk-off market move into a 4-month cycle low. So far, eBay has been relatively untouched by consumer spending worries of the retail sector. The Relative Strength Index (RSI) and MACD have neutral short-term readings and the weekly MACD having fully corrected makes a move above $55 enticing for the bulls. Should earnings fail to meet the high end of Street estimates, this slow grind lower could change to some actual deterioration. (Chart courtesy of StockCharts.com)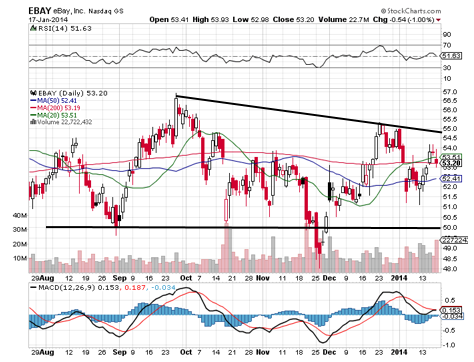 Summary
eBay shares haven't done much since early last year but are still close to 2005's all-time high and showing none of 2005's volatility. One particular worry about the lack of share price movement is insider selling is being supported by the company's stock buybacks, a phenomenon that was popular in the late 1990s and mid-2000s. Given the recent price stall, the Street will focus on the outlook for 2014. Expectations have been slightly reduced for this quarter, so the 2014 forecast could weigh heavily, both on eBay shares, as well as the broader market indicators. Guidance that is in line with estimates would support the 17 forward P/E for 2014 which is relatively cheap for a company growing at 15.4% when the S&P has a forward PE of 15.8 and growing at close to 10%.
DISCLAIMER: By using this report, you acknowledge that Selerity, Inc. is in no way liable for losses or gains arising out of commentary, analysis, and or data in this report. Your investment decisions and recommendations are made entirely at your discretion. Selerity does not own securities in companies that they write about, is not an investment adviser, and the content contained herein is not an endorsement to buy or sell any securities. No content published as part of this report constitutes a recommendation that any particular investment, security, portfolio of securities, transaction or investment strategy is suitable for any specific person.
Disclosure: I have no positions in any stocks mentioned, and no plans to initiate any positions within the next 72 hours. I wrote this article myself, and it expresses my own opinions. I am not receiving compensation for it (other than from Seeking Alpha). I have no business relationship with any company whose stock is mentioned in this article.