Whenever you think of a café, the first thing that comes to mind is probably Starbucks (NASDAQ:SBUX). Over the years, the Starbucks brand has become immensely popular. On the financial side, the results over the past few quarters have been quite impressive. Revenue has increased by over 52%, from $9.78 billion in 2009, to $14.89 billion in the last fiscal year. With a gross margin over 21%, Starbucks seems to have its business model aimed in the right direction. To further improve the margins, the company is aiming at reducing the number of company-owned outlets, along with increasing the number of franchises through its expansion plans in regions outside of the U.S.
Singing the "Franchise" Tune
When food giants choose the franchising strategy, it becomes easy for them to minimize the amount of volatility in their business segments. As a result, these companies also earn a handsome amount of income from the franchisees in the form of royalties. Based on these aspects, Starbucks has been totally different from other food giants such as McDonald's (NYSE:MCD), Wendy's (NYSE:WEN), Dunkin' Brands (NASDAQ:DNKN), Green Mountain Coffee Roasters (NASDAQ:GMCR), and Burger King (BKW). Generally, such companies choose franchising over having their own outlets. Also, these companies have been immensely successful in all regions. In the case of Starbucks, it had never before considered this strategy as a primary form of business.
However, looking at the success enjoyed by its peer companies, Starbucks has decided to consider franchising as a valuable option given the current sales pressure to sustain its "numero uno" position in the café business. Along with sales pressure, Starbucks has taken a hit due to less-than-perfect business in the European region. One of the reasons is the location of the stores. Most stores are opened in high-profile locations throughout Europe, which makes it less accessible to the majority of the population, along with the high rentals affecting the profits. To overcome this problem, it will be opening approximately 200 new stores in Europe, the Middle East, and Africa. Nearly 75% of these stores will be franchised.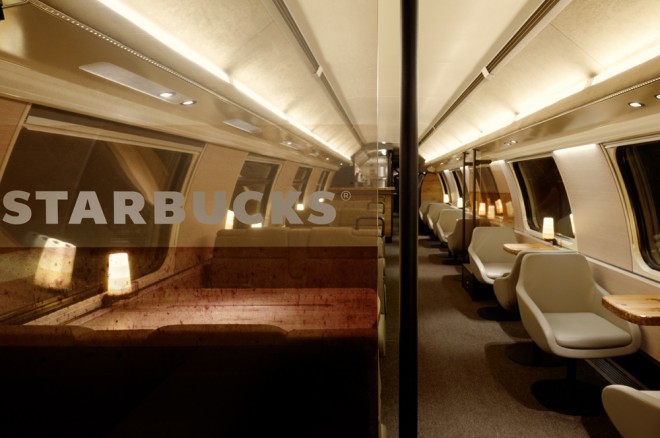 Source: Wired.
Starbucks will focus on bringing about change in its store design. The reason is that most Starbucks stores are identical, in terms of interior design, and as a result customers feel as if they are entering the same store. To change this, Starbucks will be opening stores with newer concepts, focusing more on a local feel. For example, Starbucks joined a leading Swiss train company, SBB, through which it transformed a double-decker train car into a Starbucks store. With such changes coming in the future, I expect more and more footfalls in the stores.
Last year, Starbucks opened over 1,700 stores worldwide, which also makes me more confident of its growth prospects for this year. Due to the legal issue with Mondelez (NASDAQ:MDLZ), and Kraft Foods (KRFT) in the previous quarter, Starbucks had to shell out $2.57 billion. If not the same number of stores open this year, as opened in 2013, I expect Starbucks to see an improved topline in the coming quarters. With the growing number of franchises, and an increase in footfalls due to localized looks of the stores, Starbucks will also experience growth in its gross margins. Overall, this strategy will help its financial statements improve at a higher rate.
Relative Valuation
In order to get a better understanding of Starbucks as a stock option, I compared it with stocks like Yum! Brands (NYSE:YUM) and Dunkin' Brands.
| | | | |
| --- | --- | --- | --- |
| | Starbucks | Yum! | Dunkin' |
| Price/ Sales | 3.93 | 2.56 | 7.24 |
| Enterprise Value/ Revenue | 3.80 | 2.73 | 9.58 |
Source: Yahoo Finance.
Over the past 12-month period, the price-to-sales ratio of Starbucks, Yum!, and Dunkin' are 3.93 times, 2.56 times, and 7.24 times, respectively. For further support, I also considered enterprise value to revenue -- which was 3.80 times, 2.73 times, and 9.58 times, respectively, on a trailing 12-month basis. This shows that at present, Dunkin' is a highly overvalued stock, while Yum! is impressive on all sides.
On the other hand, Starbucks is an undervalued stock, when considered individually. With growth prospects and improvement on the income statement expected by year-end, the stock will attract more and more shareholders who opt for a long-term position. In the case of Dunkin', its business model seems to be working out very efficiently and, despite its high valuation attributes, it has an impressive return on equity of 39.17%, a lot higher than Starbucks, which managed at 0.18%, and Yum! leading with over 47%, all on a trailing 12-month basis.
Dividend Side of the Stock
In terms of cash flow, Starbucks has been very efficient in generating more and more cash every year. On a quarterly basis, Starbucks generated more than double free cash flows in the previous quarter than it did in the last quarter of fiscal 2012. It posted nearly $344 million in the previous quarter, compared to $154 million in the fourth of 2012. With the availability of these free cash flows, I do not see any setback in the near future, which may stop Starbucks from paying its timely dividends. This will be a treat for income investors as Starbucks has been paying dividends every quarter for three years. Based on the dividend history of the company, I expect it to pay a cash dividend of at least $0.26 in the present quarter and the following two.
Final Word
In the last 12-month period, Starbucks has posted over 42% rise in its stock price as of Jan. 13, 2014. This is much higher than that of its peers, as well as the S&P 500 index, which posted a rise of only 25% in the same period. Despite the deduction of the $2.57 billion in legal settlement from the financial statements, the company seems strong when considering future prospects through its expansion plans. Regarding dividends, Starbucks has a low dividend yield of 1.3%. Still, with the rising free cash flow, I believe the company will continue increasing its cash dividend payments in the coming years. With supporting fundamentals, and timely dividend distributions, Starbucks is a must-have stock, which can be positioned for at least more than a year and have an expectation of high returns.
Disclosure: I have no positions in any stocks mentioned, and no plans to initiate any positions within the next 72 hours. I wrote this article myself, and it expresses my own opinions. I am not receiving compensation for it (other than from Seeking Alpha). I have no business relationship with any company whose stock is mentioned in this article.
Additional disclosure: Maverick Research is a team of Research Analysts; this article was written by one of our senior research analysts.