GT Advanced Technologies' Future is Unbreakable
By: Matt Margolis
Background
In 2009 a friend of mine introduced me to GT Solar and I loved the long term prospects of the company because of GT Solar's involvement in the Solar Industry which I feel will continue to go through periods of rapid expansion and plateaus as new technologies emerge to drive down costs further and make new projects even more enticing. GT Solar was a one trick pony serving the solar industry that was about to peak in 2010 before crashing hard in 2011 due to oversupply. GT management saw the forest between the trees and invested heavily to diversify their business portfolio even though their core business (solar) was suffering a severe downturn.
GTAT's Diversification Strategy
June 2010: GT Solar acquired Crystal Systems for $80M for their crystalline growth technology company that manufactures high-quality, large area sapphire substrates used in the LED, defense, medical and aerospace industries. A month later the company changed its name from GT Solar to GT Advanced Technologies (GTAT).
August 2011: GTAT acquired Confluence Solar for $80M for their HiCz a continuously fed technology that enables production of high-efficiency monocrystalline solar ingots. GT informed investors that this acquisition "adds an innovative technology to GTAT's PV product portfolio that is well aligned with our strategy to rapidly innovate and develop next-generation crystal growth solutions." .
November 2012: GTAT acquired the assets of Twin Creeks Technologies for $10M primarily for their ion implanter technology that enables the production of lower cost thin substrates. Additionally, GTAT told investors that they "expect to pursue the development of thin sapphire laminates for use in applications such as cover and touch screen devices. The Hyperion ion implanter has the potential to minimize, or in some cases eliminate, the need for wafering saws, which would significantly lower the cost of production."
March 2013: GTAT signed an exclusive distribution agreement with Intego GmbH allowing GT to market and sell Intego's automated sapphire inspection tools including the Intego SIRIUS slab and brick inspection tool and a sapphire cover inspection tool currently in development.
May 2013: GTAT acquired Thermal Technology to address new markets with a range of production equipment options that can be optimized around customers' specific needs. GT management told investors that "Through this acquisition GT has acquired several key products and technologies that will allow GT to address new markets with a range of production equipment options that can be optimized around customers' specific needs. This includes annealing technology that the company believes will be important in the manufacturing of sapphire cover screens; crystal growth technology based on the Kyropoulous (KY) growth method and edge defined film growth (NYSEARCA:EFG) technology for large surface area sapphire."
GTAT's Sapphire Material Agreement with Apple (NASDAQ:AAPL)
Under the terms of the agreement, Apple will provide a facility in Arizona where GT will own and operate ASF furnaces and related equipment. GT will be employing approximately 700 people to run the operation.
Apple will also provide a prepayment to GT of approximately 578 million. We will reimburse Apple for this investment over a five-year period starting in 2015.
GT Management: "We have dedicated the vast majority of our current ASF capacity to support this multi-year commitment."
GT Management: "This has limited our ability to take additional ASF business in the near term and has restricted our ability to ship backlog on short notice."
Apple wanted sapphire screens for the original iPhone in 2006
The biggest question that seems to be perplexing analysts and investors in general is what exactly is GT going to be producing at the Mesa facility? Various analysts weighed in after the deal was announced and speculated this agreement was just to make the iWatch screen or to continue supplying sapphire home buttons and camera lenses. No one was brave enough to say Sapphire Cover screens. Thanks to the analysts at Connacord Genuity for reporting that Apple has had a NDA (Non-Disclosure Agreement) with sapphire manufactures indicating their desire to desire to cover their devices with sapphire screens. The NDA is an acknowledgment of Apple's wants and desires to use sapphire screens on their devices but neither Apple nor the sapphire manufacturer can comment or acknowledge the agreement. The biggest reason why Sapphire screens do not exist for high volume phone manufactures is because of Price and Availability but that is about to change. The process to create Sapphire Crystal displays is time consuming and costly; to keep things simple Aluminum Oxide placed inside of a crucible within special Furnaces and the powder is heated, melted and slowly cooled and after about 14 to 18 days it forms a large crystal known as a boule. The sapphire crystal is cut by a diamond or laser into sapphire screens since only diamonds are stronger than sapphire and sapphire screens are born.
Costs of Sapphire Screens came down rapidly in 2013
So how much does it cost? Well no one knows besides Apple and GT management for the moment. However, after digging through the conference call minutes I think I have a very good idea of the cost and the answer may surprise you. The current misconception that I see everywhere is that sapphire screens cost $30 to manufacture versus $3 for Corning's (NYSE:GLW) Gorilla Glass (10 times the cost of Gorilla Glass!). Gorilla Glass is currently the cover material of choice for smartphones and tablets. However, due to the toughness and "unscratchable" nature of sapphire Apple has already begun it migration away from Gorilla Glass one key component at time. In 2012 Apple replaced the camera lens with sapphire glass and in 2013 Apple replaced the home button with sapphire glass on their flagship iPhone. They would have replaced the home button on other devices including the iPad but the sapphire was not available in the quantities Apple needed.
During the Q1 Conference Call in May GT gave us a big hint on the progress of their sapphire screen cost cutting by estimating that their first generation screens can be manufactured for "$10 to $15 above the cost of strengthened glass" but they were quick to add that "we expect this cost will drop quickly thereafter as our partners and customers achieve higher volume and improved efficiencies". During the Q2 Conference Call in August they told us "we continue to drive down the cost of manufacturing sapphire. In particular, we believe Thermal's annealing platform, in combination with our Intego automated inspection tools and Hyperion solution enhance our position on the sapphire industry."
The cost of sapphire screens were estimated at $30 because of the inability to grow sapphire in high yields, the impurities of the boule itself which led to unusable sections of the boule due to pure quality along with the difficulty of cutting and finishing the sapphire screens. GTAT's strategic acquisitions over the past few years along with their extensive and dedicated R&D efforts to develop the technologies are now coming together as evidenced by the multi year sapphire materials contract with Apple as a low cost and high volume producer of sapphire materials. By increasing the size of the boule produced by the furnace GT can deliver significantly more per screens per furnace run for relatively little raw material costs. The Intego Sapphire Inspection Tool improves the quality and uniformity of the boule reducing the amount of sapphire crystal that is wasted or loss in the process. A more efficient annealing furnace allows for the sapphire screens to be finished at a lower cost and increases the volume of screens that can be finished each hour which further reduces the cycle time and cost to produce sapphire screens.
The Key Drivers to Reduce Sapphire Screen Costs
Next generation ASF Furnace 200kg vs 115kg → 74 % increase in boule size
Intego's Sapphire Inspection Tool → 20-30% more usable yield per boule
Thermal Technologies Improved Annealing (Finishing) Furnace → 10-20% more efficient
The chart below provides the cost saving by each initiative management has introduced over the past 12 months. Let's assume each furnace cycle (crucible) run makes enough sapphire for 1 screen and it costs $13 to produce 1 screen. However, if you could you increased the size of the size of the crucible by 74% you would be able to produce 1.74 screens per cycle if you divide $13 by 1.74 screens it would result in a per screen cost of $7.47 or a savings of $5.53. The next item is the inspection tool which increases usable sapphire by 25%, let's assume each furnace cycle still only makes 1 sapphire screen for $13, but now because of the inspection tool you no longer lose the edges to impurities (kind of like a loaf of bread that no child wants to eat) except this sapphire is so cloudy it wouldn't look pretty on your new iPhone. The inspection tool will allow you to make 1.2 screens per cycle run for $13, if you divide the $13 by 1.25 screens it would result in a per screen cost of $10.40 or a savings of $2.60. The annealing furnace follows the same example and assumes a 15% more efficient process. I think you now have a good idea of how each one of these process improvements can drop the cost of sapphire quickly

Click to enlarge
My analysis indicates that GT management can and has achieved price parity to Gorilla Glass and is consistent with their previous statements that "further cost reductions that could bring sapphire solutions to cost parity with strengthened glass." If price is your argument for against Apple's adoption of GTAT's sapphire cover screens you need to come up with another one because it's evident to me that sapphire glass prices have achieved price parity. If you want to take the yield argument that GT can't make enough screens to cover Apple iPhones then you should also realize that the improvements highlighted above also allow GT to make 1.99 times more screens per furnace run (0.74 extra screens from the furnace size and 0.25 extra screens from increasing the usable portion of the sapphire boule).
To add even more credibility to Apple's intention of switching over to sapphire screens an interview with Vertu Vertu COO Perry Oosting highlighted some interesting information regarding Apple. As of last June Apple had already hired at least two Vertu employees, for those of you not familiar with Vertu they are luxury phone maker based in England that uses sapphire screens on their displays but their annual unit sales fall well below 500,000 a year. Furthermore, Vertu COO Perry Oosting commented that Apple looked into sapphire screens but put the project on hold because it was unsuitable for production in the numbers that Apple required at the current point in time.
GT's strategic acquisitions, extensive R&D and ability to maximize their technology have dramatically reduced the cost of sapphire, increased the sapphire yield per furnace and led Apple purchase a $114m facility in Mesa, AZ on top of their $578m investment into GTAT to produce sapphire materials inside their 1.3 million square foot factory that will be 100% solar powered.
Just how big is a 1.3 million square foot sapphire factory?
Well first off, GT built a 25,000 square foot facility in Salem, MA for sapphire production as compared to Mesa factory which can hold over 50 of GT's Salem plants inside of it. To take things one step further, the playing field for an NFL game measures 160 feet wide by 300 feet long or 48,000 sq feet in total. The Mesa AZ sapphire plant can hold 27 football fields within its walls, so the next time you go to watch your favorite team play or watch them on TV picture 27 NFL playing fields inside of this massive sapphire factory. It's obvious to me that Apple has major plans for GTAT and sapphire beyond home buttons and camera lenses and I hope to shed some light on Apple's future plans with GT's sapphire materials in a follow up article shortly.
Management's Top Down Forecast for 2014 and Beyond
In 2014 we expect our total revenue to be in the range of $600 to $800 million. Our Sapphire segment will likely comprise approximately 80% of our total revenue in 2014. As a reminder, our sapphire segment will include our ASF equipment business, its LED, industrial and specialty materials business, and the new materials business with Apple. GT's overall gross margins are expected to be in the range of 25% to 27% for 2014, which reflects the greater level of sapphire materials business.
In 2015, revenue expected to exceed $1 billion. During 2015, will benefit from the introduction of many of the new equipment products that we discussed. We expect the contribution from our other equipment businesses to increase on a percentage basis as they gain traction. We expect that in 2015 and 2016 our consolidated gross margins will be in the 25% to 30% range.
By 2016, driven largely by the incremental strength from our equipment businesses and continued contribution from our sapphire materials, we expect our revenue to nearly double from 2014 levels. Taking all factors into account we expect to deliver substantial year-over-year earnings growth over the next three years. By 2016, we expect our non-GAAP EPS to be over a dollar per share.
Below is my best attempt to breakdown of management's guidance and analysts estimates into revenue streams for 2014 based on the high level detail provided in November 2013. I used 2013 gross margin guidance to allocate a margin % for the non-Apple revenue and then based on management's guidance I was able to back into a gross margin on Apple of 23.6%. We will be receiving updating guidance and EPS estimates from management in late February.

Click to enlarge
Macro and Micro Long Term Drivers for GTAT
Global smartphone Sales - The IDC (International Data Corp) released their 4 year estimate on global smart phone sales in September 2013. Annual global smartphone sales are expected to increase 73% from 1 billion units in 2013 to 1.73 billion units by 2017 and if the trend continues they will exceed 2 billion units in 2018. I expect Apple sell 200m+ iPhones in 2014 assuming their 17% market share stays flat however they just signed a contract with China Mobile and gained access to 763m new potential subscribers. Analysts are estimating Apple will sell 12m iPhones to China Mobile subscribers which will result in their market share moving up from 17% to 19%. How sweet is the Apple deal for GTAT? Annual iPhone unit sales are projected to double from 2014 (pre China Mobile) to 2018 (post China Mobile).

Click to enlarge
The chart above demonstrates how quickly GTAT's revenue from Apple for just the iPhone will exceed $2b annually (assuming $5.00 to 5.50 per screen) by 2018. I am confident that the 2014 Apple revenue estimate of approximately $500m only represents 6 months or less of unit sales for 2 reasons:
Reason #1 The prepayment agreement with Apple calls for GT to reimburse them $578m over 5 years ($115.6m a year) beginning in 2015. Based on my assumed margin of 23.6% it would take $490m of sapphire sales to Apple to just pay them back. Assuming annual sales are $980m and Apple would split $231.2m which would leave GT with only $115.6 or 16% of gross sales (.16 cents per dollar of revenue) to pay for their overhead and indirect labor costs outside of manufacturing. GT historic margins have been closer to 30-35% range and I believe in order for the Apple deal to make sense GT will be receiving much more revenue from Apple than most of us realize.
Reason #2 GT is ramping up it's capacity and production in Mesa, AZ as evidenced by their job openings on the company website and for that reason it's highly unlikely they will generate any meaningful revenue from Apple until May or June at the earliest. On November 15, TechPrecision (TCPS announced it had received a $8.1m of sapphire chamber order from an existing customer that will be delivered by May. GT has been a significant customer of TCPS for years. The order timing and magnitude have led many to believe that the order was placed by GT.
Solar - Global PV demand is expected reach a record 49 GW in 2014 up from 36GW in 2013 an year over year increase of 36%. Equipment utilization rates in 2014 are expected to exceed 90% for tier-1 manufactures. Manufacturing overcapacity that has plagued GT's solar sales are expected to resume in earnest in 2015. The GCC (Gulf Cooperation Council) which includes Saudi Arabia, United Arab Emirates, Kuwait, Qatar, Oman and Bahrain is expected to spend $162B on green energy between 2014 and 2025 (in 2013 78% of the green energy spend was spent on Solar. The UK plans to expand their solar capacity from 3GW in 2014 to 20GW by 2020 which is an annual growth rate of 37%. Another recently published article estimated that the Top 10 states in the US have over 40GW of solar projects in the pipeline. GT is also a finalist on a very large PV Project in Saudi Arabia worth $300-500m+ of revenue in 2016 and beyond that was supposed to be awarded in Q4 2013 but nothing has been announced as of yet. Bottom line is the Apple contract is very significant but Solar sales will come back in a major way. It wasn't too long ago (2011) that get GT's PV sales totaled $740m almost equal to managements entire 2014 revenue guidance.
SiC -Many of us have heard of LED lighting and how they are replacing Halogen lighting with more efficient bulbs that will last longer and use less energy. Well Sic (Silicon Carbide) is going to be the next big thing to reduce energy consumption and bring efficiencies to electronic devices. SiC is part of WBG (Wide Bangap) semiconductors that can operate at higher temperatures and have greater durability and reliability at higher voltages and frequencies. These semiconductors can handle ten times more voltage, reduce power conversion losses by up to 90 percent, and potentially reduce the size of consumer electronics by 80 percent. If Apple or anyone else ever dreams of having a solar powered cell phone they would need to use SiC because the current semiconductor is not efficient enough to convert the solar energy into the device's battery. A recent estimated that SiC global demand was going to rise from $1.45B in 2012 to $3.82B in 2019 (an annual grow rate of 15.3%).
Hyperion - I'm sure 99% of us have never heard of this or know exactly what it does. Twin Creeks Technology raised over $93m to develop a piece of factory equipment that could slice off silicon wafers 20 microns thick versus 200 microns thick which is the industry norm. The machine's goal was to cut the costs of producing in half because the machine can take the same amount of silicon and produce twice as many silicon wafers. GT acquired the company in November 2012 for $10m and has advanced this spectacular tool into the pre-production stage. The machine is also protected by over 50 issues and pending equipment and process patents so don't worry about someone else replicating this anytime soon. The Hyperion tool can be leveraged across almost all of GT's businesses PV, Sapphire for consumer electronics, Sapphire for LED and SiC. Also, if anyone took the time to read the November 10-Q you would have noticed that GT was going to pursue the development of sapphire laminates. It looks like the outcome of that pursuit lies with the success of failure of the Hyperion Ion Cannon and by the sounds of it GT is well on it's way to achieving another major technological milestone. GT told investors that Hyperion can bring in $750m plus of annual revenue at it's maturity.
Sapphire Substrate - Sapphire substrate is a key component in LED because it is a good thermal conductor and it is transparent and does not disrupt the light emitted by the LED bulb. The move to sapphire in mobile devices began with Apple and their introduction of the sapphire camera lens in September 2012 followed by the sapphire home button in September 2013. Apple loves sapphire because it will not scratch unlike Corning's Gorilla Glass and the last thing Apple wants to see to have their Touch ID security or pictures compromised by inferior materials. Phone manufacturers LG and HTC have been rumored for weeks to be adding sapphire home buttons to their devices in 2014 in addition to these manufacturers several others have added sapphire lenses to their devices over the past year. Due to the increased application of sapphire in mobile devices as well the continuous growth from LED the sapphire market will be facing a supply shortage by 2015 if not sooner. GT management has seen LED equipment utilization rise from 70% in the Spring of 2013 to nearly full utilization by November which tells me another upgrade cycle is around the corner sooner rather than later.
My 2015 Revenue and EPS estimates based on a bottom up build up. I have taken into account the polysilicon backlog of $301m and the sapphire backlog of $355m at the end of Q3. Based on management's guidance they expect to ship little or no ASF furnaces until late in 2014 when capacity opens up from Apple so I expect a majority of these furnaces to be shipped in 2015 since sapphire demand is going to outstrip supply by 2015. A majority of the polysilicon backlog $260m of $301m sits with 1 client OCI and they expect to start receiving delivers late in 2014 and throughout 2015. PowerTec Energy is expected to complete Phase 1 of their polysilicon plant by the end of 2014, the build out for PowerTec's phase 2 and phase 3 are expected starts as soon as phase 1 is complete and continue throughout 2015 and into 2016. GT's solar equipment business will enjoy the solar industries next equipment expansion in 2015, GT's Hyperion Technology is scheduled to be commercial ready for 2015 and GT's SiC furnaces are currently on schedule to release a 4" and 6" solution by the end of 2014 and if partnered with the Hyperion Technology GT's solution should be the most cost effective one on the market. My 2015 Apple revenue estimates are based on my assumption that the 2014 Apple sales are only reflective of 6 months or less of unit sales. I believe will GT will begin providing sapphire screens to Apple beginning in June 2014 ahead of Apple's September Iphone 6 land next generation Ipod Touch launch. I am assuming the screens will be sold to Apple for between $5 and $5.50 a screen and this price increase is reflective of the increased screen size from 4" to 4.7" and my estimated margin on Apple's revenue of 23.6%.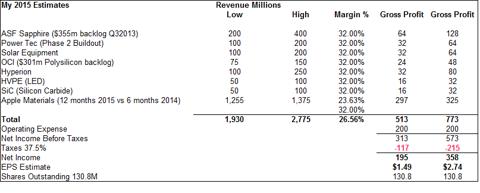 Click to enlarge
In closing, there is still a lot of mystery surrounding the sapphire materials agreement between GT and Apple specifically the "what and when". Based on what I know through my research it's my opinion that Apple wanted to do sign this deal with GT early in 2013 but GT was not ready because the price was just too high, yield would be difficult to achieve and needed management needed more time to resolve these issues. After increasing the size of the furnace, acquiring thermal technology to improve the annealing process and signing a exclusive contract with Intego GmbH to improve the usable boule from each furnace GTAT is now ready to take on and shatter Corning's gorilla glass since price is no longer an issue.
The future of GTAT is not just Apple but instead it is about all of the fruit that will come to bare from the trees GT management has strategically planted over the past three years and will continue to plant in the years to come. 2014 will be a very good year for GTAT in the short-term but more importantly 2014 will be a bridge that will lead to several amazing and new innovative product offerings as well as the return of growth and expansion to some of GT's core product offerings in 2015 and beyond.
My 3 year projection is below:
2014 EPS of $0.27 on $800m
2015 EPS of $2.12 on $2.35b sales
2016 EPS of $2.86 on $2.94b sales
The highest analyst estimate I found was $1.64 EPS in 2015 which tells me that at least I know I'm not the only one who understands GTAT's story. If GTAT was trading at $40 by the end of 2014 it would still only be 19 times forward earnings which is still relatively inexpensive compared to future earnings that should grow by at least 25% for the next several years.
Disclosure: I am long GTAT, . I wrote this article myself, and it expresses my own opinions. I am not receiving compensation for it (other than from Seeking Alpha). I have no business relationship with any company whose stock is mentioned in this article.
Additional disclosure: I have an existing position in GTAT and have no plans to add to or sell any of my holdings in the next 72 hours.