Mental healthcare facilities operator Psychiatric Solutions (OTCPK:PSYS) is a company we have followed for several years. By default, the need for managed services of behavoral and psychiatric illnesses will likely remain strong. Anecdotal evidence supporting this thesis can be seen in the recent brazen and sophisticated heist of anti-depressant drugs from a Mass. warehouse belonging to Eli Lilly (NYSE:LLY). In short, the mental health biz is booming and an equal opportunity proposition.
That said, takeover talks (with Bain) and a spike in PSYS's share price on heels of this news isn't surprising. Similarly, effects of potential arbitrage, policy effect and perception of how a private equity deal might play out, will likely keep traders in the name.
Keep in mind, Bain isn't the first to sniff around, but PSYS management is on record for wanting a 25% premium over the market cap when news was announced. Thus, arbiteurs and shareholders will be considering what risk(s) lurk in closing a deal.
We aren't experts in policy or reimbursement issues, but a look at the company's financial statements may shed light on valuation and whether or not PSYS's asking price is realistic.
Not low-hanging fruit: In this market environment, we know that any potential bidder (PE or public) will focus on how cash-flow is generated as PSYS carries a good chunk of debt and high levels of "Cost in excess of net assets acquired" on the balance sheet.
It's a safe bet that potential suitor, advisor and seller will address debt servicing and possible future impairment issues when negotiating. Note: Bain has close ties to Goldman Sachs (NYSE:GS) (retained by PSYS as an advisor).
What is fair value of PSYS shares? Our dual cash-flow and accrual analysis for the seven quarters ending Dec. 30, 2009 suggests a FV of $31 (based on a March 5 price of $24.15 used in our analysis).

Although operating cash-flow (as defined in our model) remains negative, it has improved sequentially in each of the previous five periods as a percentage of sales. Similarly, Balance-sheet cash flow as a percentage of sales, has declined in each of the past five periods. This provides one indication that earnings quality is improving incrementally. (Click charts to enlarge.)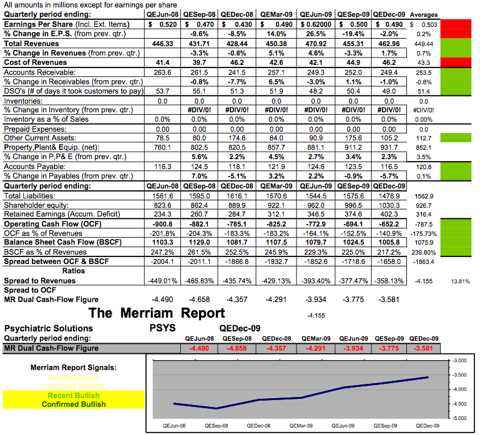 Revenue Metrics: In comparing results of the most recent period to an average of all quarters, PSYS shows an improvement in S,G&A and Payables as a % of sales, while cost-of-sales rose slightly.
Capital Productivity: Using the most recent period-to-avg. comparison, accounts receivable per dollar of sales improved modestly ($0.53 vs 0.56), while P,P,&E jumped to $2.01 per $ of sales vs. $1.89 avg.
Accrual Ratios: One caveat to an otherwise decent balance-sheet is a rising use of accrual accounting over the last four periods. While the accrual ratio has yet to cross above our sell indicator threshold of +5 during the past 4 quarters, recent trend has a bearish bias. In contrast, non-cash current assets as a % of total current assets in the latest period declined to 29% from 39% in the previous quarter.

Goodwill / Costs in excess of net assets acquired: We are encouraged to see exponential declines in goodwill both as a % of assets and equity. However, both remain quite elevated and this increases the likelihood of potential write-downs going forward.

Bain is known for shrewd deal making and consensus driven due-diligence. We can't speak for how they view PSYS's market growth potential, industry attractiveness or competitive position, but we would not be surprised if issues related to debt-servicing, non-cash accounting and intangibles whack a few bucks off of our FV estimate.
There's no guarantee of a deal, but if you were fortunate enough to own PSYS prior to the news, taking some profits off the table near the $30 area wouldn't be the worst decision one could make.
What could push shares higher? As long as talks remain active, speculators and arbs will likely keep shares afloat. News of additional bidders emerging and/or partners with Bain could also change the landscape. Investors may want to keep an eye on the options for directional clues.
Our full report on PSYS can be viewed here.
Disclosure: None