SanDisk (SNDK) has its annual earnings report scheduled for after the market closes on January 22. In 2013 SanDisk had a great year with its stock price up over 50%. As a possible investment, I would like to take a deeper look at the fundamental characteristics. As noted in my first article I place heavy emphasis on the cash flow of a company. Ultimately, the free cash flow will be returned to investors through future dividends, stock repurchase arrangements and other company investments. Typically, I would like to analyze the correlation between revenue, operating cash flow, capital expenditure and free cash flow.
As of 1/17/14 SNDK is trading at $73.69. Over the course of the past year their sales have risen 27% and operating cash flow has risen 198%. The operating and free cash flows increased dramatically between the third quarter 2012 and the first quarter 2013. Cash flows have leveled off during the second and third quarters of the year.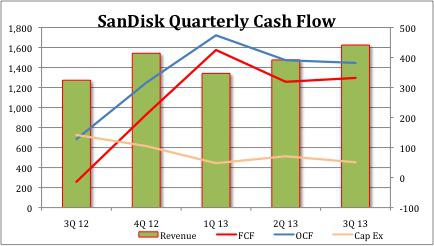 However, this was about the same time that SanDisk initiated a dividend and announced an increase to their share repurchase program. Both of these factors were a great return for investors. Since inception of the share repurchase program SNDK bought $673MM worth of stock. As of last quarter, SNDK still has $2B available for repurchasing shares. Such financial investments provide insight to the company's guidance. Clearly, management has a positive outlook for the company. Additionally, even with the dividend and stock repurchases, SNDK had a quarter over quarter increase in free cash flow. Such an increase could be a sign of their efficiency in converting sales to cash and return to investors.
Other Fundamentals
Generally, I prefer a company to pay a dividend greater than 2%. Currently, SanDisk is paying a 1.22% dividend. However, 2013 was the first year that SanDisk paid a dividend. Such strong free cash flows would correlate to future increases in the dividend paid. SanDisk also has a strong current ratio of 3.31, which is particularly strong for the industry. Also, it has a profit margin of 17.04%, which is also aligned with the industry.
Conclusion
Even with the 2013 appreciation, I would still consider SNDK a buy. The stock is fairly valued at 11.5x its cash flow. Management has made great efforts to feed the appetite of the investors. There is still room for this stock to run and long-term investors will see much return.
Disclosure: I have no positions in any stocks mentioned, and no plans to initiate any positions within the next 72 hours. I wrote this article myself, and it expresses my own opinions. I am not receiving compensation for it (other than from Seeking Alpha). I have no business relationship with any company whose stock is mentioned in this article.