With Super Bowl XLVIII (48) fast approaching, there will undoubtedly be extensive media coverage on Hall of Famer John Elway's association as an executive of the Denver Broncos. Known for his resiliency to lead his team to victory amid being down, the Comeback Kid repeatedly found a way to come out on top. For those familiar with Neptune Technologies and Bioresources' (NASDAQ:NEPT) story, a comeback is certainly in the works. A tragic explosion struck Neptune's production facility in November 2012, resulting in two casualties, nineteen injuries and a financial shakedown that temporarily halted the trading of Neptune stock. Since however, Neptune has quickly mobilized to address the incident and is on schedule to open a new plant by February of this year. In just over a one year period, Neptune has gone from a company with a vague future to establishing an economic moat as the leading krill oil player, protected by patents they've battled for. The irony in all this: John Elway is a brand ambassador of Neptune.
Neptune: Pioneer of krill oil market
When it comes to the omega-3 oil market, product differentiation amongst competitors is scarce as traditional fish oils have dominated the space since inception. The exponential growth of consumer awareness (see below) around the implicated health benefits has set a precedent for product innovations following demand for the purest and most potent forms of omega-3 fatty acids. Over the course of the past decade, attention in the industry has been swayed to krill oil; a hybrid form of Omega-3 that bolsters bioavailability more than two-fold. Neptune is the leading innovator in the omega-3 krill oil market with their game changing Neptune Krill Oil products (NKO).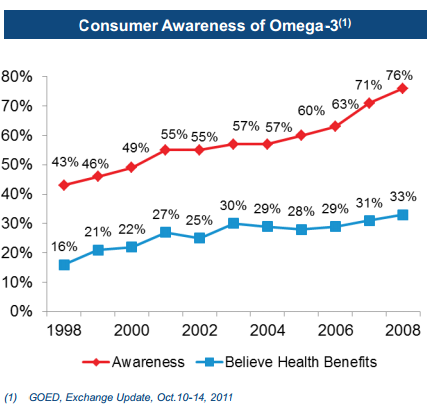 NKO is an extract of Antarctic krill, a shrimp-like crustacean that acts as a source of food for larger members of the marine food chain. Krill sourced omega-3 oil is a rich source of phospholipids, which give NKO greater bioavailability (absorption rate) than conventional fish oils. In addition, NKO contains a powerful antioxidant that makes it stable for longer durations than conventional fish oil, proving that additional health benefits emit from consuming omega-3 krill oil. Studies have proven NKO to be the best source of omega-3 and the only krill oil with health benefits in cardiovascular, cognitive, joints and women's health. Consumers are buying into the science behind Neptune's krill oil as they purchased over $25M of the product in FY2013.
Economic moat backed by superiority of NKO and patent infringement
The competitive advantage of the krill oil Neptune produces has distinguished the company in a rather undifferentiated omega-3 space. According to Transparency Market Research , the global omega-3 ingredient market is expected to cross $4B in 2018. Surely, new market entrants will attempt to share in the profits of this growing health trend. As a result, Neptune's scientifically superior NKO product will be a target for competitors. To sustain this emergent economic moat, Neptune has leveraged a solid intellectual property portfolio.
Over the past several years, various companies have infringed Neptune's patents. The company has fought legal battles and for the most part has reached infringement settlements with a majority of the parties (see below). This serves as a testimony to the strength of Neptune's patents which have held in courts and also emphasizes the desirability competitors have to manufacture and sell products Neptune has originally developed.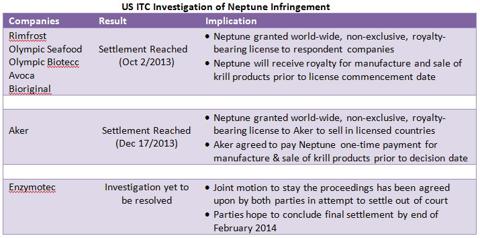 The non-exclusive, royalty-bearing settlement that has been reached with the respondents shows that Neptune is at the helm of this industry. If anyone plans to sell krill oil products, they must first go through Neptune. Hence, Neptune will have their hands in every krill oil player's pocket.
The Enzymotec (NASDAQ:ENZY) investigation has yet to be resolved. However, a joint motion was filed on January 13th, 2014 for a 30 day extension. It is hoped a final settlement will be reached within this time which would net Neptune similar implications to the other settlements. I believe this upcoming catalyst will provide Neptune with yet another source of royalties and a potential one-time payment from Enzymotec.
On the announcement of Aker's settlement with Neptune, Wells Fargo Enzymotec analyst John Baumgartner said:
"As a co defendant with Aker in the infringement case and per our 10/22/13 initiation, we viewed this litigation as the largest 12month risk to our ENZY thesis. What's negative, we believe that ENZY may also now enter into a similar agreement with Neptune and thus, it would reduce the margin structure on approximately 70% of ENZY's Nutrition segment. We estimate that every 1% royalty rate would equate to up to ~$500k on an annual basis and assuming a 5% royalty rate, we believe $2.5MM ($0.11/share) of downside risk exists to our 2014E EPS ($0.84)."
Baumgartner's assumptions of a 5% royalty rate would result in approximately $2.5M in krill oil royalty revenues for Neptune. This figure is only from the potential Enzymotec royalty. The $2.5M figure could easily double for Neptune when taking into account the royalties from the larger Aker and other settling companies. $5M in royalty revenue would result in approximately one fifth of FY2013 sales, thereby potentially increasing future year sales by 20% or more. Neptune's stronghold in the krill oil market is a result of its premium NKO product and patent portfolio which will continue to sustain the company's leader status.
Acasti Pharma: 2 for 1 long option play
Acasti Pharmaceutical (NASDAQ:ACST) is a majority owned subsidiary of Neptune which was established with focus of developing a prescription grade krill oil derivative to address cardiovascular disease and hyperlipidemia. Acasti, along with privately owned NeuroBioPharm, expose Neptune investors to both the nutraceutical and pharmaceutical markets. This 2 for 1 play, as HCW's report coined it, offers investors the diversity of being involved in two industries while also the potential to benefit from the high yielding biotech sector in the event of regulatory approval.
CaPre is the Phase II drug candidate that is aimed at patients with mild to high triglyceridemia (200<TG<877 mg/dL). Drugs currently approved for similar indications are Amarin's (NASDAQ:AMRN) Vascepa and Glaxo's (NYSE:GSK) Lovaza. AstraZeneca's (NYSE:AZN) Espanova is currently under FDA review and expects a decision by May 2014. The three drugs competing against CaPre are obtained from fish oils. As explained above, the benefits of Neptune's NKO over traditional fish oils led the company to expect similar results for the prescription candidate CaPre, a concentrate of active ingredients from NKO.
Acasti's COLT trial (Phase II randomized, open-label) results showed a statistically significant reduction in triglycerides, a decline in LDL (bad cholesterol) and an increase in HDL (good cholesterol). The "perfect trifecta" term was used by Catalyst Equity Research to describe the best-in-class results demonstrated in COLT trial. Thus far, CaPre is the only drug or drug candidate to impact all three main lipid components (triglyceride, LDL, HD). As seen below, no competing drug has the same effect on lipid components.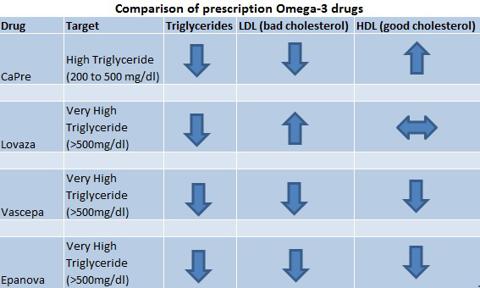 TRIFECTA (CaPre's double blind placebo controlled trial) results are expected 1Q 2014. This trial could confirm the COLT results and demonstrate that Acasti's candidate could outperform the competitors, paving the way for regulatory approval in the US.
New Sherbrooke plant opens door for opportunities
The completion of the production plant in Sherbrooke is expected by February 2014. The ramp up period, according to management in the Q3 call, will take 2-3 month after completion, which is when the facility will reach production of 150 metric tons. This expected operational 2Q date is a major catalyst because it implies that the Sherbrooke plant will produce Neptune's premium NKO product. The availability of 150MT along with the supply agreement with Rimfrost for up to 800MT will significantly increase capacity to capture growth opportunities and expand Neptune customer base, alleviating any concerns of capacity restraints.
Neptune has no intention to license NKO as management believes they are best suited to produce the premium product. As a result, a nearing operational facility has allowed Neptune to seek expansion opportunities, such as the approval to sell in China. In addition, management also hinted at ongoing discussions with Jamieson, Canada's leading nutraceutical distributor, to continue supply of NKO.
The shortage of NKO supply caused by the 2012 facility explosion has delayed NKO launch in many countries outside the US. Once the Sherbrooke plant becomes operational, this backlog will be satisfied thereby bringing in an influx of revenues. To continue satisfying the increasing demand, management plans to eventually double the Sherbrooke production to 300MT. This investment will prove to be an efficient move as it will take less resources due to already having initial infrastructure in place. With the facility ramp up restoring production to pre-incident levels by the end of 2014, Neptune is well positioned to capitalize on the growing health trend that will in turn result into greater short term demand.
Valuation
To value Neptune's nutraceutical business, certain assumptions were made. A sales growth rate of 25% was used to reach the total FY2017E figure of $50.3M. This growth rate is in line Neptune's 5yr sales growth rate. Furthermore, the omega-3 industry is expected to grow by approximately 15% annually until 2018. According to management in the Q3 call, krill oil was the fastest growing product in the omega-3 industry as per the Neilson Report. Thus, a 25% growth rate is reasonable for Neptune, especially with the production facility up and running.
A sales multiple of 9X was applied, which was in-between the 5-year average Neptune figure of 7.8x and competitors' figure of 12x (source: Thomson Reuters Stock Report). Discounting this value at 20% for three years, I come to an implied share price of $4.27 (see below).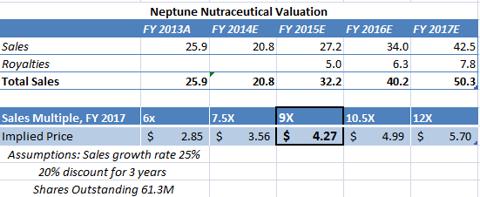 Keep in mind, this $4.27 figure does not include Neptune's pharmaceutical arm Acasti. If CaPre attains regulatory approval to market in the US, a billion dollar valuation is not farfetched. Allotting CaPre a conservative 50% probability of approval and discounting that value with the same rate as we did above (20% for 3 years) would imply a $4.72 price of ACST. However, Neptune owns approximately 50% of Acasti, so only $2.36 would pertain to Neptune.
Altogether, according to my calculations, Neptune warrants a $6.63 price, yet is only trading at less than half that value. Even if CaPre is a total failure, the nutraceutical segment alone should justify a Neptune share price of $4.27.
Capitalizing on competitive advantage will continue to drive Neptune's turnaround
Neptune's stronghold over the krill oil market, as a result of their premium NKO product and strength of intellectual property, ensures the company will sustain their economic moat. The nutraceutical division will encounter robust growth from the increased consumer awareness of omega-3 as well as the collected royalties from sale of nearly all krill oil producers in the market. A fully operational production facility will ensure Neptune has the capacity to take advantage of this growing demand. Additionally, investors are exposed to the potentially lucrative pharmaceutical opportunity in which Acasti sports best-in-class results with CaPre. Neptune has had a harsh past, but just like their brand ambassador Elway, the near term outlook points to a remarkable comeback.
Disclosure: I am long NEPT. I wrote this article myself, and it expresses my own opinions. I am not receiving compensation for it (other than from Seeking Alpha). I have no business relationship with any company whose stock is mentioned in this article.