Peabody Energy Corporation (BTU) was considered to be a stronger mining company within the coal industry than Alpha Natural Resources (ANR) or Walter Energy (NYSE:WLT) by The Cowen Group. The analysts noted that Peabody Energy had more positive exposure to international opportunities. In a note to their analysis, released on January 9th, they wrote the following with respect to ANR and WLT when they downgraded both to market perform:
We expect that investors may migrate to (Peabody Energy) based on favorable exposure to international met operations and an improving PRB market, but see it near fair value given our new estimates.
I can understand international desire for PRB coal, which is generally for thermal use. In fact, The Cowen Group most likely got this part correct as China signed a deal with Peabody for thermal coal, which could come from their Australian operations or PRB operations within the United States.
China's Shenhua Group inked a deal with Peabody for the globally diversified coal giant to provide China with thermal coal. That coal can come from Peabody's Australian operations, but it can also come from its ultra-cheap Powder River Basin operations in the United States.
The Peabody/China deal, as noted by Zacks, was signed just shortly before the end of 2013, and the price of Peabody's stock increased through the start of the new year to roughly $19.50. However it is back down again to the upper $17 range.
Why is Peabody down roughly 8% Year to date? Most of the answer to this question is explained by deeper analysis of the first part of The Cowen Group's statement with respect to met coal operations.
To understand Peabody, one must first understand what Peabody's International Operations are. Peabody is not so much an International Operation as it is a bi-national organization. In other words, Peabody has mines in two countries, the United States and Australia. The real exposure for Peabody with respect to international trade comes in the form of demand from China with respect to their Australian operations.
See this chart for a visual representation of Peabody's international interests: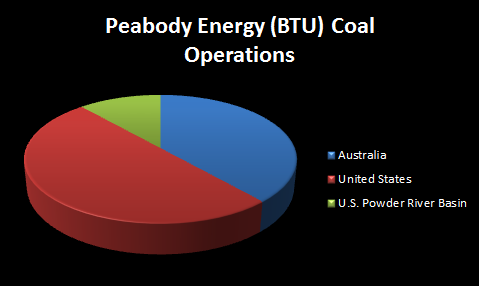 So what type of demand can we expect to see from China with respect to coking coal?
A recent article from The Australian might help us understand the picture over on the other side of the world just a bit better:
In coal, where China is self-sufficient for as much as 90 percent of its coal supplies, it has much greater leverage over the price (as opposed to iron ore). ANZ commodities analyst Mark Pervan says this is not enough to stop prices soaring when, as in 2011, floods in Queensland halt shipments.
So, with the exception of a natural catastrophe, we can expect prices on coal to not suddenly get any better. And as we all know, they have actually become worse. Coking Coal has fallen from $152 down to $134.
This is also mostly due to a falling demand for China's Steel, for which coking coal is used. In the article cited above, the reason for the decrease in coking coal prices is indicated:
China's steel prices are falling, having come down by about 7 percent since late December, and mills are trying to push this back on to their suppliers by stopping their accumulation of stocks.
Note that this is not a decrease for steel worldwide, but only for China's steel and this is mostly the result of numerous trade tariffs that have made it hard for China to dump steel easily at rock bottom prices. India and the United States are two major countries where trade tariffs exist which result in a decrease in demand for China's steel. This results in a decreased demand for coking coal on the part of China. This in turn can hurt some U.S. mining operations, but mostly Australian mining is hurt.
So there really isn't a very strong demand currently for coking coal on the part of China. While it is possible that Peabody Energy will benefit from the increased demand for their PRB coal with respect to thermal usage, I cannot really see an increase in demand for their coking coal with respect to their international operations within the near future. Local or US demand for coking coal might be a different story.
Peabody Energy therefore is in an interesting position. Due to their recently signed deal with China's Shenhua Group, Peabody Energy could benefit greatly once the demand for China's Steel increases, which would in turn drive a greater demand for coking coal on the part of China.
Conclusion:
I'm not about to buy ANR or WLT as they both have negative Earnings Per Share as well as only dealing in met coal with no diversification in thermal. Additionally with the met coal prices falling within the United States, I would rather not open up my portfolio to the risks imposed by a fall in their only product. Instead I would try to capitalize on the decrease in met coal prices, and invest in a US-based steel company instead. However, if I did hold ANR or WLT currently, I would certainly not migrate to BTU as a result of their international met operations. If I was looking for an opportunity to buy into Peabody Energy, I would wait until the steel inventory in China drops significantly as this would result in an increase in coal's price, which would benefit BTU. Probably the best indicator will be some political movement with respect to steel tariffs within the international community. Peabody is ready for future success, but I would wait for the stock to drop lower before buying.
Disclosure: I have no positions in any stocks mentioned, and no plans to initiate any positions within the next 72 hours. I wrote this article myself, and it expresses my own opinions. I am not receiving compensation for it (other than from Seeking Alpha). I have no business relationship with any company whose stock is mentioned in this article.