On January 20, 2010, Transcept (TSPT) management met with the U.S. FDA to discuss the complete response letter issued October 28, 2009 on Intermezzo. The letter brought up issues on potential inadvertent re-dosing in a single night and inadvertent dosing with less than four hours of bedtime remaining.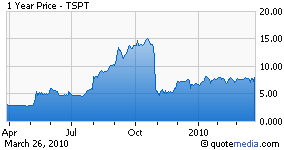 The FDA also requested additional data demonstrating that Intermezzo, when taken as directed in the middle of the night, would not present an unacceptable risk of next-day driving ability. Prior to attending the meeting, management submitted a revised proposal for the resubmission of the Intermezzo new drug application (NDA) to the FDA for evaluation and comment. In this briefing document, Transcept proposed a new Intermezzo bedside unit-dose package and patient instructions designed to reduce the possibility of patient dosing errors.
The proposed revised packaging for Intermezzo looked similar to how Merck has packaged Maxalt-MLT (rizatriptan benzoate). Maxalt is an orally disintegrating tablet, similar to the sublingual design of Intermezzo, indicated for the treatment of migraine attacks in adults.
The packaging includes a large individually-wrapped ("unit of use") tablet inside a pouch roughly the size of a cocktail napkin. Anywhere from 8 to 12 of these packets can fit inside a standard box. The pouch is child-resistant, requiring a fold-and-tear method to open and expose the pill.
The pouch is also large enough to provide substantial instructions for use (IFU) and cautionary language on each individually-wrapped unit. And finally, the pouch is air-tight to protect the sublingual formulation from degradation.
FDA Issues Mixed Response
On February 19, 2010, Transcept received the minutes from the FDA meeting. In the minutes, the FDA indicated that the revised packaging appeared to reduce the potential for inadvertently taking more than one dose in a single night, but still expressed concern that the revised packaging may not adequately address the risk of dosing with less than four hours of time remaining in bed, with particular regard to the possibility of impaired driving.
Therefore, to further understand the safety of dosing Intermezzo in the middle of the night, Transcept has proposed to the FDA to conduct a pre-approval highway driving study to assess the effect of Intermezzo on driving ability beginning at approximately three hours and four hours post-dosing.
The proposal was submitted to the FDA on February 16, 2010. Transcept is still waiting to hear back from the FDA regarding an OK for the design for this study. However, based on what we've seen in the past from driving studies, Transcept will probably seek to enroll 30 to 35 patients (in The Netherlands) testing 3 arms: Intermezzo, placebo and an active control (zopiclone) in a cross-over design. These studies are typically very quick, with only a few months to analyze the data. Total cost should be around $1 million.
Our best guess is that management will be in position to re-file for approval around October 2010. Assuming a standard (class-II) review of six-months, we could be looking at FDA action in Intermezzo around April 2011.
Approval in April 2011 will be 10 months after the June 30, 2010 full milestone payment deadline from Purdue. As a reminder, the milestone then declines by $2 million each month starting in July 2010, so by April 2011 Transcept loses out 10 months, or $20 million.
Still, including the transfer of the manufacturing and intellectual property to Purdue, approval will earn Transcept $10 million, so the total milestone upon approval will still be a respectable $20 million. This is on top of the $25 million upfront Transcept received in August 2009, and an additional $80 million in sales related milestones and royalties on the drug that can be earned in the future.
IP Strengthened
On March 23, 2010, Transcept announced that the second patent covering the composition and use of Intermezzo (zolpidem tartrate sublingual tablet) has been issued by the U.S. Patent and Trademark Office. Transcept has previously announced the issuance of a Notice of Allowance for claims under the application for this patent, U.S. Patent Application Serial No. 11/833,323, on November 4, 2009. The newly issued patent, U.S. Patent No. 7,682,628, titled "Compositions for Delivering Hypnotic Agents Across the Oral Mucosa and Methods of Use Thereof," will expire no earlier than February 2025.
Stock Significantly Undervalued
We are confident in the risk and safety profile of Intermezzo dosed 4 hours prior to awaking in the morning. Transcept has made available additional supportive analyses of data from a previously conducted Intermezzo pharmacokinetic and pharmacodynamic study at time points up to four hours post-dosing.
The article, published in 2008 and titled "Daytime pharmacodynamic and pharmacokinetic evaluation of low-dose sublingual transmucosal zolpidem hemitartrate" in the journal Human Psychopharmacology, concludes that an as-needed ("pro re nata") dosing of a sublingual transmucosal zolpidem lozenge may be the ideal pharmaceutical candidate for patients that suffer from middle of the night awakenings.
We are confident that the planned driving study will clearly demonstrate that correct (on label) dosing of Intermezzo will not result in meaningful risk with respect to next-day functionality or driving ability.
We are maintaining our positive rating on Transcept despite the delay. The stock is now trading with a market capitalization of only $104 million, just $15 million above the cash on the balance sheet of $89 million at year end 2009.
This far undervalues the company, in our view. Earlier this month we witnessed the approval of Somaxon Pharmaceutical's (NASDAQ:SOMX) Silenor for the treatment of sleep maintenance insomnia. As a result, Somaxon's stock soared from a market value of $20 million to now $220 million.
In our view, the market is applying a similar steep discount to Transcept, with an enterprise value of only $15 million less the cash balance. Once Intermezzo is approved in about a year, we would expect a similar rapid revaluation to significantly higher levels.