Monsanto (NYSE:MON) is the world's leading producer of seeds. Their seed and genomics division combines advanced breeding and biotechnology traits to produce high-value-added seeds for corn, soybeans, cotton, fruits, vegetables, and other crops. The agricultural productivity segment focuses on animal farming and also produces a number of herbicides, including their flagship product Roundup.
Monsanto was bought by Pharmacia & Upjohn in early 1999 and then came public again in October of 2000. From 2000 through FY 2009 (FYs end Aug. 31) their sales and earnings shot up dramatically. Revenues per share climbed 102% from $10.64 to $21.50 while EPS surged by over 1100% from (a split adjusted) $0.34 to $4.41.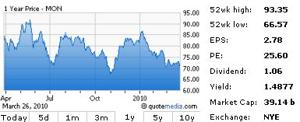 The recession and a drop in sales of Roundup will make FY 2010 the first down YOY comparison since the shares started trading publicly again. Zacks now sees FY 2010 and 2011 coming in at $3.26 and $4.41, pretty much in line with the $3.27 and $4.40 estimates from Standard and Poors.
The company is in fine shape financially, with total interest coverage of about 25x and a hefty cash reserve. Dividends have been raised six times since 2000, going from $0.05 to $1.06 per year over that 10-year span. Today's dividend represents a very conservative payout ratio of about 32% of this year's projected earnings. The current yield is 1.49%, which is better than most 1-3 year bank CD rates right now.
When earnings were peaking and the market was hot, MON shares topped out at $145.80, making yesterday's close of $71.25 a 51% discount to the old (overpriced) 2008 high. Monsanto is one of a small group of stocks that has not participated in the major stock market recovery since the March 2009 lows.
Earnings are expected to bottom out this year and then resume their historical growth curve. Value Line sees EPS of $7.50 by the 2012 – 2014 time horizon, and projects a 25 multiple in making their long-term price projections.
Here are MON's historical per share (split-adjusted) numbers (excluding non-recurring items) as reported by Value Line:
These high-quality shares now trade at bargain levels due to the rare down year. Why lock in now, before the expected good news gets priced in? Morningstar sees present day 'fair value' as $121 /share and rates MON at their highest, '5-Star' level. Standard and Poors carries a 12-month price goal of $84, even with the dip in this FY's numbers.
The need for increased agricultural output worldwide seems a given, and Monsanto is the world leader in most of its product lines. In its genetically enhanced seeds it holds patent protection, allowing for true pricing power.
I think we'll see at least a 20 multiple on FY 2011 estimates sometime in the next 12- 18 months, making for a minimum target of about $83 - $85 before year-end 2011. Is this reasonable? MON actually changed hands at peak prices of $116.30, $145.80 and $93.35 in calendar 2007, 2008 and 2009 respectively, and has been to $87.06 already this year.
I'm a buyer of shares right now.
Option savvy investors can lock in even lower potential buying prices by selling LEAP puts out to 2012, giving the earnings picture time to show the projected long-term growth. Here are some attractive option suggestions that provide decent upside with what I see as low risk:
* % Break-Even is below 3/25/10 close of $71.25
All the above put sales would either expire worthless or allow for purchase of Monsanto shares at prices from 6.5% - 16.3% below yesterday's closing trade.
Disclosure: Author is long MON shares and short MON options.