Chinese energy giant PetroChina Co. Ltd. (NYSE:PTR) announced 2009 earnings of RMB 103.4 billion or RMB 0.56 per diluted share, compared to RMB 114.5 billion or RMB 0.63 per diluted share a year earlier. Earnings per ADR came in at $8.20 (Exchange rate: US$1.00=RMB 6.8315, 1 ADR = 100 shares), lower than the Zacks Consensus Estimate of $8.91.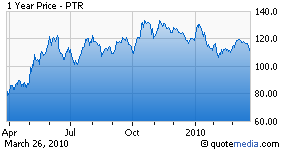 The negative comparisons can be primarily attributable to lower oil prices and weaker energy demand amid the global recession. PetroChina's total revenue for the year totaled RMB 1,019.3 billion, a decrease of 5.0% from the year-earlier period.

Upstream Profit Plunges

The company's upstream segment achieved steady growth in natural gas output during the twelve months ended Dec 31, 2009, while oil volumes fell slightly. Crude oil output was 843.5 million barrels, down 3.1% from 2008 levels. However, marketable natural gas output increased 13.3% year-over-year to 2,112.2 billion cubic feet (Bcf). The average realized crude oil price during 2009 was US$53.90 per barrel, representing a decline of 38.4% from $87.55 per barrel in 2008. This pulled down the upstream (or exploration & production) segment profit by more than 56% to RMB 105.0 billion.

Downstream Recovers

PetroChina's refinery division processed 828.6 million barrels (MMBbl) during the twelve month period, down from 849.8 MMBbl in 2008.

PetroChina produced 4.480 million tons of synthetic resin in 2009, up 9.3% from the corresponding period in 2008, besides manufacturing 2.989 million tons of ethylene, up 11.7% from the same period in 2008. The company also produced 73.20 million tons of gasoline, diesel and kerosene during the period, as against 73.97 million tons a year earlier.

The company's 'Refining & Chemicals' business swung to an operating profit of RMB 17.3 billion (as against an operating loss of RMB 93.8 billion a year earlier) after the government eased price controls that helped PetroChina to bridge the gap between lower domestic prices and global market prices.

In marketing operations, the group sold 101.25 million tons of gasoline, diesel and kerosene, an increase of 12.2%.

Liquidity & Capital Expenditure

At the end of 2009, PetroChina's cash balance stood at RMB 86.9 billion. Cash flow from operating activities was RMB 262.0 billion. Capital expenditure for the period reached RMB 266.8 billion, up 14.8% from the year-ago level.

2010 Guidance

Going forward, leverage to the fast growing Chinese market and the turnaround in commodity prices are expected to be the main growth drivers for PetroChina. Being one of the two Chinese integrated oil companies, PetroChina is well-positioned to capitalize on these favorable trends. The company's 2010 results are expected to be higher than that achieved in 2009, as it benefits from increased production, higher energy prices, and overseas asset additions.

PetroChina aims to boost oil and gas output by nearly 3% this year to roughly 1.23 billion oil-equivalent barrels. Oil output is expected to rise 1.2% year-over-year to 853.7 million barrels, while gas production will be 2.254 trillion cubic feet, up 6.7% from 2008 levels. The company projected investment of RMB 292.7 billion in 2010, up 9.7% year-over-year.