Recently I penned an article on three small cap stocks for under $3 a share that I believe have significant upside in the New Year. One stock that is selling for just over $3 a share that I think also has substantial upside in 2014 is a fast growing and under followed E&P concern named Abraxas Petroleum (NASDAQ:AXAS).
Company Overview:
Abraxas Petroleum is a small (~$300mm market capitalization) E&P concern with acreage in most of the core shale producing ranges in the United States. Its primary production comes from the Bakken, Permian and Eagle Ford shale formations.
Production Growth:
The company has done an impressive job in growing its oil and liquid production to mitigate the low natural gas prices that have been prevalent in the market for several years.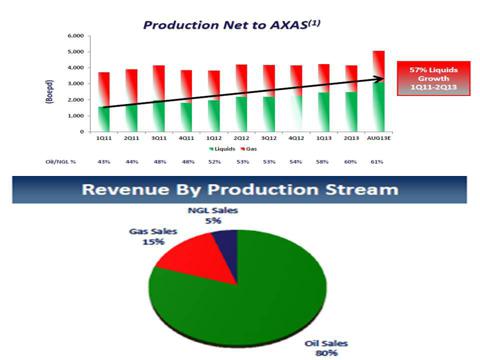 Revenue growth is set to increase more than 35% in FY2013. Analysts believe another 15% to 18% gain in sales for FY2014. The company recently gave a positive outlook on production guidance.
Abraxas Strategy:
The management of Abraxas is seasoned with over three decades of experience on average in the core senior leadership team. They have been small but frequent buyers of the stock over the last year. This management also has a solid strategy to enabling value added production growth:
Focus its capital expenditures on its properties with the highest return rates. These include acreage in the Permian, Eagle Ford, Bakken and Powder River Basins. ~90% of capital budget is going into the Bakken and Eagle Ford currently.
Divest non-core acreage outside its core producing properties. Over $70mm of sales have already occurred since the company implemented this strategy. The funds are being redeployed to grow production in more promising properties.
100% of its capital budget is being directed to growing oil & liquids production.
Valuation:
Earnings are in a nice uptrend. After breaking even in FY2012, the company is set to make 20 cents a share in profits in FY2013. Analysts have a consensus earnings estimate for FY2014 calling for a 50% bump in earnings in FY2014 to over 30 cents a share.
Abraxas looks undervalued given it sells at just over 10x forward earnings despite its significant production & earnings growth. The company has over $13 of BOE (Barrel of Equivalent) per share based on proven reserves.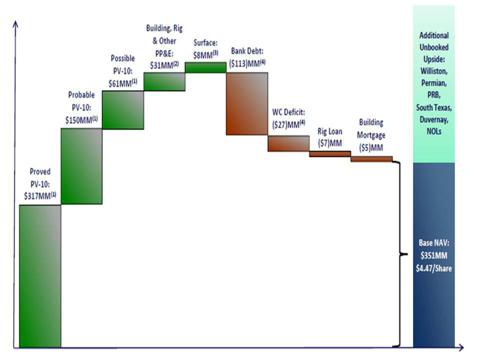 Analysts have a wide range of price targets on AXAS. Targets range from $3 to $6.50 a share on this small E&P concern. In April the company did a 'sum of parts' NAV calculation that put a ~$4.50 a share value on AXAS. Given its well-executed strategy, growing production of oil & liquids and attractive core properties; I believe this is a good starting point for the year-end value of AXAS for 2014. This implies 35% to 40% upside for the shares in the New Year. BUY
Disclosure: I am long AXAS. I wrote this article myself, and it expresses my own opinions. I am not receiving compensation for it (other than from Seeking Alpha). I have no business relationship with any company whose stock is mentioned in this article.