The Russell 3,000 is up 5.83% year to date. The average stock in the index is up 9.33%, and 70% of stocks in the index are in the black for the year.
Below are the best and worst performing stocks in the index so far in 2010. As shown, two stocks in the index are already up more than 200% -- Star Scientific (CIGX) and InterMune (NASDAQ:ITMN). CIGX is up the most with a gain of 272.71%. Ruth's Hospitality Group (NASDAQ:RUTH), which operates Ruth's Chris Steakhouse and other restaurants, is up the third most of all Russell 3,000 stocks in 2010 with a gain of 168%. RUTH is currently trading at $5.30/share. It's all-time high of $23.1 came in 2006, so it still has to more than quadruple to get back to those levels.
Most of the names on the list of winners come from the Consumer Discretionary and Financials sectors. (Click to enlarge)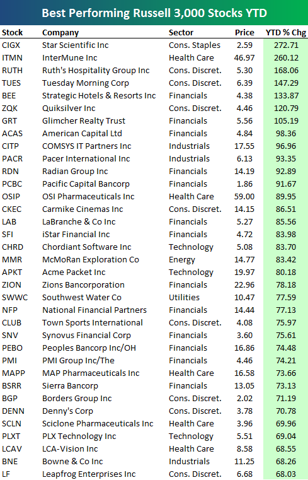 Click to enlarge
Four stocks in the Russell 3,000 are down more than 60% so far in 2010 -- ARYx Therapeutics (OTCPK:ARYX), Medivation (NASDAQ:MDVN), Premierwest Bancorp (NASDAQ:PRWT), and Palm (PALM).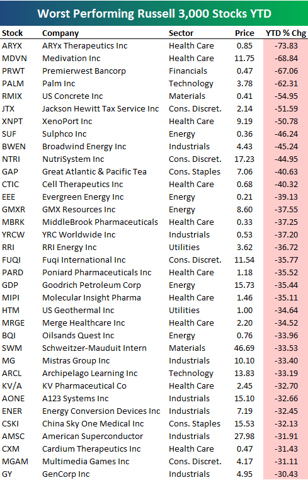 Click to enlarge