In many industries, it is quite common that a few companies dominate the market. For example, Coke (NYSE:KO) and Pepsi (NYSE:PEP) dominate the beverage industry, Visa (NYSE:V) and MasterCard (NYSE:MA) dominate the payment network industry, and Google (NASDAQ:GOOG) and Apple (NASDAQ:AAPL) dominate the mobile operating system industry. In the internet TV market, Netflix (NASDAQ:NFLX) and Amazon (NASDAQ:AMZN) Prime are leading the on-demand internet streaming media industry. In this article, I want to explain why I think Netflix will still be the market leader in this industry in the next five years despite increasing competition from its closest competitor, Amazon.
The Internet TV Market
Internet TV (non-linear TV) has become very popular in recent years because viewers can have unlimited access to television and movies online without ads and because the subscription fee is less than the traditional (linear TV) subscription. As a result, a growing number of companies started developing their Internet TV services, including the traditional TV networks such as HBO, ESPN and BBC.
Netflix was the first company to make internet TV commercially successful. It started as a DVD-by-mail rental business and transitioned to a streaming service in 2007. It is currently the leading internet TV network with over 40 million subscribers worldwide. Amazon's Prime Instant Video has over 20 million subscribers, according to Ben Schachter at Macquarie (source: Business Insider). Other competitors include Hulu Plus, HBO Go, Lovefilm, iTunes, Google Play, Now TV, etc.
Amazon vs. Netflix
Amazon has three competitive advantages over Netflix:
Amazon currently offers its Prime members: two-day shipping, unlimited streaming of movies and TV episodes, and the ability to borrow eBooks from the Kindle Owners' Lending Library. All for only $79 each year (the equivalent of $6.58 per month). In comparison, Netflix offers unlimited streaming of movies and TV shows for $7.99 per month, which is slightly more expensive than Amazon's Prime membership, but is still a very competitive price.
Amazon has a much more larger customer base than Netflix. Amazon has around 215 million active customers. If Amazon converts 20% of its customer base to Prime members, it can easily have over 40 million members who would have unlimited access to online streaming of movies and TV episodes.
Amazon has a much larger market cap than Netflix's ($183 billion vs. $20 billion as of Jan. 17, 2014). More importantly, it has a lot more capital that can be used to acquire exclusive TV and movie content if it wishes to gain a larger market share in the internet TV market.
With the above three competitive advantages, it seems like Amazon Prime's Instant Video can easily overtake Netflix in the future, but I believe that Netflix will remain the market leader in video streaming for these reasons:
Amazon's primary business is still online retail and fulfillment services, while Netflix' primary business is Internet TV (note that Netflix is still running its DVD-by-mail service as its secondary business). In almost every industry, the market leader is often the one that focuses most of its resources on one line of business. Netflix only focuses on making the best video streaming service. Therefore, I believe that it will still be the market leader in the long-term.
Netflix has an excellent streaming service that is user-friendly, fast and innovative. The company is continuously improving its video content, stream quality and speed as well as user-interfaces to make its service more personalized for each viewer. Moreover, it is planning to stream 4K TV content which will be a huge competitive advantage later on. I believe all of these things improve customer experience and contribute to Netflix's brand.
The most important competitive advantage is Netflix's exclusive content. Internet TV providers compete with each other to acquire the best exclusive content for subscribers because it is the biggest differentiator between their services. To remain competitive, Netflix started creating original content, such as 'House of Cards' and 'Orange is the New Black' which have been enormous successes. These programs have helped Netflix increase its subscriber base.
In a recent shareholder letter, the management stated:
"In 2014, we expect to double our investment in original content (though still representing less than 10% of our overall global content expense). Coming to Netflix next year will be the second seasons of 'House of Cards', 'Orange is the New Black', 'Derek', 'Hemlock Grove' and more."
Netflix's International Growth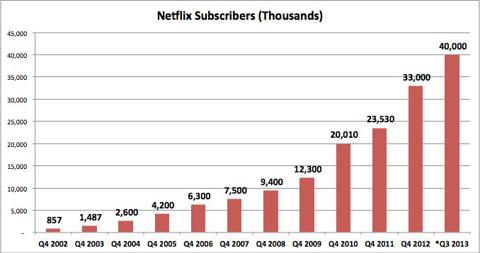 Source: Netflix quarterly reports
While the Internet TV market has not yet been saturated in the U.S., Netflix is expanding further in other countries including Canada, Latin America, U.K., Ireland and the four Nordic countries. In Q3 2013, there were about 40 million Netflix subscribers in total: 9 million were outside of the U.S. and 31 million were in the U.S. Netflix is using its domestic earnings to fund its international growth because Netflix's subscriber base in the international market has not yet reached a sizable scale that would make the market profitable. Netflix is investing more into the international market and I believe that it will only be a matter of time before it has enough international subscribers to make its international segment profitable.
Netflix's Domestic Growth
According to the U.S. Census Bureau, there were about 316 million people in the U.S. in 2013 and 115 million households in 2012. Netflix's subscription can be shared by all members in a household. Assuming that each household can have one Netflix subscription, Netflix's domestic subscriber base can grow from its current base of 31 million members to the total number of households in the U.S. But we also need to consider other competitors, such as Amazon Prime and the other internet TV services that I have mentioned above. Hence, I think that Netflix can reach up to 50 to 60% of the households in the U.S. or between 58 and 69 million households. Netflix will also benefit from the population growth in the U.S., as well as in the international market, because more people will likely subscribe to internet TV in addition to traditional cable TV.
The Bottom Line
I believe Netflix will continue to be the market leader in internet TV in the next five years while Amazon Prime's Instant Video will remain its closest competitor. Amazon may eventually have more members than Netflix, but not all Prime members watch stream videos and many of them become Prime members for the two-day shipping service. Netflix focuses on developing the best video streaming service. It still has a lot of growth opportunities in the U.S. and it is expanding further in the international market. As a result, I believe that its current 40 million subscriber base will likely double in the next five to ten years.
Disclosure: I am long AMZN, GOOG, AAPL, . I wrote this article myself, and it expresses my own opinions. I am not receiving compensation for it (other than from Seeking Alpha). I have no business relationship with any company whose stock is mentioned in this article.