(Editors' Note: This article covers a micro-cap stock. Please be aware of the risks associated with these stocks.)
In a previous article, I mentioned that stem cell companies are coming back in a big way. We've been seeing new mergers and acquisitions in the sector, and we've also seen additional positive, late-stage clinical trial data supporting the use of cell therapies in certain disease indications. It seems that the stem cell industry is no longer in its infancy.
I failed to mention one of the important mergers occurring in the space right now - the merging of ThermoGenesis (KOOL) and the private company TotipotentRx Corporation. This all-stock merger was originally announced on July 16, 2013. The integrated stem cell company that will be created out of this merger will be called Cesca Therapeutics, and it will be publicly traded under the same "KOOL" Nasdaq ticker.
Since these types of transactions can be quite confusing (especially this one), we will start with a "bottom up" approach. We will first discuss ThermoGenesis and TotipotentRx as independent entities. We will then discuss the new entity Cesca and the value created by the merging of the two businesses.
What is ThermoGenesis?
ThermoGenesis is a company that develops and commercializes devices that are used for stem cell isolation, research, and storage. Their main products include:
AXP® System - the "AutoXpress" system harvests stem cell-rich tissue from umbilical cord blood
MXP™ System - the "MarrowXpress" system isolates stem cells from bone marrow aspirate
Res-Q™ 60 BMC - an automated single-use device that isolates stem cells from bone marrow aspirate
BioArchive® - a fully automated storage and retrieval unit for cryopreservation of stem cell samples at -196°C using liquid nitrogen. Stores 3,600 25mL samples, and reduces liquid nitrogen evaporation and ice buildup through automatic retrieval.
Although the company has been struggling to gain financial traction, it's apparent that the products are well-designed and wanted by consumers.
This seems especially true for the AXP system, which is gaining a lot of traction in ex-US markets. Portugal's leading blood stem cell bank, Crioestaminal, announced an early purchase of the device in April 1, 2013. Then, in June 2013, the United Kingdom's NHS Blood and Transplant signed a 5-year exclusive agreement for AXP. It's also worth noting that China's FDA approved AXP in May 2013, which paves the way for a new deal in that country.
As of September 30, 2013 the company was holding $5.3 M in cash and $16.5 M in total assets. The company had only $5.3 M in current liabilities, making the net worth of the company ~$11 M. 16.7 M shares were issued & outstanding.
The company is generating some income through the sale of its products, but the company is still seeing operational losses due to fixed costs. Net revenues in Q3 2013 were $3.64 M, and COGS was $2.25 M. Gross profit was $1.4 M, but this was not enough to offset total operating expenses of $3.7 M. To reach profitability, ThermoGenesis needs to increase the scale of its business while reducing expenses. One way to do this is to merge the company with another one.
What is TotipotentRx?
TotipotentRx is a private company that offers contract research organization (CRO) and related services, and it is also developing a number of autologous cell therapies. At time of writing, Totipotent has eight individual cell therapies for a variety of therapeutic indications. This makes TotipotentRx a very interesting hybrid therapeutics/service company.
The company is also in an exclusive partnership for cell therapy services with Fortis Health - the largest multi-specialty hospital chain in India. This partnership gives TotipotentRx direct access to over 8,500 patients at a time, 50 multi-specialty outpatient departments, and 48 blood labs for R&D purposes. Clinical trials could be performed in this system for a fraction of the cost of trials in developed countries.
Even though the trials would be conducted in India, collected data could be used to support an FDA approval given that the trials were conducted under certain requirements detailed in 21 CFR 312.120. This is a special set of rules that allows the FDA to review foreign clinical trial data (not collected after IND filing) for consideration of approval. Below are the guidelines (from 21 CFR) for FDA review of foreign data: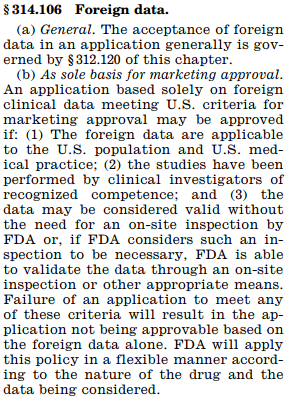 The rising cost of clinical research in the United States creates an opportunity to lower the cost of developing new therapies by moving research to undeveloped countries. TotipotentRx, in partnership with Fortis, is in a great position to offer significantly discounted CRO services to companies that are interested in the stem cell space. The catch is that the FDA is usually skeptical when it comes to foreign data.
However, Totipotent has already tested its stem cells (via Fortis) in >600 procedures with good results. A number of pilot and Phase I/Ib clinical trials have been conducted, supporting safety/tolerability in ten separate disease indications. Based on the existing data, the company intends to progress into late stage trials for avascular necrosis, and cardiac / critical limb ischemia (NYSE:CLI).
Just today (January 21, 2014) ThermoGenesis/TotipotentRx announced statistically significant Phase IB clinical trial efficacy and safety results in critical limb ischemia. Critical limb ischemia is defined as a plaque-induced blockage of blood flow to the lower extremities (legs). A number of companies are investigating the use of stem cells for this particular condition, but not all of them have statistically significant efficacy results.
The cosponsored CLIRST (Critical Limb Ischemia Rapid Stem cell Therapy) trial apparently achieved both primary and secondary efficacy endpoints 12 months into data collection, with 17 patients. These efficacy endpoints included major amputation free survival rates, resting/walking pain reduction, improved walking distance, open wound healing, and vasculogenesis in the treated leg. While the data are based on a small population, the initial signs of efficacy
Also, no adverse events were detected. This bodes well for the safety profile as well.
These results will be discussed in greater detail by ThermoGenesis and TotipotentRx in greater detail at 5:00 PM EDT in a conference call. We will update the story if more information is revealed.
What will Cesca Therapeutics be?
Cesca will be one of the first integrated cell therapy companies. It will develop stem cell-based therapeutic products while providing CRO services (via Fortis) for extra revenue. Cesca would also be able to commercialize and utilize the devices developed by ThermoGenesis, creating another avenue for income. The businesses should be able to merge seamlessly before the end of 2014, which paves the way for late-stage trials.
We think Cesca's business could support a higher valuation ($70+ M) after the merger due to the creation of near and long-term value from the device and CRO/Therapeutics businesses. The new valuation would reflect the currently ~$30 M valuation of ThermoGenesis, plus the value of TotipotentRx's pipeline and CRO service business.
Based on the number of shares offered for the merger, it's estimated that TotipotentRx was worth ~$20 M at the time of the original deal. With the recent data release, we think another $20 M was added to the intrinsic value of the stem cell therapy pipeline. Throughout the next year, we also think that Cesca could significantly reduce managerial and operational expenses.
Neostem: An Integrated Stem Cell Model
Neostem (NBS) is an integrated cell therapeutics and service company that has already demonstrated the advantages of a this approach to the stem cell industry. Like Cesca, it is composed of multiple businesses that operate independently but synergistically.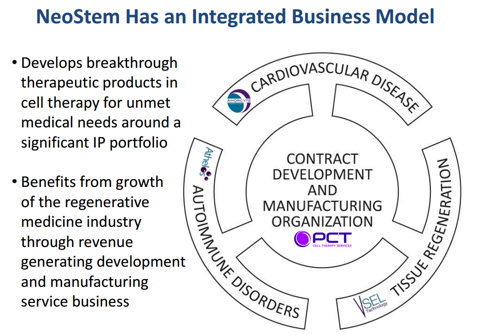 Neostem Investor Presentation, 2013
Neostem has a progenitor cell manufacturing business that generates the bulk of the company's ~$3.7 M in quarterly revenues. The ~$.7 M of quarterly income generated from this business helps offset the combined costs of clinical development for three other subsidiaries being run by Neostem. This allows the company to create long term value for shareholders through clinical trials while providing direct value through an existing income-generating business.
Risk and Reward
After its creation, Cesca would be considered a high risk/reward investment. The company would be directly exposed to developmental and regulatory risks from the TotipotentRx therapeutic pipeline, and to the success or failure of ThermoGenesis' products. It is also worth noting that stem cell therapies are still highly experimental. Any positive data produced in a clinical trial for a stem cell therapy would be subject to intense scrutiny by the FDA and other regulators. This would be especially true for Cesca, since the data would be from India. We believe that the FDA would require an additional Phase IIB/III trial to approve any stem cell therapy that demonstrates its safety/tolerability in India.
Having said this, investors should consider that Cesca's R&D budget for clinical research (and cash burn) should be lower than that of US stem companies. We also believe that the company would be able to streamline its stem cell device business, which could eventually produce enough income to offset development costs for the stem cell therapeutics division. This would allow the company to run more sustainably.
Disclosure: I have no positions in any stocks mentioned, and no plans to initiate any positions within the next 72 hours. I wrote this article myself, and it expresses my own opinions. I am not receiving compensation for it. I have no business relationship with any company whose stock is mentioned in this article.