Good quarter, strategy working, possible speed bump ahead.
Forest Labs (NYSE:FRX) handily beat revenue and EPS estimates but shares didn't continue the dramatic advance we have seen since May 2013. Taking a look behind the numbers shows us what's driving the top line and why investors may be smart to be cautious going forward.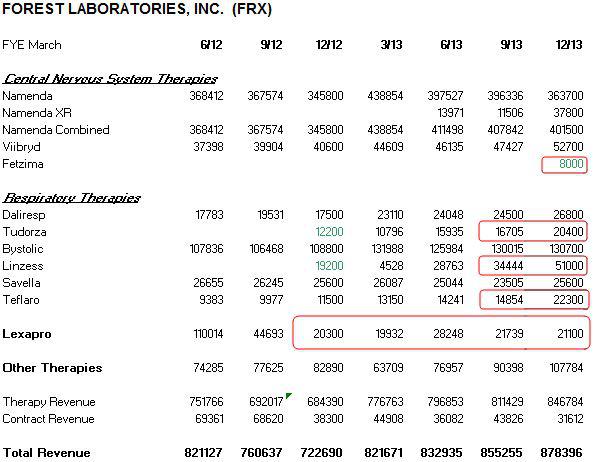 The revenue from FRX's key drug, Lexipro had seen a dramatic decline that had stabilized over the last 5 quarters allowing new products to pick up the slack.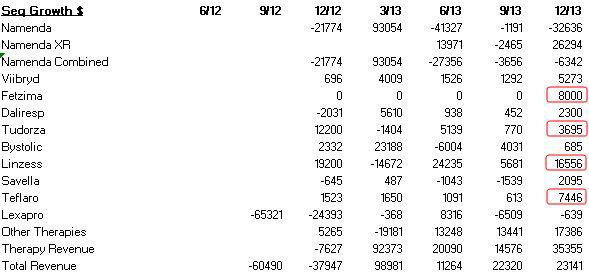 The incremental $35 million contributed from these four products accounted for all of the top line Therapy growth in the quarter. This coincides with management trying to shift its strategy to product suites rather than blockbuster individual products. Rather than being dependent on a single drug that accounts for over a billion in revenue per year, having suites of therapies that account for ~$150 million is preferable. It offers the company stability over its operating structure and visibility over annual revenue. Salespeople will need to sell multiple products in the future but this is a hurdle management is confident the company will meet (according to the replay of the JPMorgan presentation).
Going forward though, the annuity like Contract Revenue derived from the co-promotion of Benicar is due to expire in March 2014. This is extremely high margin business and may introduce volatility into results after this point. In 3Q it represented $30.2 million in revenue which, if it was all profit, would have represented 29% of the company's pre-tax income. Regardless, the management is cognizant of this issue and would likely have included it in the new guidance numbers offered this morning.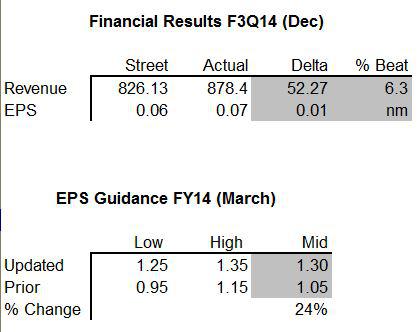 The full earnings report can be found here.
Disclosure: I have no positions in any stocks mentioned, and no plans to initiate any positions within the next 72 hours. I wrote this article myself, and it expresses my own opinions. I am not receiving compensation for it (other than from Seeking Alpha). I have no business relationship with any company whose stock is mentioned in this article.