Australia reported a horrid employment number late last week, causing the AUD/USD to plunge 100 pips in just one hour.
The number of people employed unexpectedly fell by 22,600 in December although economists had forecasted a gain of 10,000 jobs. Full-time positions dropped by 31,600, lifting losses to 67,500 in 2013, the worst annual performance since the nation shed 88,800 jobs in 1992. The unemployment rate held at 5.8 percent, matching the highest level since June 2009.
Following policy decisions on 5th November and 3rd December last year, Reserve Bank of Australia (RBA) Governor Glenn Stevens said that the exchange rate was "uncomfortably high." The RBA board has kept the benchmark rate at a record-low 2.5 percent, having reduced it by 2.25 percentage points since it embarked on the current easing cycle in November 2011.
In an interview published in the Australian Financial Review on 13th December, he signaled that a level of 85 US cents would be "closer to the mark than 95 cents."
According to economists surveyed by Bloomberg, here are the top 3 forecasts for the Aussie dollar:
AUD/USD to be at 0.86 by the end of 2014.
There's a 44 percent chance that the RBA benchmark cash target will be lower by the middle of 2014. This is up from 23 percent just a week ago.
The Australian economy will probably grow by 2.7 percent this year, with the expansion accelerating to 3 percent in 2015.
Fresh data from China this morning may also support a weaker Aussie in the near term. At 10 am today, China reported the following figures:
7.7 percent for GDP in Q4 of 2013. Although lower than the previous figure of 7.8 percent, it was marginally better than the forecasted figures of 7.7 percent.
Industrial production weakened in December to a five-month low of 9.7 percent. This was lower than the previous figure of 10 percent and the forecasted figure of 9.8 percent.
Fixed-asset investment excluding rural households increased 19.6 percent in the January-to-December period from a year earlier. That compared with the 19.8 percent median estimate and a 19.9 percent gain in the first 11 months of 2013.
Retail sales in December rose 13.6 percent from a year earlier, exactly in line with median forecasts. Previous figure was 13.7 percent.
Top News This Week
Australia: CPI q/q. Wednesday, 22nd Jan, 8.30am.
I expect figures to come in at 0.5% (previous figure was 1.2%).
UK: Unemployment Rate. Wednesday, 22nd Jan, 5.30pm.
I expect figures to come in at 7.3% (previous figure was 7.4%).
Canada: Core Retail Sales m/m. Thursday, 23rd Jan, 9.30pm.
I expect figures to come in at 0.3% (previous figure was 0.4%).
Trade Call
Short AUD/USD at 0.8828
On the H1 chart, AUD/USD is moving in a nice downtrend, aided by the horrid employment figures for December. Momentum for the Aussie is to the downside, especially with China reporting slightly worse figures than the previous quarter. Additionally, monetary policy for Australia is supportive of a weaker Aussie towards the 85 cents level.
We will go short once prices retrace to the downtrend line at 0.8828. A stop loss of 50 pips is placed just above the previous support/resistance conversion level. We will have two targets on this trade, exiting the first position at 0.8778 and the second one at 0.8728.
Entry Price = 0.8828
Stop Loss = 0.8878
1st Profit = 0.8778
2nd Profit = 0.8728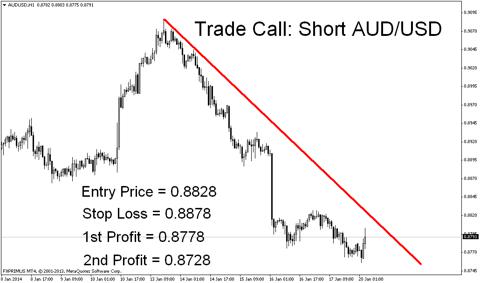 Disclosure: I have no positions in any stocks mentioned, and no plans to initiate any positions within the next 72 hours. I wrote this article myself, and it expresses my own opinions. I am not receiving compensation for it. I have no business relationship with any company whose stock is mentioned in this article.