By Sunit Gogia
The impact of cloud computing on the enterprise computing landscape is reminiscent of the shift from big mainframe systems to client server computing in the '90s. A step change in the economics of computing is driving this transformation and creating opportunities for new providers, while threatening the established business models of traditional application software and data center technology vendors. Established vendors such as Microsoft (NASDAQ:MSFT), SAP (NYSE:SAP), Cisco (NASDAQ:CSCO), IBM (NYSE:IBM), HP (NYSE:HPQ) Dell (NASDAQ:DELL), EMC (EMC) and NetApp (NASDAQ:NTAP) could face significant headwinds as public cloud computing gains customer acceptance.
The Public Cloud
Cloud computing has evolved into a broad term encompassing all manner of remotely delivered computing resources and services. Broadly speaking, uniform IT services provided remotely to multiple customers from third-party controlled data centers have been christened the "public cloud."
The public cloud generally features large scale data centers comprised of commodity hardware orchestrated by custom management software. There is a wide variety of public cloud services, but most share the following attributes:
Utility Model: Customers pay for public cloud computing services on a subscription or metered basis, replacing fixed up-front IT capital expenditures with variable operating expenses.
Elastic Resources: Customers can access additional cloud computing capacity as needed, thereby eliminating the need to permanently provision capacity for peak demand.
Shared Resources: Users share computing resources with other customers using virtual rather than physical data and processing partitions.
For the purpose of this discussion, we segment the public cloud market based on the tier of service provided, with each tier sharing certain economic characteristics. A conceptual representation of the service tiers is shown below. Computing infrastructure (servers, storage, networking) forms the physical foundation on which software platforms (application runtime environments, databases) are installed. End-user applications such as customer relationship management software are built and deployed on the software platform. Public cloud customers can lease capacity at any tier: software applications (software-as-a-service), software platform (platform-as-a-service), or raw infrastructure (infrastructure-as-a-service). (Click to enlarge)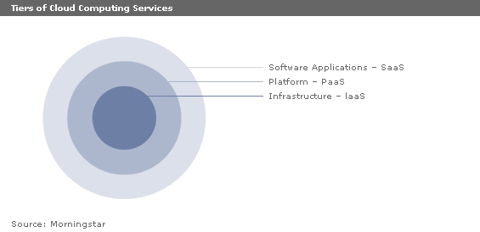 Click to enlarge
Software-as-a-Service (SaaS)
SaaS has the longest track record among cloud services and growth remains strong, but barriers to entry are lower than traditional on-premise application software. SaaS involves software applications running in remote data centers accessed by customers over the Internet. In its most scalable form, vendors employ a multitenant approach where the same basic software is shared by multiple customers, with some opportunity for customization. Customers benefit from the subscription model as well as ease of adoption and management--accessing a new SaaS service can be as easy as pointing a web browser to a specific web address. The list of SaaS vendors is very long and growing by the day, but prominent examples include Salesforce.com (NYSE:CRM) and NetSuite (NYSE:N).
The constrained customizability of multi-tenant SaaS has limited its usage to best-practices based applications such as customer relationship management, financial accounting, and human resource management. Although we expect greater flexibility as technology advances, we think near-term growth in SaaS is likely to come from within the realm of such standardized services. That said, vendors such as SAP and NetSuite are attempting to deliver more complex business applications such as enterprise resource planning (ERP) in the SaaS model. We think such efforts are unlikely to make inroads with large enterprises in the foreseeable future, but could suit the needs of small and medium-sized businesses (SMB) that do not have the IT staff or the capital budget for traditionally expensive business application software.
The ease of adoption of SaaS applications is also the Achilles heel in vendors' ability to generate significant economic profit. With little customer investment in equipment, software license fees, customization and training of support staff, switching SaaS providers can be as easy as transferring data to a new vendor and changing the mailing name and address on the subscription check. However, end user re-training requirements still serve as a barrier, and the stickiness of SaaS applications increases with the number of customers' employees using the service. Acknowledging this, salesforce automation (SFA) vendor Salesforce.com has made a concerted effort to expand beyond its footprint in customers' sales organizations by adding a social networking service (Chatter Cloud) that the company hopes will increase the user base, and thus the stickiness, of its services. The firm is also investing in the development of adjacent business applications on its platform, with the expectation that a classic suite approach would naturally increase the stickiness and profitability of its service.
The relatively lower stickiness of SaaS implies lower profitability and returns on capital than that historically delivered by companies like Oracle (NASDAQ:ORCL) and Microsoft. We expect well-focused SaaS vendors like Salesforce.com to achieve free cash flow of about 20% of sales as usage of their services increases and they gain operating leverage with increasing scale.
Platform-as-a-Service (PaaS)
Akin to on-premise software development platforms in use today, such as IBM's WebSphere and Oracle's WebLogic, PaaS vendors aim to provide a platform to develop and deploy software applications in the cloud. And similar to their on-premise counterparts, we expect cloud platforms to be very sticky on account of high switching costs, enabling vendors to reap significant economic profits. However, given its remote on-demand nature, PaaS spans beyond the software layer, to include the underlying server, storage and networking hardware, and associated management services. This increases the portion of the IT budget captured by PaaS providers compared with on-premise software platform vendors, leading to a higher revenue opportunity.
Customers for PaaS include enterprise IT departments as well as independent software vendors (ISVs). Even the largest enterprise scale data centers cannot match the economies of scale of large PaaS providers, creating an opportunity for PaaS vendors to capture economic profit while simultaneously lowering IT costs for enterprise customers. Further, the elastic scalability offered by PaaS vendors enables enterprise IT departments to handle demand spikes (such as a holiday season traffic surge to a retailer's website) without the need to invest in expensive low-utilization equipment. ISVs (SaaS and non-SaaS) can similarly benefit from utilizing PaaS as the foundation for their applications. While early SaaS vendors such as Salesforce.com and NetSuite had to build custom platforms to run their applications, newer SaaS vendors can avoid the up-front time and cost of reinventing the platform by adopting an existing PaaS offering.
Every incremental PaaS workload is one less sale opportunity for traditional data center software, hardware, and services vendors. The large scale operations of PaaS providers has enabled them to take a proprietary approach to building and managing their data centers, eschewing expensive third-party equipment and tools in favor of custom homegrown solutions. So for instance, a company moving its human resource management application to a PaaS platform results in one less opportunity for Red Hat (NYSE:RHT) to sell a copy of its server operating system, for Oracle to sell a copy of its database, for BMC BMC to sell incremental infrastructure management software licenses and for IBM to sell management services. This shrinkage in addressable market extends beyond software vendors and includes storage providers like EMC, network switch providers like Cisco and server hardware providers like HP.
The PaaS market is still nascent and early players include Google's (NASDAQ:GOOG) AppEngine, Microsoft's Azure and Salesforce.com's Force.com. Of these existing vendors, we think Microsoft and Salesforce.com are the best positioned to capture significant market share. Microsoft has the opportunity to migrate its existing army of .NET developers to its Azure platform, and the company has wisely focused on making this transition easy for customers. Salesforce.com has the longest and most successful track record among cloud providers and its Force.com platform already boasts 230,000 developers. Still, we question the firm's ability to expand its existing Sales Force Automation platform beyond adjacent markets to serve diverse computing needs. Google no doubt has the technological and financial ability to be successful, but the company's consumer market roots make its culture and engineering less suitable for the needs of large corporate customers that demand enterprise-level customer service and management, in our opinion.
Apart from potential and expected entry by IBM and Oracle, we do not expect the PaaS market to get much more crowded. The combination of first-mover advantages stemming from the stickiness of platforms, breadth and depth of technological expertise required to develop a robust PaaS offering, and large up-front capital investments pose formidable barriers to entry. As a result, we expect successful providers to build wide economic moats around their PaaS businesses and generate high returns on invested capital.
Infrastructure-as-a-Service (IaaS)
IaaS, the lowest tier in the on-demand stack, has tremendous near-term growth opportunities, but lacks barriers to entry that would enable vendors to create shareholder value. IaaS vendors provide raw computing infrastructure such as processing power, storage, and bandwidth on-demand in a rental model. Amazon (NASDAQ:AMZN) and Rackspace Hosting (NYSE:RAX) are among the established players in this market, and telecom providers such as AT&T (NYSE:T) have also joined the fray.
Customers for IaaS run the gamut from the smallest businesses to departments of Fortune 500 companies. IaaS offers significant flexibility in the nature of the workloads and customers can access and pay for computing capacity only when it is needed. In addition to this suitability for ad hoc computing needs, certain offerings like storage can serve as competitive alternatives to traditional offsite backup providers, making some IaaS services attractive to a wider audience.
However, the commodity nature of the infrastructure made available on-demand leaves very little opportunity for differentiation, and customers can easily switch computing workloads between IaaS vendors. Storage is slightly stickier than computing power as vendors have the opportunity to impose asymmetric pricing--customers are enticed with low rates to upload their data, but the cost to retrieve it could be significantly higher. Further, bandwidth costs make it cheaper to run computations close to the data, giving customers with large data sets an economic incentive to rent computing power from their storage service provider. Still, as the market matures, we expect customers to shop around based on the total infrastructure costs, making price competition inevitable. Economic moats are thus unlikely to emerge in the IaaS space and we estimate operating margins peaking in the mid- to high-single-digits.
Are We There Yet?
Public cloud computing services have achieved varying degrees of maturity and adoption.
SaaS, which has been around for more than a decade, has gained adoption in certain market segments such as SMB and in point applications such as customer relationship management. Adoption is constrained by limited customizability, but we expect continued rapid growth for SaaS providers at the expense of traditional on-premise software providers. The chart below compares recent revenue growth rates of select SaaS providers and traditional software vendors. SaaS providers achieved solid growth through the economic downturn, while their on-premise counterparts saw declines in sales of new licenses. Although Oracle reported growth in revenues, the company's sales were boosted significantly by acquisitions.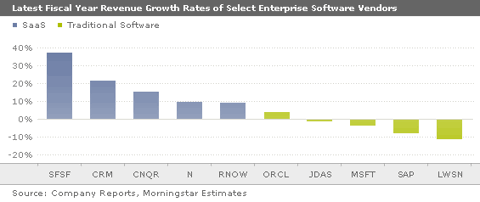 Click to enlarge
Application software providers to the SMB market, such as Microsoft and Sage are at the most immediate risk, while vendors of large enterprise business applications such as Oracle have relatively more time to develop their competitive response.
The PaaS market is nascent with negligible revenues, and hockey-stick type growth is probably three to five years away. Google's AppEngine has been around for less than two years while Microsoft's Azure launched for commercial use in early 2010. The PaaS technologies will need to mature before mainstream adoption, and customers need time to get comfortable with reliability, security, and compliance considerations. We expect IBM and Oracle to enter the fray at some point as they, along with Microsoft, have the most to lose from a widespread transition to PaaS.
IaaS has seen strong adoption and will likely maintain high near-term revenue growth due to the ease of adoption and the absence of any long-term vendor commitment (aka lock-in). As is the case with most public cloud services, Amazon's S3 storage service is built from inexpensive commodity hardware, thus reducing the addressable market for enterprise vendors such as EMC and NetApp. However, while some services such as storage appear to have reasonable long-term prospects, we expect that the overall market opportunity for IaaS will be limited by the availability of robust PaaS offerings.
The Private Cloud
So public cloud services hold promise, but SaaS and PaaS need time to mature and gain customer trust. In the meantime, enterprise data centers looking to improve operating efficiency are embracing elements of public cloud technologies. Such corporate IT efforts to increase flexibility and reduce infrastructure and application management costs by using technologies such as virtualization and service-oriented architecture, have been labeled the "private cloud."
We think private cloud infrastructures have a significant near-term role as an interim step toward public clouds, and will likely persist, albeit with a smaller footprint, over the long term. It is clear that the economies of scale of large Internet data centers gives public cloud providers an unassailable economic edge over enterprise data centers. But while cost is a significant factor in corporate IT decisions, other aspects such as flexibility, security, reliability and regulatory needs can also be very important. For instance, companies might be hesitant to place their most sensitive customer and financial data outside the corporate firewall or might desire control over system maintenance schedules to ensure good customer experiences. Thus, some software applications lend themselves to remain in internal corporate data centers, at least for the near to medium term while SaaS and PaaS technologies mature. We would argue that the best security and reliability talent is employed by the public cloud providers rather than by corporate IT departments, but it could be a long time (if ever) before companies, particularly large enterprises, get comfortable with the idea of shared IT resources for certain parts of their business.
Vendors well positioned to benefit from the adoption of private cloud technologies include virtualization specialists such as VMware (NYSE:VMW), as well as traditional data center hardware and management software vendors such as IBM, HP, EMC, Cisco, and BMC. Further, outsourced management services vendors such as IBM stand to benefit by positioning themselves as comprehensive private cloud providers that can lower customers' infrastructure management costs.
Conclusions
We think compelling economic benefits favor the proliferation of the public cloud approach in the long term. Although the cost reductions from the private cloud approach are substantial relative to earlier data center technologies, they pale in comparison to the economies of scale and efficiencies of large public cloud providers that can hire experts to lower the cost of everything from system automation to power management. Still, technological limitations and security considerations make corporate investments in private clouds unavoidable in the near term.
Investors should expect SaaS providers to continue gaining market share at the expense of traditional on-premise enterprise software vendors, with the SMB segment and best-practices based single-purpose applications leading the way. Although companies like Microsoft and SAP are attempting to develop SaaS offerings to combat competitors, we think it will be hard for these firms to accept cannibalizing their existing profit streams by selling lower-margin SaaS services.
PaaS, while still nascent, will offer the best investment opportunities due to significant barriers to entry. We expect Microsoft to make a successful transition to PaaS with Azure becoming a key contributor to the company's growth and profits. IBM and Oracle will need to enter at some point in the near future, but their dominant enterprise data center businesses might keep them from doing so until a migration to PaaS is inevitable.
IaaS is expected to be a cost of capital business with little economic profit opportunity. Amazon's software expertise will enable it to innovate faster than its telecom and data center competitors, but margins will remain thin.
Disclosure: Morningstar licenses its indexes to certain ETF and ETN providers, including Barclays Global Investors (BGI), First Trust, and ELEMENTS, for use in exchange-traded funds and notes. These ETFs and ETNs are not sponsored, issued, or sold by Morningstar. Morningstar does not make any representation regarding the advisability of investing in ETFs or ETNs that are based on Morningstar indexes.