3D Systems (NYSE:DDD) had a blockbuster year and the stock went up over 100%. The 3D printing space is extremely exciting as the companies come up with something new almost every day. The technology is getting wider acceptance on the domestic as well as industrial level and the 3D printing companies continue to show stellar growth.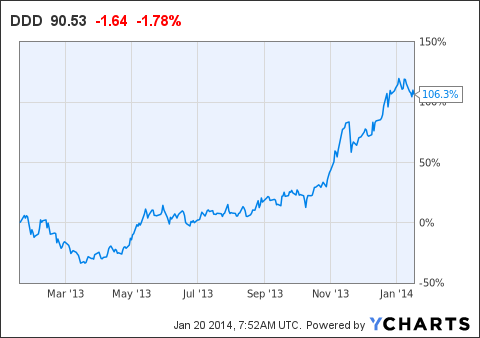 New Products
3D Systems has continued its tradition of coming up with new products and it has introduced its new 3D printer series, ChefJet. The 3D printer is capable of printing edible substances out of sugar in the user's desired shape designed through its application, the "Digital Cookbook". Its advanced version, ChefJet Pro, is bigger in size as compared to ChefJet but is capable of full color printing of edible sugar. A few other companies have come up with similar idea in the recent past. This includes NASA, which is designing Pizza printing for its space programs. Furthermore, simple sugar printing has been used to develop vasculatures as 3D printed organs for experimental purposes. With the launch of this new series, the company is looking to capture a small niche - we are already seeing small candy stores offering custom made candies and other confectioneries. This new line of products will go a long way in fulfilling the need of this niche and support the future revenue growth of 3D systems.
Partnership with Hershey's
As I mentioned above, the industrial use of the 3D printing technology is increasing and manufacturers are adopting this technology. Hershey's (NYSE:HSY) is the latest manufacturer to strike a partnership with 3D Systems to produce chocolate and Candies in innovative ways. This segment of the market has substantial untapped potential as 3D printing will give Hershey's considerable flexibility in production. Hershey's is a $22 billion dollar company and the largest chocolate manufacturer in United States. The company last reported $6.6 billion of annual revenue and $660 million of net profit selling chocolates and a few other products. The details of the partnership have not been disclosed; however, it looks like the company is targeting the food industry and this partnership is certainly a massive success for its future plans.
The ChefJet series cost $5,000 dollars while ChefJet Pro printers cost $10,000. This means that would mostly be used by professionals in the edible industry. Besides chocolates, it could be used in the toppings of different edibles like cake. It could be used to shape candies for thousands of candy manufacturing companies out there. $10,000 might look a substantial investment for a small business like a candy shop - however, it will be a long-term investment and generate substantial revenues. In addition, the printer will allow the vendor to have more operational flexibility and efficiency, which might result in lower operating costs. Above all, a 3D printer in the shop can bring competitive advantage to the business, and in this business, competitive advantage would be differentiation and innovation.
Acquisition of Xerox
3D Systems recently acquired the solid Ink engineering and development teams of Xerox for a sum of $32.5 million. This includes 100 Xerox contractors and engineers to step into the research and development of 3D Systems. Xerox is widely known for 2D printing but the company is involved in research to find out how to print electronic circuits. The Solid Ink printers could be used on wide scale for making prototypes and designing new product shapes. This way research and development departments of many organizations would save their time and costs by using this solid printing. It would also allow them to make their products even more accurate to their expectations and make as many adjustments as they want with absolutely no difficulty.
Conclusion
I have been extremely positive about the prospects of the 3D printing industry and I have maintained in my previous articles that most of the 3D printing companies will prove to be solid investment in the long-term. 3D printing industry has come a long way over the past two years. The recent deals by 3D Systems indicate that the company is ready to explore another untapped opportunity, which should result in further revenue growth. The company is already doing well in the consumers, industrial and medical applications segment.
Furthermore, 3D Systems have also partnered with Samsung (OTC:SSNGY) to demonstrate an app for the Galaxy Note 3 - the app can make custom inserts for the Galaxy Note 3 cases. Recent developments indicate that the company is on track to continue its impressive growth and the industry is showing no signs of decline in growth. In fact, the growth seems to be picking up as more and more manufacturers are adopting 3D printing.
Disclosure: I have no positions in any stocks mentioned, and no plans to initiate any positions within the next 72 hours.
Business relationship disclosure: I have no positions in any stocks mentioned, and no plans to initiate any positions within the next 72 hours. IAEResearch is not a registered investment advisor or broker/dealer. This article was written by an analyst at IAEResearch and represents his/her personal opinion about the companies mentioned in the article. The article is for informational purposes only and it should not be taken as an investment advice. Investors are encouraged to conduct their own due diligence before making an investment decision. I am not receiving any compensation (other than from Seeking Alpha) for this article, and have no relationship with the companies mentioned in the article.