Natural-gas stock EQT Corp. (NYSE:EQT) has been falling since it announced a secondary stock sale on March 9, and the bears aren't done with it yet.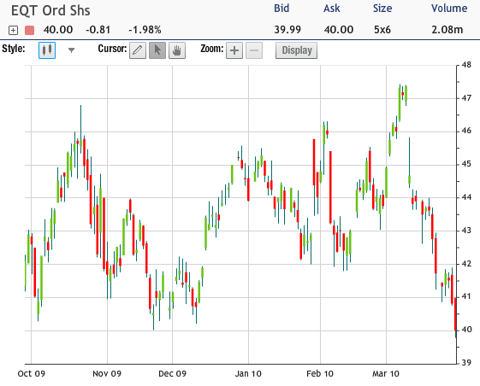 Click to enlarge
optionMONSTER's Depth Charge tracking system detected heavy buying of the April 40 puts, which traded 5,702 times against open interest of 477 contracts. Most of the volume priced for $1.10.
EQT fell 2.01 percent to $39.99 in afternoon trading and is down 15 percent since it sold 12.5 million shares at $44 each. The capital raising occurred shortly after the stock encountered resistance at $47, a support level from August 2008.
The selling has persisted since then, despite the company raising its production sales growth forecast the same day the stock sale was announced. Yesterday, EQT broke through support at its 200-day moving average, which may cause some traders to expect a steeper push to the downside.
The shares must fall at least another 3 percent by expiration for today's put buyers to earn a profit.
Overall options volume in EQT is 9 times greater than average today, and puts account for 91 percent of the activity.
(Chart courtesy of tradeMONSTER)