VMware (NYSE:VMW) has not been a worthwhile investment for those who bought it in 2011 and 2012. The stock has struggled after its valuation was driven sky-high with high expectations and with the growth slowing down significantly. VMware's valuation has been contracting for several years now, and with the growth reaccelerating, I believe it is time to take a look at the company's prospects once again.
Growth to reaccelerate in 2014-2016 period
VMware's revenue growth decelerated significantly in 2013. After two quarters of deceleration, revenue growth picked up to 13.7% in Q3 2013. However, growth was better when pivotal and divestitures are excluded, and total revenue grew 19% year-over-year. The company is focused on three strategic growth areas: software defined data center, hybrid cloud and end-user computing. Management believes that these focus areas are powerful individually and also produce significant advantages for VMware by leveraging synergies across these three inter-related businesses. VMware recently announced a new desktop as a service offering using technology from its Desktone acquisition. Desktone is an industry leader in desktop as a service, and together with VMware will be well positioned to help customers move their desktop infrastructure to the cloud.
VMware is also adding executives recently. Sanjay Poonen joined VMware from SAP in July to lead end-user computing business. Sanjay Mirchandani joined in August (former EMC employee) to lead Asia-Pacific and Japan business. Tony Scott also joined VMware in August as CIO, having previously served as CIO at Microsoft and the Walt Disney Company. The company also added 700 net new employees in Q3 alone.
Management expects VMware's revenue growth to accelerate in 2014-2016 period to 15% to 20% and expanding operating margin by 50bps a year through 2016. This should be achieved partly by revenue diversification with the company having more than $50 billion of addressable market by 2016, with strong compound growth rates in its areas of expertise (see graph below).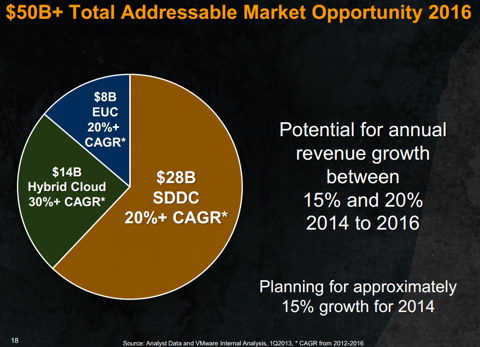 Source: VMware analyst day presentation
Strong balance sheet, repurchases, acquisitions
VMware has a strong balance sheet and strong cash flow generation. At the end of Q3, the company had $5.8 billion in cash and equivalents, up $514 million from the previous quarter. Operating cash flow in Q3 was $637 million, up 46% year-over-year, while free cash flow was $543 million, up 50% year-over-year. The company used the cash to buy back shares and make strategic acquisitions in the past three years. During Q3 the company bought back $90 million worth of shares, while it bought back $1.7 billion worth of shares since 2010, and spent more than $2.3 billion on acquisitions.
VMware's strong balance sheet will enable the company to continue its policy of share buybacks and strategic acquisitions going forward.
Growing competition
VMware faces strong competition from Microsoft (NASDAQ:MSFT), Citrix (NASDAQ:CTXS), Oracle (NASDAQ:ORCL) and Amazon (NASDAQ:AMZN). Amazon revealed WorkSpaces in November, a PC virtualization offering that allows businesses to host virtual desktops on Amazon's cloud infrastructure, which could negatively affect Citrix and VMware. Amazon is very aggressive with pricing and could drive profits down for all the companies it competes with. Microsoft's Hyper-V and Citrix's XenServer could also put pressure on VMware in the coming quarters. Citrix's XenServer has no licensing charges, while the company is charging customers for support and maintenance. Microsoft's Hyper-V has increased market share, taking it mostly from VMware in the last couple of years. With 27.6% market share at the end of 2013, Microsoft is the biggest threat to VMware, which had 56.8% of the virtualization market in 2013. Microsoft's market share is up from 20.3% in 2008, while VMware's market share is down from 65.4% in 2008.
Valuation
VMware has been delivering outstanding revenue and earnings growth since going public in 2007, with 2009 being the exception, and its valuation was sky-high most of the time. This has changed recently, and the stock is now more reasonably valued, and with the expectations of revenue growth acceleration, it might be reasonable to expect the stock trading at an EV/EBITDA multiple between 20 and 30. With that being the case, and VMware's forward EV/EBITDA ratio for 2014 and 2015 (17x for 2014 and 14x for 2015), I believe that the stock could rise between 30% and 60% in the next six to twelve months.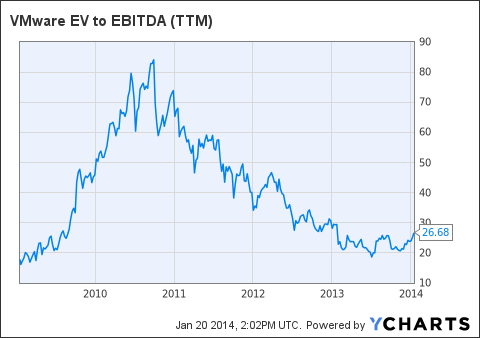 VMW EV to EBITDA (TTM) data by YCharts
Conclusion
Given the substantial run-up in the last six months, when the stock rose 50% from its early-July lows, the stock could pause and pull back in the next couple of weeks or months.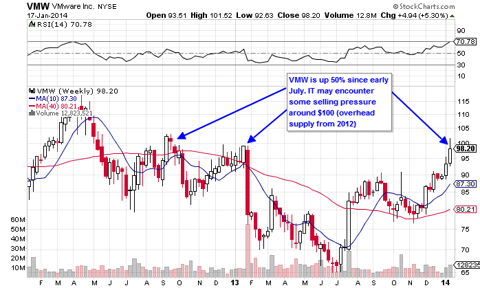 Source: Stockcharts.com
The earnings announcement on January 28 should be very important for the company, and the momentum could be sustained if the results are better than expected. If VMware's growth accelerates, there might be more room for continued multiple expansion, and VMware might rise between 30% and 60% in the next six to twelve months.
Disclosure: I have no positions in any stocks mentioned, and no plans to initiate any positions within the next 72 hours. I wrote this article myself, and it expresses my own opinions. I am not receiving compensation for it (other than from Seeking Alpha). I have no business relationship with any company whose stock is mentioned in this article.