There are several aspects of the recent Liberty Media (NASDAQ:LMCA) offer for Sirius XM Radio Holdings (NASDAQ:SIRI) that have made it difficult for some investors to evaluate the offer. One of these is that the proposal is an all stock transaction, with a new non-voting class of stock to be issued for all Sirius XM shares. Liberty already showed these Liberty Media shares on its third quarter balance sheet:
Series C common stock, $.01 par value. Authorized 2,000,000,000 shares; zero issued and outstanding shares at September 30, 2013 and December 31, 2012
I have seen many comments on various articles at Seeking Alpha that have expressed concern about the fact that the Series C shares carry no voting rights. Some of the complaints express concern that institutional investors won't hold non-voting shares or that Warren Buffett won't own non-voting shares. So, should it matter that the proposed Class C shares will not participate in votes at Liberty if the merger is approved?
First, investors should be aware that Liberty already has two classes of common stock. The Series B shares, almost entirely owned by Liberty Chairman John Malone carry 10 votes per share. As of December 23, 2013, Malone owned or controlled a total of 9,346,654 B shares (8,625,493 directly, 230,564 by his spouse, and 490,597 in a charitable remainder unitrust). The Series A shares carry 1 vote per share. Malone and his spouse also have an additional 1,121,256 A shares, so, in total, Malone has 94,587,796 of the votes for Liberty Media.
Also Liberty has a total of 104,373,984 A shares and 9,876,178 B shares outstanding (the totals may change as options are exercised, shares repurchased, etc.), indicating that there should be a total of 203,135,764 Liberty votes. Malone would control 46.56% of any vote. Considering the fact that rarely does everyone vote, it is fairly obvious that Malone controls almost all the issues voted upon at Liberty.
Institutions own 80.9% of the A shares, as does Buffett's Berkshire Hathaway, with little in the way of voting control. This would indicate the argument that non-voting shares won't be held by Buffett or institutions seems somewhat weak. For those that wish to argue that 1 vote per share is better than zero votes per share, consider Viacom another media company.
Viacom has two series of stock, Class A with voting rights controlled by Sumner Redstone (NYSE:VIA) and non-voting shares Class B shares (NASDAQ:VIAB). One of the FAQ's on the company's web site states the following:
Q: What is the difference between Viacom's two classes of common stock?

A: Class A common stock is voting stock, and Class B is non-voting stock. There is no difference between the two classes except for voting rights. There are, however, far more shares of Class B outstanding, so most of the trading occurs in that class.
(Note the statement about trading. This is likely to be similar to what occurs at Liberty if the Merger is approved and 450 million new Series C shares are issued.)
In other words, the dividends are the same and the economic interest in the company is the same. And, despite the difference in liquidity and voting rights, the price of VIA and VIAB shares are quite similar. As to the concerns about a lack of institutional ownership, according to Yahoo!Finance, institutions own 91.9% of these non-voting shares.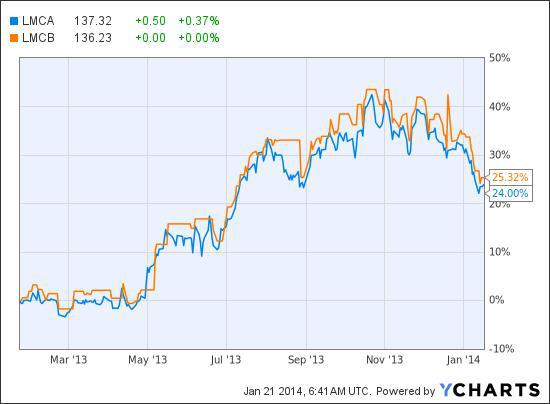 What about the share price comparison of Liberty's two series of common stock? As can be seen in the above chart, the price of the Liberty A and B shares are also quite similar. However, it should also be pointed out that a recent filing shows Malone was willing to pay a premium to acquire more B shares from longtime Liberty Media director and former executive, Robert Bennett.
On December 23, 2013, Mr. Bennett, Mrs. Bennett, and Hilltop Investments, LLC, which is jointly owned by Mr. Bennett and Mrs. Bennett, exchanged a total of 678,015 shares of Series B Common Stock in a private transaction for 745,816 shares of Series A Common Stock held by John C. Malone...
Despite the market seeing no significant difference between the two series, the numbers indicate that Malone was willing to pay a premium of 10% for those B shares. This increased his control of Liberty Media, as did the company's recent transaction with Comcast, where a complex agreement involving cash and assets allowed Liberty to acquire more than six million of its A shares:
On October 3, 2013, Liberty closed a transaction in which a subsidiary of Comcast, Inc. exchanged approximately 6.3 million shares of Liberty's Series A common stock for a newly created subsidiary of Liberty which held Liberty's wholly owned subsidiary Leisure Arts, Inc., approximately $417 million in cash and Liberty's rights in and to a revenue sharing agreement relating to the carriage of CNBC ("CNBC Agreement"). The carrying value of Leisure Arts, Inc. and the CNBC Agreement was not significant. Therefore, the Company expects to record a significant gain in the fourth quarter based on the difference between the carrying value of the assets and businesses deconsolidated, at the time of exchange, and the fair value of the Liberty Series A common stock received. The Company expects any gain recorded on the exchange transaction will be excluded from taxable income.
This is nothing new as Liberty has continually repurchased A shares over the years. Recently, Liberty CEO Greg Maffei spoke about how Liberty had repurchased more than half of its outstanding A shares:
So over the last 8 years, we have cleaned up most of that stuff or virtually all of it. We've bought back 52% of the company at something like $40 a share.
These transactions lead me to believe that even if the initial proposal to Sirius XM is sweetened, voting rights for the C shares will be off the table.
Disclosures
My disclosures are always listed on my articles. I have held a core position of 30,000-35,000 shares of Sirius XM since I began writing articles for Seeking Alpha. I also actively trade additional positions. The core position has always had covered calls written against it, and for the second year in a row those calls were assigned in January. In 2013, the assignment was at $3 and in 2014, the assignment was at $3.50. For the record, each of these positions was closed at a small profit relative to a straight long position.
I currently have one position of 7400 shares with those $4 January 2015 covered calls that was opened in December and just over 21,000 shares held as short term trades (and a few other very small positions in various accounts). The covered call position is likely to be held to expiration, while the trading positions could be closed at any time.
At this point, I will need to decide if it is worthwhile to again re-open the core positions. Prior to the Liberty proposal, the decision would have been easy. Buy the shares and sell the $4 January 2015 calls for an anticipated 29% gain as I discussed in a recent article.
With the shares recently trading in the $3.45-$3.50 range and the $4 January 2015 calls trading at $0.36-$0.39, one can buy the stock and sell the call for a net outlay of approximately $3.10.
Now, the shares are trading at $3.70 and those same $4 options are trading at $0.26-$0.30 making the trade much less attractive. It's a 6%-7% increase in the cost of the shares with a decrease in the option benefit of 20%-30% in less than three weeks. In addition to the trade being less attractive, there are questions about the options expiration (currently Liberty A shares only have options out through July vs. Sirius XM having weekly options as well as expirations all the way out to January 2016) and uncertainty over the structure of the option contracts should a merger be approved.
I have reached no decision on the reallocation of the proceeds from the assignment of the various positions this past week.
Summary
Blanket dismissals are never a good idea. Whether or not Buffett has changed his mind or will make exceptions, I have no idea. As to institutional investors being unwilling to own non-voting shares, both the institutional ownership of Viacom Class B shares with no voting rights or their ownership of Liberty Class A shares with voting rights that leave them at the mercy of Malone, would appear to belie this claim.
Sure, some institutions may have restrictions in their charters that preclude such ownership, but there are enough other institutions that are willing to step in and drive institutional ownership over 90% at a company like Viacom. There are also institutions that won't hold shares of stocks below $5 or that don't pay dividends. Neither of those factors have prevented institutions from owning half the available float of the shares in Sirius XM.
Are voting rights for the C shares a big issue? To me it is merely a distraction.
Disclosure: I am long SIRI, VIAB, . I wrote this article myself, and it expresses my own opinions. I am not receiving compensation for it (other than from Seeking Alpha). I have no business relationship with any company whose stock is mentioned in this article.
Additional disclosure: I actively trade SIRI. In addition to my long positions in SIRI, I have January 2015 $4 covered calls written against one of these positions. I may initiate new covered call positions or close out or open new positions in SIRI or LMCA at any time. I have no plans to trade my holding in VIAB at the current time.