Netflix (NASDAQ:NFLX) earnings will be released Tuesday. The stock will either pop or tank depending on the mood of investors and the content of the report, but it is virtually certain to move on the news. Aggressive investors should give it some thought.
Analysts' estimates are not much help calling for earnings between $0.56 and $0.90 per share which is hardly a tight range. What they do agree on is that earnings should be well above last year's $0.13 per share. The wide spread in earnings' calls is interesting since the range of revenue estimates is pretty tight at $1.11 to $1.20 billion.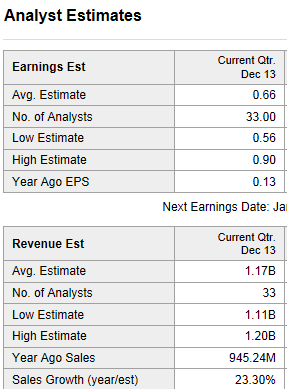 With a price to earnings ratio of 275 times trailing twelve months net income the stock is ripe for a massive selloff on any disappointment.
SA author Victor Liang wrote a very good article setting out the reasons he believes Netflix will do well in relation to Amazon.com in this space despite Amazon's lower price, larger customer base and greater financial resources. His argument may hold water longer term but it is an open question nonetheless. Short term, the issue on the earnings call is whether Netflix can deliver on very high expectations of 23% revenue growth and more than fourfold earnings growth despite competition from a number of others including Amazon while paying for exclusive content. I think that is a tough row to hoe.
Amazon reported strong growth in Amazon prime subscribers in December, but some analysts question whether the bump in subscribers was simply the result of Christmas shoppers wanting to avoid shipping charges and nothing to do with the content available on Amazon Prime. On the other side of the ledger Microsoft reported sizzling sales of its Xbox One console which integrates with Netflix to provide streaming movies and TV shows over the Xbox essentially promoting Netflix as a way to sell consoles. With Xbox One sales of some 3 million units in 2013 there were a lot of potential new Netflix subscribers from that source alone raising the possibility that Netflix 40 million subscriber count at the end of Q3 2013 continues to rise at a blistering pace.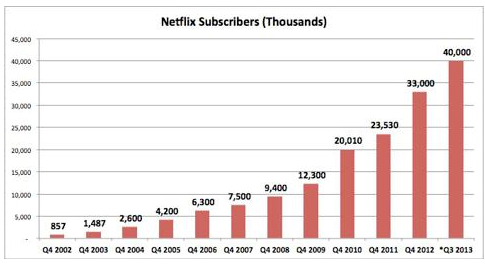 Last year Netflix stock jumped 30% after hours when it blew away estimates for the 2012 Q4 period but that jump was from a much lower base.
Netflix view of itself versus the competition at that time was captured by this graphic which I really enjoyed.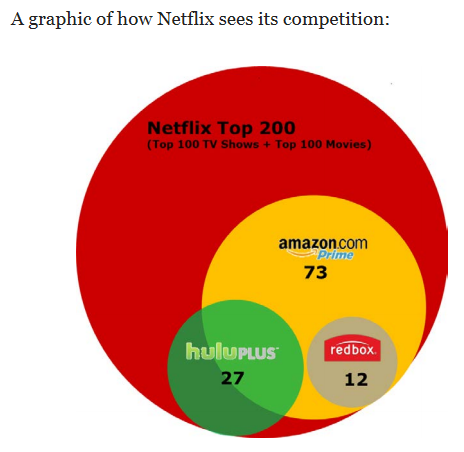 Insiders have been big sellers in the past 6 months, not always a good sign for a growth company but all too often the case with really high flyers.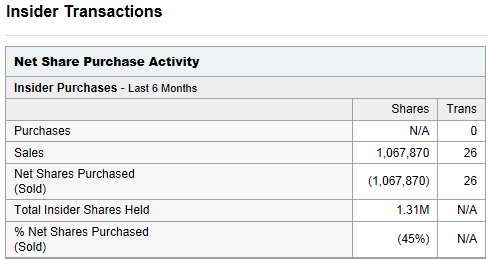 I think the company will have a good quarter. Having said that expectations are very high and option premiums are even higher. Both puts and calls which expire this Saturday command premiums of about $18 making it a toss up which way the stock will move.
I think the risk of disappointment outweighs the chances of a major move up so my trade is to short the stock and short the January $335 put for about $21 at the same time. If the stock tanks, I will be exercised and have to buy the stock at $335 covering my $332 short and clipping a solid $18 gain on the trade. If the stock moves higher, I will still be in the money until it moves through $356. It might, and I might take a loss, but with the valuation in the stratosphere already I don't see that risk as very frightening.
I have no position right now but should have the trade in place before Tuesday night.
Short trading and options are not for amateurs and I don't recommend trades so if you are inclined to bet on this, get some professional advice and then make up your own mind. The investment graveyards are full of people who have followed some of my trades.
Disclosure: I have no positions in any stocks mentioned, but may initiate a short position in NFLX, over the next 72 hours. I wrote this article myself, and it expresses my own opinions. I am not receiving compensation for it (other than from Seeking Alpha). I have no business relationship with any company whose stock is mentioned in this article.