Starbucks (NASDAQ:SBUX) is one of the biggest and well known coffee roasters and retailers on the planet. Based out of Pike Place Market in Seattle, the company now has over 20,000 stores in 62 countries worldwide.
That's a lot of coffee.
Starbucks has started 2014 off on the cautious foot, down 6% for the year. However, it had an outstanding 2013 and we'll know more about the direction of the company from the coming earnings call.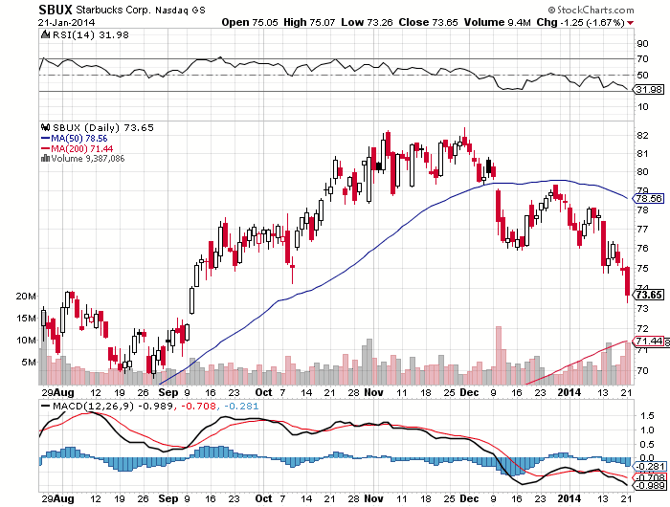 Click to enlarge
Starbucks reports on Thursday, January 23rd.
Although off 5.6% in the last three months, Starbucks has shown strength to the tune of 36.7% in the last twelve months.
The coffee company is expected to report EPS of $0.69 on revenues of $4.30 billion.
Could potentially be negatively effected by the decline in mall traffic, although many mall sales are also made up of mall employees.
The company is targeting 10% revenue growth for 2014 and 1,500 new stores.
Most analysts that cover Starbucks are expecting $2.68/share earnings for 2014 - well over the $2.55-$2.65 guidance offered by the company.
2013's growth was catalyzed by plans to expand stores and impressive income for the company. Though I doubt we're going to see same store sales rise like they did one quarter ago (9%), we should see growth across the board this quarter. Analysts will likely be looking for a more modest number and for color on the guidance of 10% revenue growth for the coming year.
Opening 1,500 new stores should allow the company to meet or exceed its revenue guidance if all goes as planned in the coming year. Almost half of these stores are going to the China market, which could make it almost as big of a player as Canada for the company.
Analysts are also going to be looking for lower commodity prices on coffee to continue to help out the retailer - if they can lock the price in with futures or "at the price" contracts. The massive fall off in coffee prices through 2013 is predicted to help out Starbucks' margins. Below is a table of how pricing has fallen off of a cliff through 2013. The first column on the left is the ICO composite price - that's the one to look at. The rest are different varieties with comps from both New York and Germany for each blend.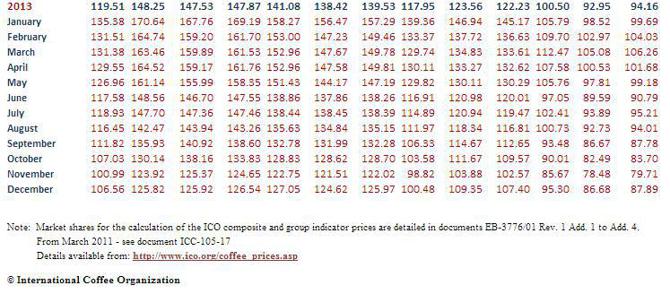 Click to enlarge
Those bearish on Starbucks are going to be watching to see if the trend, which reversed slightly in December, continues. If so, it'll be a sector wide margin issue - effecting all coffee companies - but will effect Starbucks individually as well.
Additionally, many analysts are going to looking at the company's La Boulange brand to forecast how food sales paired with beverages are faring. Starbucks recent focus on increasing food sales is one of the growth methods the company is trying to use. Therefore, its traction will be of importance to investors.
In a sector where competition continues to increase from companies like Dunkin (NASDAQ:DNKN), Panera (PNRA) and now McDonald's (NYSE:MCD) that is placing major emphasis on its McCafe brand, I'm not overly excited to hop into Starbucks right now.
Starbucks currently pays a dividend that yields 1.41% annually and holds a market cap of $55.5 billion.
Although it's a brand I considered investing in this year when I was staking my long positions for 2014, I decided to wait to see how the company comes across in earnings - and more importantly, how they guide for the coming year. I'll sit and watch this one from the sidelines this week, but I wish the best of luck to all investors.
Starbucks closed down $1.25 at $73.65 on Tuesday.
Disclosure: I have no positions in any stocks mentioned, and no plans to initiate any positions within the next 72 hours. I wrote this article myself, and it expresses my own opinions. I am not receiving compensation for it (other than from Seeking Alpha). I have no business relationship with any company whose stock is mentioned in this article.