After the disastrous attempt by Intel (NASDAQ:INTC) to develop and offer an online TV service called OnCue last year, it's not that exciting to hear Sony (NYSE:SNE) make an announcement concerning Web-based TV. The challenges faced in the sector by Intel haven't been resolved yet. Until and if they are, the idea of Web-based TV services are nothing more than a dream, as far as being profitable goes.
source: StockCharts.com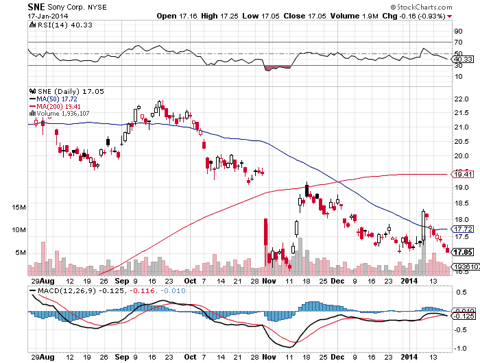 In the early part of 2013, Intel made an announcement it would have an Internet TV service available by the end of the year. The opposite happened, as in a very public manner Intel had to admit it was abandoning the project. It is reportedly in negotiations with Verizon (NYSE:VZ) to acquire the unit.
Some have attributed this to a change in leadership at Intel, but it appears to be much more basic than that. Content seems to be the major issue that this industry faces. It's unclear how Verizon will overcome this issue at this time.
Sony's Web service
There are two elements associated with the streaming service being developed by Sony. One is the TV content side, and the other is gaming. Of the two, gaming has the strongest potential.
For the Web-based TV service, Sony will deliver on-demand and live programming now available on television. It appears to be a preliminary deal in place with Viacom (NYSE:VIA) (NASDAQ:VIAB) for online streaming rights.
The question that comes to my mind is who will want a service that is basically the same as now offered by cable, satellite and telecom companies. It seems like the targeted audience would be an older demographic, as younger viewers tend to put together their own array of content. I don't see how they would gravitate toward what would be the same thing offered by other companies with the difference being a digital delivery system without a cord or satellite.
By that I mean cable companies can offer streaming content if a customer has acquired an Internet service with it. Sony and Verizon, among future competitors in the space, would offer content via streaming alone.
Again, this is what Intel recognized and Verizon, along with Sony, must solve.
Value to content providers
Then there is the question of value to content providers. What would Viacom get out of this deal if all that is happening are customers shifting from one delivery system to another?
It would provide an alternative to the growing number of cord-cutters, but that is still a very small number of consumers. It will take years before those numbers become economically meaningful for a company.
There are other hurdles that Sony would face, such as content deals that companies like Comcast (NASDAQ:CMCSA) (CMCSK) have been making in order to protect its existing business model. Sony and others would end up having to pay more for content, making it difficult to build up market share.
Not only that, but if Sony is successful then what would keep Comcast and existing content distributors from simply offering their own Web-based TV services? In the case of Comcast, all it would have to do is develop the technology to offer the service. It already is doing that for its own customers, and it would be easy to extend that to others.
Content Challenge
The bottom line for Web-based TV providers will be the ability to make content deals. If there is little in the way of content, being able to stream it is useless and meaningless. That's what Intel was facing with its OnCue service, and why it is attempting to divest itself of it.
When you consider the fact that Netflix (NASDAQ:NFLX) and Amazon.com (NASDAQ:AMZN) have already secured a lot of streaming rights deals for content, so the availability of content is suspect. Sony does have its own content that it can negotiate for, though, as well as the content rights it has secured from Viacom.
So there is the lack of streaming content rights available, and existing content distributors have been making deals to protect their business models. For the content that is able to be delivered over the Internet, it will be higher in cost than that which is offered by other companies; this points to margin issues. Until this is solved, I don't see Web-based TV as envisioned by Sony and Intel taking off any time soon.
Streaming content is a commodity business with little that differentiates it from another company. Similar to Netflix, it looks like the only way for streaming companies to go is to develop or acquire some original content. Until that happens, this industry has nowhere to go.
Sony's Chance of Success
The fact that Sony has made some type of preliminary deal with Viacom is a good sign, as is the probability it can successfully make a deal with its own unit for content.
One advantage it does have is the company has over 7 million devices in the market that are connected to the Internet. That gives it an advantage that few others would have when attempting to go the Internet TV route.
In the end, though, Web-based TV is completely dependent upon content deals and inevitably original content. With content deals for new entries in the TV market like Sony, it will cost more to secure content rights. There is also nothing at this time to suggest that it is developing new content of its own.
With Comcast, Viacom, Verizon, Netflix and Amazon.com already having deals in place, and in the case of NetFlix and Amazon.com, having shows created specifically for the services they offer, it generates many questions as to the viability of Web-TV as a business model, as defined by offering the same content already available to consumers by broadcasters and cable channels.
For those investing in media companies, it is unlikely that Web-based TV has much to offer in the short term. It doesn't matter what type of technology and features are used to deliver the streaming content if there is no differentiation from other companies that are already providing it.
Disclosure: I have no positions in any stocks mentioned, and no plans to initiate any positions within the next 72 hours. I wrote this article myself, and it expresses my own opinions. I am not receiving compensation for it (other than from Seeking Alpha). I have no business relationship with any company whose stock is mentioned in this article.