Good news for diehard Alcatel-Lucent (ALU) fans, here's one more reason for us to keep the faith. Lightreading just broke news that CEO Michel Combes' last-minute maneuverings helped Alcatel-Lucent steal the $100 million Verizon (NYSE:VZ) LTE contract from Infinera (NASDAQ:INFN). There's no official announcement yet but I'm already very happy about this revelation.
The $100 million deal is not that big but it's a major boost of confidence. Two recent ALU articles here at Seeking Alpha by Markos Kaminis and Bottom Up Investing did sway my confidence over Alcatel-Lucent. Those two writers had some valid reasons. Fortunately, the news about Combes' Verizon feat helped me regain my faith - Combes is proving to be a very cunning and ruthless leader for Alcatel-Lucent. I am therefore maintaining a strong hold on my ALU. I do not have the money to buy more ALU shares but if you do, purchasing more shares seems justifiable. The price is still down 7.7% from its $4.61 high last January 8.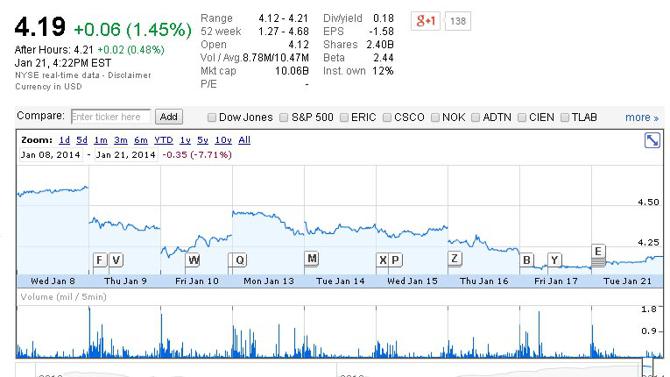 Alcatel Is A Big Risk-Big Reward Forward Bet
The long-term recovery of Alcatel-Lucent is already assured. The recent China contract wins by the company are continuing tailwinds which will help Alcatel keep up with its debt payments. I am not denying that the company is highly leveraged right now. As long as Alcatel-Lucent keeps winning LTE contracts, its turnaround is not in jeopardy. The high Price/Book and Debt/Equity ratios are loud warnings I understand and accept.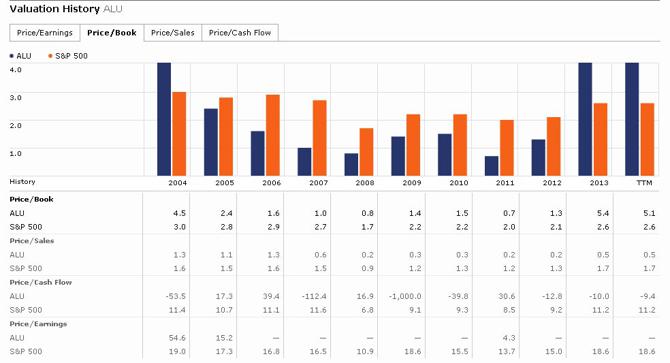 Investing is like winning or losing big in poker. I got dealt with off suit 7-2 cards with ALU but the flop already gave me a 7 because Combes is the right CEO. The future turn and river cards may give me a double 7 or double deuce cards so I'm not yet folding my bet on Alcatel-Lucent. I won PokerStars' December 2013 Open Skill League Tournament by aggressively playing more non-premium hands and taking bigger risks. Risk averse gambling has its own merits but it doesn't apply to Alcatel-Lucent now.
Of course, I'm worried about ALU's high debt ratio but I'm not letting it scare me off from a big pot win by 2015. If I have the chips right now, I'll bet more on this company too.

LTE 4G Contracts Keeps Alcatel's Engine Running
Enough of the poker parallelism - I may get another private message telling me to quit comparing investing to gambling. Let's just say the Alcatel-Lucent is long-term value investment play because of its industry-leading LTE 4G technology. The company's unmatched VDSL2 Vectoring and lightRadio small cell solutions keep Alcatel-Lucent on the radar of tier-1 operators who requires cost-efficient 4G infrastructure build-up. Alcatel was and still is the clear leader in VDSL2 broadband infrastructure implementation.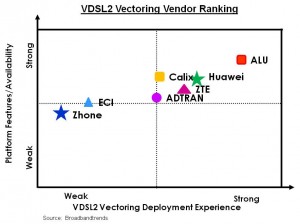 The Verizon deal, if it proves true, will be the second North American deal that the company won this January. Peg Bandwidth LLC also hired Alcatel-Lucent last January 9 to provide its IP/MPLS Mobile Backhaul broadband products. Peg Bandwidth is expanding its 4G network with additional 1,500 cell sites across ten U.S. States. The expansion calls for over 6,000 route miles of fiber optics intended to provide 4G broadband speeds on less-populated American rural locations. Alcatel-Lucent solutions will also help Peg Bandwidth provide on-demand high bandwidth Ethernet services to carriers and corporate clients.
These new contracts are good indications that Alcatel-Lucent's 4G solutions are winning approval from North American companies. Sprint also awarded Alcatel a TDD-LTE deployment contract last October 2013. The new Verizon $100 million LTE contract reaffirms Verizon's faith in Alcatel-Lucent.
Verizon hired Alcatel to implement its $4 billion 3G/4G expansion in 2010 and Alcatel-Lucent also won a $6 billion contract from Verizon in 2007. It's not far-fetched that other major North American carriers may also give Alcatel-Lucent 9-figure ultra broadband or 4G infrastructure/equipment contracts in the future. North America still offers healthy opportunities for 4G LTE build-up.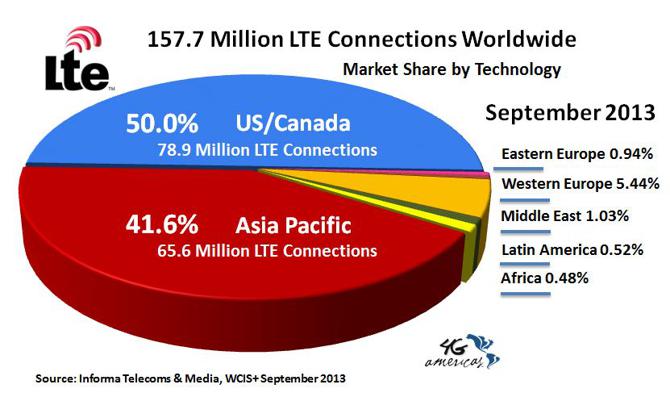 Conclusion
It really helps that the Alcatel-Lucent is now being lead by a brilliant and persuasive leader who has no scruples stealing deals from rivals on the last minute. Michel Combes' appointment last April 1, 2013 coincided with ALU's 215% increase to date. I do not believe in coincidence, the new CEO is the driving force behind Alcatel-Lucent's meteoric comeback.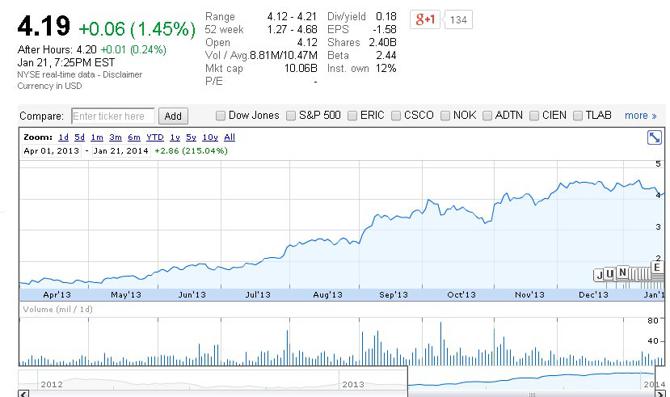 While Combes recently declared China as the biggest market for 4G deploment, it pleases me to learn he is still wheeling & dealing to win North American LTE contracts.
The company will issue its 4Q 2013 Earnings Report on February 3. I'm praying ALU will meet analysts' estimates of $0.03 Earnings per share.
Disclosure: I am long ALU, . I wrote this article myself, and it expresses my own opinions. I am not receiving compensation for it (other than from Seeking Alpha). I have no business relationship with any company whose stock is mentioned in this article.