Remember last September when the Reserve Bank of Australia (RBA) somewhat mysteriously removed the following language from its statement on monetary policy?…
The Board also judged that the inflation outlook, as currently assessed, may provide some scope for further easing, should that be required to support demand.
On January 22, 2014 (Australian timezone), the Australian Bureau of Statistics (ABS) reported somewhat heated inflation numbers for Q4 of 2013 that all but remove the prospect for further rate cuts from the RBA in the February meeting. Quarter-over-quarter, the Consumer Price Index (CPI) increased 0.8%. Year-over-year, the CPI increased 2.7%. The annual inflation rate going into Q4 was 2.2%, so Australia is potentially facing creeping inflation. With the policy interest rate set at 2.5%, the RBA is suddenly in negative real rate territory on backward-looking basis. Perhaps Stephen Koukoulas was right after all - the RBA will actually be increasing rates sooner than later! Here is what Koukoulas tweeted about the hot inflation report (referencing the All Groups CPI, seasonally adjusted):
The 0.9% rise in quarterly underlying CPI one of the highest on record

- Stephen wefKoukoulas (@TheKouk) January 22, 2014
Several categories experienced strong price gains in the quarter and the year, further testament to a firm inflation picture. Alcohol and tobacco were up 1.6% and 5.4% quarterly and annually, respectively. Housing up 0.5% and 4.3%. The whopper for the quarter was recreation and culture up 2.1% and 2.4%. Both education and health were up strong for the year but flat to down for the quarter.
The response in the Australian dollar (NYSEARCA:FXA) was immediate and sharp…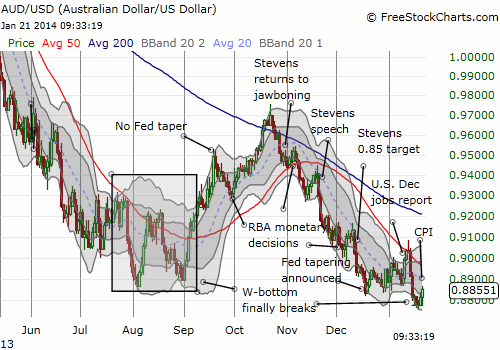 The Australian dollar tries to rebound after breaking support from the W-bottom
Source: FreeStockCharts.com
Despite the CPI, I am going to maintain a (short-term) bearish bias for now on the Australian dollar. This one CPI report may not fundamentally shift negative market sentiment in the short-term. The market will likely look for affirmation from the RBA statement in another two weeks before moving toward the next sustainable direction. I am ready to go bullish if the RBA is ready.
Be careful out there!
Disclosure: I have no positions in any stocks mentioned, and no plans to initiate any positions within the next 72 hours. I wrote this article myself, and it expresses my own opinions. I am not receiving compensation for it (other than from Seeking Alpha). I have no business relationship with any company whose stock is mentioned in this article.
Additional disclosure: In forex, I am maintaining a bearish bias on the Australian dollar