Procter & Gamble (NYSE:PG) reports its earnings on Friday January 24 before the market open. Our earnings preview takes a close look at EPS estimate trends and other data, including the EPS whisper number, to determine how PG might fare on its report. We examine sensitivity and risk to determine what the odds are for PG shares on the upside and downside against positive and negative scenarios, and based on valuation and stock price and operational trends make a short short-term recommendation. P&G will be reporting for its fiscal second quarter ended December this Friday morning and you'll be able to access the press release and webcast via these links.
Earnings History
Procter & Gamble's earnings history shows a track record of beating the Wall Street consensus, except for last September when the company met the number on the dot. Actually, I consider it troubling that the distance between the company's quarterly results and the consensus estimates has consistently deteriorated over the last four quarters. Also, last December marked an especially significant earnings beating, setting the bar high for this quarter. As a result, the company is expected to report an EPS decline Friday. But never you mind that, as there is something more important to consider.
| | | | | |
| --- | --- | --- | --- | --- |
| | Sept. 2013 | June 2013 | Mar. 2013 | Dec. 2012 |
| Reported | $1.05 | $0.79 | $0.99 | $1.22 |
| Expected | $1.05 | $0.77 | $0.96 | $1.11 |
| | 0.0% | +2.6% | +3.1% | +9.9% |
Earnings Estimate Trend
The earnings estimate trend for the December quarter is a little troublesome. The current consensus figure of $1.20 is three cents short of where it stood 90 days ago and a penny short of where it was just 30 days ago. While a reduction from last quarter would be something we might overlook otherwise, I think the downward adjustment deeper into the quarter is something to worry about, especially when also considering the history trend.
| | | | | |
| --- | --- | --- | --- | --- |
| | Dec. 2013 | Mar. 2014 | FY 14 (June) | FY 2015 |
| Current | $1.20 | $1.09 | $4.27 | $4.65 |
| 7 Days Ago | $1.20 | $1.09 | $4.28 | $4.65 |
| 30 Days Ago | $1.21 | $1.09 | $4.29 | $4.66 |
| 90 Days Ago | $1.23 | $1.08 | $4.28 | $4.66 |
The Whisper Number
Earnings Whispers does not indicate a whisper number for Procter & Gamble's quarter, but Estimize lists its figure at $1.25 for fiscal Q2. It's a significantly higher figure than the Wall Street consensus of $1.20, and may reflect the recent history of big differentials. Given the earnings history and the earnings estimate trend this quarter, it seems unlikely to materialize. So, I expect PG to miss the whisper number.
Peer Precedent
P&G peer Johnson & Johnson (NYSE:JNJ) reported earnings on Tuesday and beat its consensus estimate by four cents and its whisper number by a penny. Yet, the stock fell 1.1% on the day after guiding toward the lower end of the range for the forward year. Pricing pressures were discussed, but some analysts said the company had a history of offering low-bar guidance at the start of the year. Still, the shares fell on the day nonetheless.
The Chart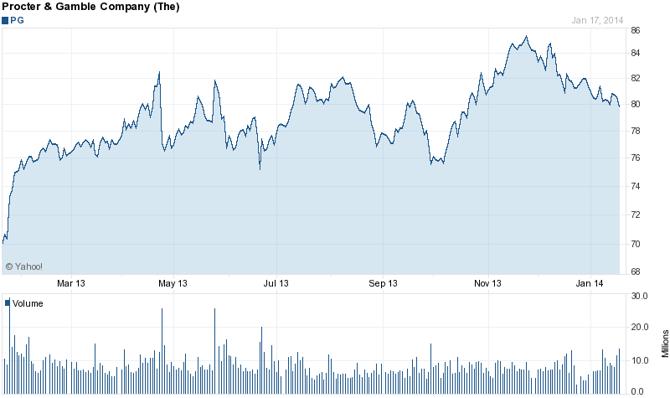 Like J&J, P&G shares came a long way in 2013, and so perhaps PG faces higher downside risk than upside potential opportunity at its earnings report. In other words, investors are more likely to trade on any negative information than positive, like what occurred with J&J.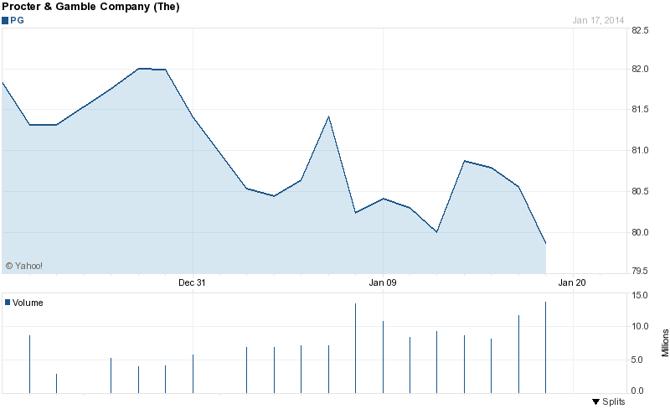 1-Month Chart at Yahoo Finance
Over the last month, the shares have softened along with stocks generally. This likely reflects capital flow factors and tax related sales pushed into this calendar year so that investors could put off tax payments on capital gains until 2015.
Valuation
PG trades at 18.0X my $4.46 EPS estimate for the next 12 calendar months. That compares against the 8.3% long-term growth expected by analysts. However, PG also offers a dividend yield of 3.0%. When taking the dividend yield into account, PG trades at a KPEG ratio of 1.6X, which seems a bit expensive. I believe this confirms the greater downside risk to the EPS report. The stock's more recent decline appears to not be enough to make PG attractive heading into the report. So, I would sell the stock and reduce risk to a potentially negatively perceived result. However, those intending to hold the stock long-term for income purposes and not wanting to take capital gains now can continue to hold the shares, though I expect the price to decline near-term.
Disclosure: I have no positions in any stocks mentioned, and no plans to initiate any positions within the next 72 hours. I wrote this article myself, and it expresses my own opinions. I am not receiving compensation for it (other than from Seeking Alpha). I have no business relationship with any company whose stock is mentioned in this article.