After reporting Q4 results, Advanced Micro Devices (NYSE:AMD) dropped ~10% in after hours trading (share price of $3.73 at time of writing).
In this article I would like to briefly revisit some previous comments I have made regarding the stock, as well as look at Q4 results along with management guidance for Q1.
The Market Really, Really Cares About PC Sales
AMD has met or beat consensus estimates for the past several quarters, but the market hasn't really cared.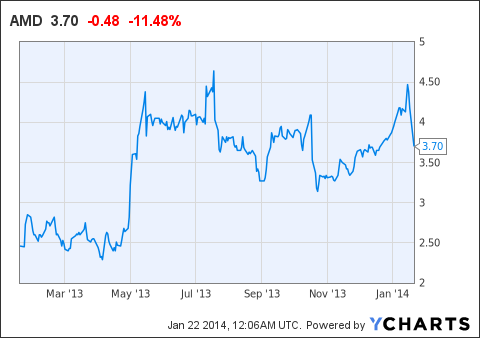 The three sell-offs above (July, October, and the most recent drop) all coincided with earnings reports in which "the beat wasn't big enough."
The breakout from the $2.50 range was spurred by the realization that AMD would be powering both next generation consoles and the revenue this would bring. In July the sell-off was induced by concerns over margins, but the October slide, along with this one, appear to be stemming from further concerns over the PC market.
And whether you disagree with this or not, it's the aggregate of money going into and out of the stock that control the price.
In the article linked to above, along with this one, I attempted to lay out my take on the explanation of the bear case against AMD. I opened the conclusion to the article with the following:
The bear case for AMD assumes further deterioration of the PC market, the inability for the company to continue to diversify outside of PCs, as well as possibly a bleak outlook on consoles, or even another financial misstep such as a mismanagement of inventory and a subsequent write down.

And unfortunately, I think a 20%+ sell off after beating estimates on both the top and bottom line, as well as providing guidance just above analyst expectations indicates the kind of sentiment baked into this stock. I consider AMD to remain a speculative play for now. If the PC market further crumbles, or a financial misstep occurs, it could spark another quick sell off, possibly even below $2.50.

The trick to understanding the long side of AMD is to understand the company's attempt to drive revenue growth while maintaining a target OPEX of $450M. The bear case prices in very little room for revenue growth.
The $2.50 level I mention was taken from reports by Dr. Stacy Rasgon of Bernstein's, featured on Benzinga (I, II):
Bernstein decreased 2013 revenues from $5,347M to $5,248M, 2014 from $5,729M to $5,529M, and 2015 from $5,909M to $5,622M. The analyst's EPS estimates also decreased from -$0.06 to -$0.12 for 2013, from $0.22 to $0.03 in 2014, and $0.36 to $0.07 in 2015.
The above was published immediately after earnings, followed by the below revision a couple days later:
We promised ourselves once upon a time never to take an active stance on AMD again, pursuing instead a thesis of 'prudent avoidance.' That being said, we have been tempted to go short for some time, with only our fear holding us in check. However, recent results have made the structural short case simply too tempting for us to ignore. Therefore, we are diving back into the pool, and downgrading the stock to Underperform, lowering our target price to $2.50.
As a final data point for the bear case, in October of 2012 (the first time Dr. Rasgon put a $2.50 PT on AMD), he had AMD forecast to lose $.41 per share for 2013 (source: Forbes).
To tie this back into my statements following the previous earnings report regarding pricing in financials missteps, recently Bernstein reiterated the $2.50 PT on AMD, citing concerns over the WSA (Wafer Supply Agreement) (source: Barron's).
Tonight, Dr. Rasgon's line of questioning on the earnings call largely focused on concerns over the Wafer Supply Agreement, regarding AMD essentially being forgiven of $190M (penalty free) worth of wafers that were required to be purchased during Q4.
Meaning the bearish of analysts are not only expecting PC sales to come under pressure, but are also not excluding the possibility of a misstep from management.
AMD's CFO, Mr. Kumar answered by stating, "The 2013 WSA is completed. There are no associated penalties with the reduced wafers we took in Q4."
At this point, based on the tone of the questioning, I am not expecting anything favorable from Bernstein.
The Bad From The Earnings Call: PC Sales
The most apparent negative from the earnings call was the sequential decline from the PC market despite signs of stabilization.
CS revenues (computing solutions) fell 9% sequentially to $722M, down from $829M from the year prior.
The sharp revenue decline is one of the big reasons of concerns for some investors.
This is primarily one of the reasons I was recently urging caution going into this earnings report. Depending on how you want to look at the situation, you can reach one of two conclusions (or somewhere in between, which is where I feel the most reasonable explanation lies):
Intel (NASDAQ:INTC) has expressed interest in winning in the low end of the PC market.
The timing of the release of CPU/APU products put AMD in a less than favorable situation going into this earnings report.
The reason I feel the middle of the road approach is better is because product releases from both companies had positive impacts on both, and the timing of the impact coincided with those releases. AMD has been gaining traction this year with higher end APUs, but this traction has been limited to the desktop space.
During Q2, the company saw success with the launch of Jaguar APUs (the same CPU family as consoles) during Q2, in which AMD managed to gain market share in both notebook and desktop.
Looking at the back half of the year, AMD was competing with Haswell in the high end and Bay Trail in the low end. The competition for Haswell was the Richland APU, which is essentially a slightly improved version of Trinity. The Trinity APU launched in fall of 2012 against Intel's Ivy Bridge, so the architecture was starting to get a little long in the tooth. Richland offered only modest improvements in notebooks. Anecdotally, looking at the number of design wins for Richland notebooks, it appears that it did not gather much traction.
The sum of this is that AMD launched a very competitive product in Jaguar, and this helped AMD actually gain notebook market share during Q2. The A8's and A10's bigger Richland APUs had a good showing, but this was limited mainly to desktop. In the back half of the year, the battery life improvements of Haswell were a major selling point for the notebook space, and Intel partnered with OEMs to release several low-priced 2-in-1's which undoubtedly had an impact on Jaguar powered device sales.
Finally, I think the 16% (+/- 3%) revenue decline forecast was also seen as a negative.
The Good: GVS Revenues and Focus
In two separate articles (I, II) I had outlined how AMD's strength in the company's GVS (graphics and visual solutions) was becoming a significantly more important contributor to overall revenues, largely in thanks to the console design wins.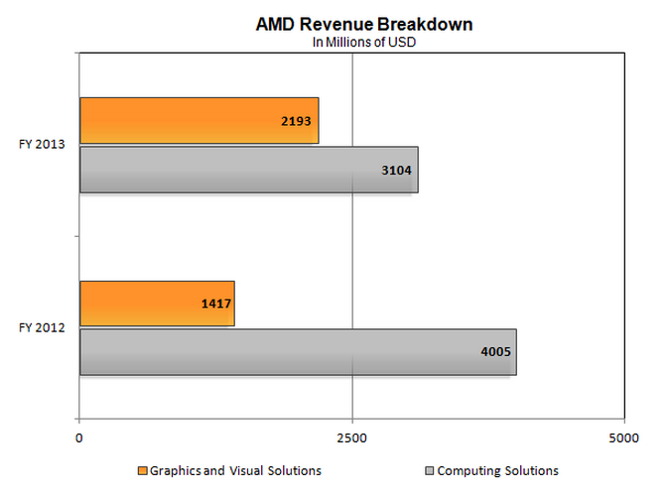 Click to enlarge
In an article on ExtremeTech, author Joel Hruska uses the above graph as a good representation of AMD's revenue break down between 2012 and 2013.
Notice that despite the downturn in the PC industry, revenues remained largely flat between 2012 and 2013 ($5.4B vs $5.3B). Looking at the full year, we see GVS account for about 40% of total revenues, vs. 26% in 2012. Console wins signify a large and incremental source of revenue, as the PS3 was powered by Nvidia (NASDAQ:NVDA), and both consoles (PS3 and Xbox 360) were starting to see sales dwindle as the consoles approached the end of their respective lifecycles.
Now consider that consoles did not impact revenues until Q3 of this year. In Q2, GVS revenues totaled $320M. In the most recent quarter, GVS revenues have risen to $865M, or 170% compared to Q2. GVS revenues actually outpaced CS revenues during Q4.
Moving on to operating focus, we have seen the company trim OPEX considerably. In 2012, AMD reported ~$2.2B in OPEX (non-GAAP). AMD has guided to around $450M OPEX going forward, which represents a $400M reduction from 2012 levels. This $400M is directly accretive to earnings.
AMD tonight also expressed the company would maintain the OPEX focus, and guided to a $420M OPEX for Q1. The company stated this lower OPEX would help the company remain break even or cash flow positive in Q1.
This part will be key for the Q1 2014 report, as analyst consensus for Q1 going into the Q4 2013 report had AMD at a -$.01 EPS for Q1. Maintaining tight control of OPEX will be instrumental to AMD throughout 2014.
As for a quick, back of the envelope calculation to demonstrate this importance, using 766M shares, each ~$7.7M represents $.01 EPS. So AMD's $30M lower OPEX has an offsetting effect of around $.03 to $.04 EPS. OPEX control is important because it will offset the lower revenues from PC sales, but at the same time if OPEX comes in high it lines the company up for a "miss."
Finally, going back to the Q2 2013 numbers (just a random data point I'm picking for no other reason that the quarter does not include consoles), CS revenues came in at ~$840M. So comparing Q2 and Q4, although CS revenues fell ~$120M, while GVS revenues rose $545M.
Conclusion
If you like the long story of AMD, caution is definitely warranted, meaning buying at depressed share price levels is doubly important for this stock to minimize downside risk, as the stock likes to move lower on less-than-great news.
AMD has an interesting mix of products, and the new chips coming to market (Beema, Mullins, and Kaveri), all have great potential, but AMD really needs to push OEMs into using these chips in innovative form factors.
If AMD can get some interesting designs pushed to market in a timely manner, 2014 represents a good opportunity for the company. But if we see more of the same this year, we're likely to see CS revenues continue to slide.
Another important factor is to consider product timing and potential market size. Without these factors, Beema, Mullins, and Kaveri are just words.
Regardless of what GVS is doing, CS seems to be a prime focus. If AMD manages to grow revenues simultaneously in both segments, then this story becomes much more interesting. The near term potential growth drivers for CS will be the Beema and Mullins chips, along with mobile Kaveri. Once we see the kind of design wins these chips garner, then we will have a better idea of AMD's potential in CS.
The downside here is that during the earnings call it was stated that Beema and Mullins are expected "later this year", and that Kaveri has some notebook design wins, but no time frame was given. And right now there is not a lot of insight as to when we can expect announcements.
Disclosure: I am long AMD, INTC. I wrote this article myself, and it expresses my own opinions. I am not receiving compensation for it (other than from Seeking Alpha). I have no business relationship with any company whose stock is mentioned in this article.
Additional disclosure: I am long AMD in both shares and options, with a hedge via puts. I actively trade my AMD position, and may add to or liquidate all or part of my position at anytime.