In my 2012 revenue analysis, I had found surprising answers to a few questions the investing community is posing regarding IBM's (NYSE:IBM) revenues. In fact, since at least one year, IBM's shrinking top line has been the most important concern in the bear camp, while the bull camp always points out that, while revenues have been shrinking, margins have gone up, delivering overall income growth. However, even the bulls cannot deny that a further shrinking top line would be worrisome. Hence, in my above-mentioned analysis, published at the end of 2013, I identified the most important reasons for the shrinking top line and predicted renewed revenue growth for the future.
Now let's see how IBM's segmented revenues developed in 2013 compared to the past 7 years: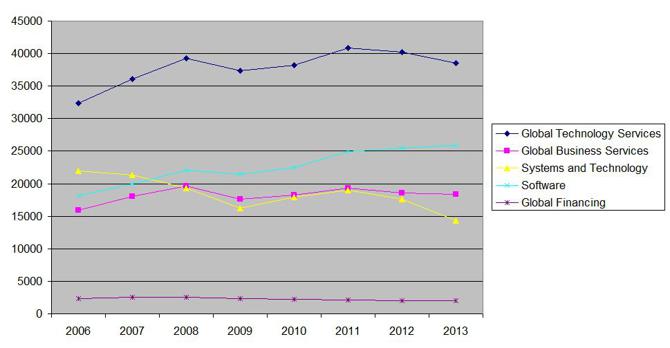 Until 2012 Global Financing and Systems and Technology had been the only segments trending down, while all other segments showed healthy growth trends. This trend has not been confirmed in 2013. Since 2011 Global Technology Services revenue has been decreasing along with Systems and Technology, while Global Financing is stabilizing. Even Global Business Services is declining, so that the only segment with still growing revenues is Software.
So let's take a look at the single segments and try to identify the reasons for the respective developments.
Global Financing is directly impacted by reduced capital expenditures that decrease loan originations. Furthermore, reduced interest rates cause both shrinking revenues and, most importantly, also borrowing costs. Therefore this segment should be measured by income; revenues alone are not meaningful. Contrary to the first impression, there is no problem whatsoever in this segment and if there is any foreseeable future development, it would be rising revenues together with growing corporate investments and rising interest rates (as these won't be able to fall much further).
As we have seen in the above mentioned 2012 analysis, the rapid decline of Systems and Technology revenues between 2006 and 2009 was caused first by strategic divestments and later on by the general economic environment. In fact, global corporate investments have declined from 2011 until today, hence IBM's shrinking revenues seem to be caused more by a general decline of investment activity than by homemade business problems.
The most important business of this segment, System z (mainframes), until last year could buck the general trend of reduced spending, whereas this year it suffered from the end of a mainframe investment cycle (as stated by IBM itself).
As a note aside: If IBM really offloads System x this year, total revenues of this segment will probably shrink by about 30%, while profit margins should go up a bit, presuming that IBM's large System z business enjoys higher margins than the largely commoditized System x.
One detail that many IBM investors don't consider relates to how much of Big Blue's business really depends on mainframes. According to this New York Times article,
the sale of mainframe computers accounts for only about 4 percent of I.B.M.'s revenue these days. Yet the mainframe is a vital asset to I.B.M. because of all the business that flows from it. When all the mainframe-related software, services and storage are included, mainframe technology delivers about 25 percent of I.B.M.'s revenue and more than 40 percent of its profits, estimates A. M. Sacconaghi, an analyst at Sanford C. Bernstein.
Hence, with mainframes doing so badly this year, it is no surprise that Global Technology Services revenue has been decreasing together with Global Business Services'.
Now let's take a look at IBM's segmented pre-tax income, as it has developed over the past 8 years: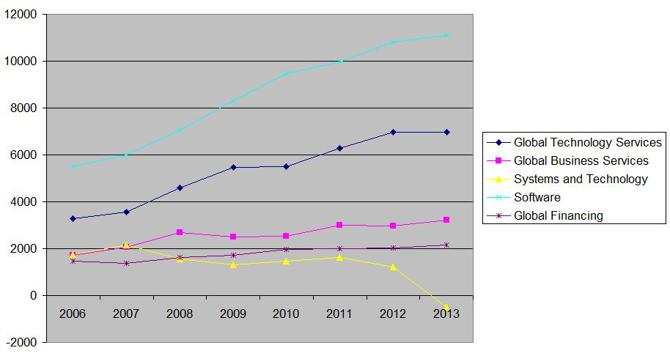 At this point, this chart is rather surprising in my opinion. Looking just quickly at the revenue development, IBM seems to be in terrible shape. All segments except Software have suffered revenue declines in 2013. But looking at EBT, all segments except Systems and Technology (that has shifted to a loss position) are delivering at least stable or even growing profits. So IBM is clearly successful with its strategy to shift its business mix to higher margin areas. This is particularly evident in the cases of Global Business Services (slightly declining revenues, yet nicely growing EBT) and Global Technology Services (revenues far below 2011 level, yet stable EBT far above 2011).
As mainframes are probably IBM's business with the strongest moat and are certainly subject to global corporate investment cycles, my personal estimate is still that investors don't need to worry about the overall state of Big Blue. As soon as corporate investment activity will pick up again, IBM will get its share. Until then, share repurchases and dividends will probably deliver at least decent returns to shareholders.
Disclosure: I am long IBM. I wrote this article myself, and it expresses my own opinions. I am not receiving compensation for it (other than from Seeking Alpha). I have no business relationship with any company whose stock is mentioned in this article.