In the market today, there is a general aversion to invest in medical companies that could be affected by the healthcare reform recently passed by Congress. Concerns are certainly valid considering the uncertainty of exactly how companies will be impacted by the measures. But there are also plenty of opportunities where the market has mis-priced this risk and where healthcare companies actually offer tremendous potential returns.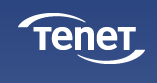 Tenet Healthcare Corp (NYSE:THC) is one of those growing companies in an uncertain market. The firm operates 53 general hospitals and two more specialized hospitals primarily in the Southeast, Texas, and California. According to the company's website, the firm focuses on owning and operating acute care hospitals along with ancillary businesses which complement its medical care.
One of the biggest concerns with Tenet (and many other hospital operators) is the tremendous investment these firms must make in order to comply with the American Recovery and Reinvestment Act. Tenet is guiding investors to expect a $40 million dollar technology expense as it implements the required changes within the hospitals it manages. The company will focus on a few facilities at a time, rolling out the necessary changes in an attempt to stay ahead of potential regulatory fines.
And while these investments will pressure earnings in the short-run, the efficiency benefits in future periods should actually prove to be accretive to earnings. Despite the difficult schedule for implementing the technology changes, analysts expect THC to increase earnings by 47% this year bringing the profits to 22 cents per share.
Of particular note is the success management has had in increasing their profit margins. Adjusted EBITDA margins increased from 8.4% in 2008 to a record 10.9% in 2009. There are several factors at work here which have led to a more profitable operating platform.

Lower Employee Turnover – Management has made a concerted effort to increase incentives for employees to remain with the company and to improve productivity. At the end of 2009, Tenet set aside $16 million to contribute to employee 401(k) accounts. There were also merit pay increases announced on October 1 that allowed employees to see their pay increase above the general level of inflation. As a result of these initiatives, Tenet was able to decrease its contract labor which is helpful in keeping costs contained.
Pricing Improvement – Despite the perception that Medicare is driving prices down, Tenet has seen a general improvement in the pricing environment. This may be a regional phenomenon and certainly warrants some additional analysis, but it is important to note that at this point THC continues to be able to charge a reasonable rate for its services.
Bad Debt Stability – Any hospital which is required to treat patients regardless of their ability to pay is going to have a hefty load of bad debt. Throw in an economic recession and investors expect bad debt to increase all the more. But THC has been able to keep this metric at a reasonable level and actually pointed to increased collections as one of the potentially positive driving forces for its 2010 guidance.
From Trevor Fetter, CEO:
Despite pressures from a soft economy and rising levels of unemployment in many of our markets, we achieved another year of solid revenue growth… Excellent cost control combined with this revenue growth helped us produce the strongest growth in earnings and the highest margin we've achieved in seven years.
While THC's stock price is certainly below what you might expect from a top notch hospital management firm, the company actually has a market cap approaching $3 billion and the stock is a very legitimate investment vehicle. A forward PE of 26 may also scare some investors away as on the surface it appears that THC may be fully valued.
But cautious analysts and conservative guidance by management may be causing this estimate to be a bit too conservative. After all, the demographic trends in the areas that THC operate combined with the pressure of less-capitalized facilities folding or going out of business will likely lead to higher admission rates. At the same time, investors willing to look further down the road to when IT investments will add to profitability may quickly increase the amount they are willing to pay for this niche hospital operator.
As a trader, I would watch the $6.00 to $6.50 area very closely. If the stock is able to break through this level on strong volume, it makes sense to start an initial position. After a few weeks of holding above this level, I might begin to add to my position at attractive chart points. My stop would initially be just below $6.00 because if the stock trades back below the breakout range, then something is wrong with the company or the trading dynamics surrounding the stock.
So consider taking advantage of the uncertainty surrounding healthcare by picking up some quality companies before the broad investor population realizes how much value is available.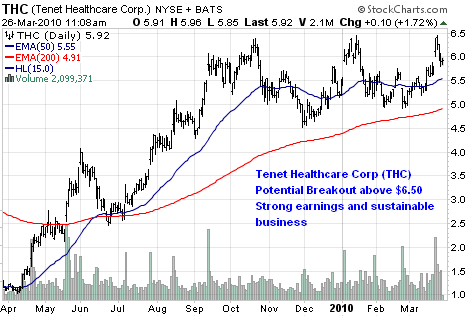 Disclosure: Author does not have a position in THC