Telecommunication companies can often be found in portfolios of value investors. Carriers provide fixed line and mobile phone services, (mobile) internet access, and complementary service offerings. Telecommunication companies are vital for the functioning of the economy, and their phone and internet services are demanded throughout the course of the business cycle. Their low business cycle sensitivity makes telcos defensive investments, which often leads to relatively low valuations and high dividend yields. Telcos, especially the ones that operate in mature markets, have strong, recurring cash flows which allows predictable dividend payments to shareholders independent of the state of the economy. While telcos such as Verizon (NYSE:VZ) or AT&T (NYSE:T) are defensive plays for investors who may expect a contracting economy, they can also provide investors with income and diversification potential.
Verizon, for instance, is a US broadband and telecommunications company with a market capitalization of $137 billion. The company is a dominant player in the US telco market and just presented respectable results for the fourth quarter of 2013 as well as for the full year.
Q4 2013 results highlight strong business performance
Verizon's quarterly and full year results showed solid y-o-y improvements: Consolidated revenues in the fourth quarter 2013 increased to $31.1 billion, which compares to $30.0 billion in the year ago quarter (an increase of 3.4%). For the full year 2013, Verizon brought in $120.6 billion, which compares to $115.8 billion in 2012 (a plus of 4.1%). Verizon's adjusted EPS jumped from $0.38 in the fourth quarter of 2012 to $0.66 in the fourth quarter of 2013 (a plus of 73.7%). 2013 adjusted EPS came in at $2.84 versus $2.24 in 2012 (an increase of 26.8%). Verizon's free cash flow also improved materially from $15.3 billion in 2012 to $22.2 billion in 2013 (a jump of 45.1%).
Wireless
Verizon Wireless continued to do well for the company: The business unit added 1.7 million retail net connections in the fourth quarter of 2013 alone, bringing the year-end total to a massive 102.8 million connections. Accordingly, Wireless revenues grew 5.7% y-o-y to $21.1 billion in the fourth quarter of 2013. Wireless' total revenues for 2013 grew 6.8% y-o-y to $81.0 billion. Verizon also increased its 4G LTE network deployment to 99% of its 3G LTE presence, which is a key accomplishment in order to offer customers a faster wireless service.
Wireline
Verizon added 126,000 new Fios Internet connections in Q4 2013 (6.1 million at year-end) as well as 92,000 new video connections (5.3 million at year-end). Wireline's total revenues for the fourth quarter stood at $9.8 billion, reflecting a y-o-y decrease of 1.5% from last year's $10.0 billion. Wireline's 2013 operating income margin is reported at 1%, which needs to see improvement. The company has announced that it expects higher margins in the Wireline business in fiscal year 2014.
Bottom line
Overall results point to the strength of Verizon's Wireless unit and momentum in the broadband business. Its increased 4G LTE network footprint positions the company to capitalize on the mobile broadband and smartphone trends, and both future earnings and margin growth will disproportionately come from Verizon's Wireless unit.
12-month trailing share performance
Like I said in the introduction, telcos are generally defensive equity investments, which suggests that their upside potential is not as great as that of other companies in the technology or energy sectors when the economy is expanding. Verizon has returned 11% over the last twelve months and has outperformed both AT&T and BCE (NYSE:BCE) by a wide margin.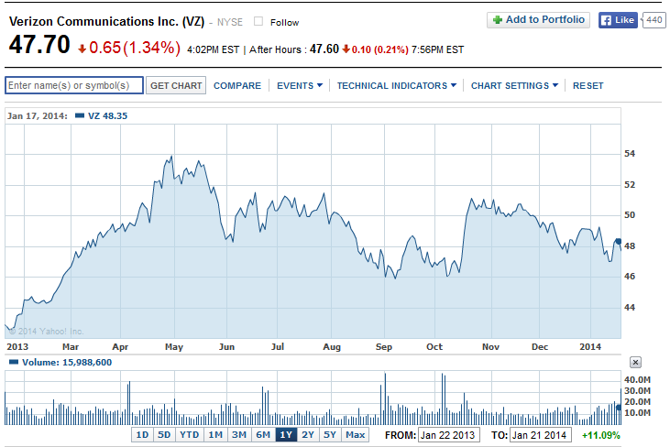 Over a five-year performance measurement period, Vodafone (NASDAQ:VOD) has the best return with 116%. Vodafone's share price kicked into gear after the company created momentum for itself by selling its Verizon Wireless stake to Verizon Communications for a whopping $130 billion. As usual in the mergers and acquisitions business, shares of the acquirer consolidated after the deal was announced. Verizon returned 67% over the last five years, while AT&T gained 29% and BCE 110%.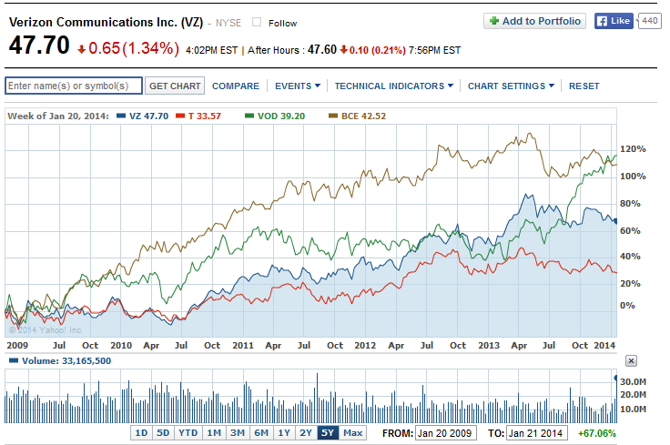 Market valuation
Verizon presently trades at just 13.59 times forward earnings, whereas BCE has a forward P/E ratio of 14.31 and AT&T of 12.54. All major telecommunication companies offer investors an initial earnings yield of between 7% and 8%, which makes them attractive additions to portfolios that accentuate free cash flow strength and as well as dividends.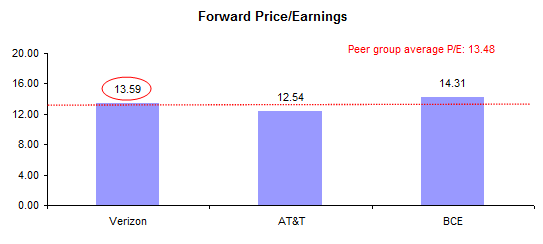 Compared to other North American, large-cap telecommunication companies, Verizon offers the lowest, yet solid, dividend yield of 4.44%. AT&T, on the other hand, fetches an annual dividend yield of nearly 5 and half percent and puts the company almost in the same league as a real estate investment trust. Similarly, BCE exhibits a dividend yield above 5% as well.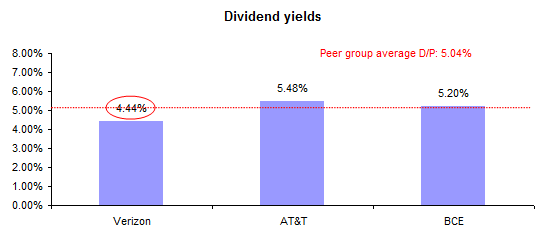 The table below summarizes the results for US and Canadian telecommunication companies. Verizon trades at a slight premium of 1% to the average forward P/E of 13/48. Verizon's dividend yield is about 12% lower than the dividend yield of the average company in the peer group.

Conclusion
Verizon presented solid y-o-y results and momentum in the Wireless unit could deliver pleasant surprises in the future. Strong revenue and retail connection growth at its Wireless unit as well as a substantially better free cash flow position make Verizon an interesting investment. Long-term investors who desire exposure to a telecommunication company and who also want to play the trend of mobile broadband might want to consider Verizon. Verizon's decent cash flow yield of 4.44% makes the telco particularly suitable for income investors who adopt a long-term mindset with respect to their investment strategy. Long-term BUY based on Verizon's savvy purchase of Vodafone's stake in Verizon Wireless, strong free cash flow growth, high dividend yield, and attractive valuation.
Disclosure: I have no positions in any stocks mentioned, and no plans to initiate any positions within the next 72 hours. I wrote this article myself, and it expresses my own opinions. I am not receiving compensation for it (other than from Seeking Alpha). I have no business relationship with any company whose stock is mentioned in this article.