After a lull of 13 years, China has lifted its ban on gaming consoles. It drafted new rules to allow companies to manufacture consoles in the new Shanghai free-trade zone. This will open up a new market for companies like Sony (SNE), Microsoft (MSFT), and Nintendo (OTCPK:NTDOY). The Chinese government imposed the ban in 2000 to prevent youth from wasting too much time on video games. Although the government lifted the ban, it imposed certain conditions on companies selling consoles in the country. The consoles should be manufactured in the free trade zone only, and will have to pass through inspection before being available in the market.
Gaming console companies are looking at this as a massive opportunity since the video game market, including PC games, in China grew by 38% to reach $13 billion in 2013. None of these companies have released an official statement as to how they will capitalize on this opportunity. However, Sony did say, "China is a promising market," but has no near-term plans on when and how it will enter this lucrative market.
Though there are opportunities, China also presents some challenges in the form of rampant piracy of consoles. Also, people have moved towards PC and mobile games and have become addicted to it due to the ban on gaming consoles. Therefore, it will be interesting to see what Sony can do to woo gamers towards PlayStation, or PS, and replicate its success in China.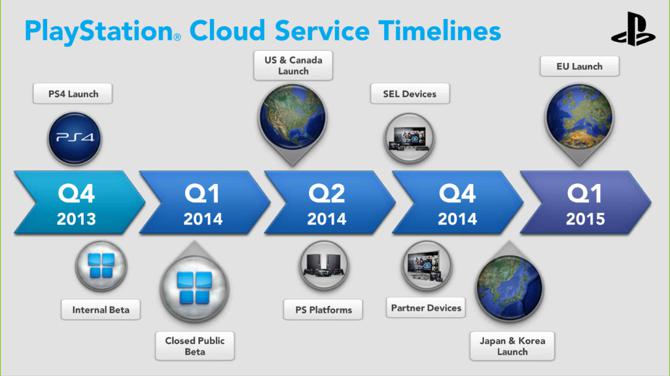 Sony had a terrific launch of its PlayStation4 worldwide. It sold 4.2 million PS4s in 2013, beating its nearest rival, Microsoft's Xbox One, which sold 3 million units. Leveraging on its successful launch, the company plans to bring more features and content to PlayStation4; it launched a new service called PlayStation Now last week. This cloud based gaming service will be launched in the U.S. in summer 2014. PlayStation Now will be supported by BRAVIA TV, which will allow users to play PS games on any Internet connected device. The company also developed a new version of the PS3 systems for its new cloud service. The new design solves most of the issues related to the PS3 and makes it compatible with the PlayStation Now service. Besides space and power problems, the new hardware intends to reduce latency issues every streaming device faces.
TV business
While the gaming segment is doing great due to the successful launch of PS4, things have been gloomy in its TV business. Sony's overall share in the TV market has been declining from 6.6% in 2011 to 2.9% in third quarter of 2013 in North America. As a result of its declining TV shipments, the company has moved its focus to Ultra High Definition, or UHD, TVs. These next generation TVs have four times better resolution than HD TVs. Sony has decided to increase its UHD TV product line-up from three in 2013 to 10 in 2014.
I think, the UHD TVs may not find traction among users in the short term, due to the high prices these TVs carry, and there is clearly limited Ultra-HD content available. Sony has been trying to expand the library of Ultra-HD content and had launched a video download service for Ultra-HD content in September last year. There were more than 140 movies and TV shows available through this service.
With the rising demand of UHD TVs, online steaming company Netflix, Inc. (NFLX) jumped on the bandwagon to provide UHD content. It is the first online streaming company to announce compatibility with Ultra-HD content, and it is working to provide video streaming for UHD TV sets in the next few months. Netflix UHD streaming will include nature documentaries and the famous 'House of Cards' second season at a standard price of $8 per month. Netflix is one of the unique companies designing UHD stream programming in the early phases of this format.
The demand of Ultra-HD TVs is expected to grow from 1.9 million units to 12.7 million units in 2014, and with the launch of UHD TVs, Sony may be able to offset the decline in TV shipments. However, the real question remains -- Is it enough to stop the declining share in overall TV market share?
While the overall TV market was in a decline in 2013, it may rebound with the adoption of Ultra-HD TV from 2014 onwards. The Ultra-HD penetration will begin in 2014 and will gain a larger audience base as soon as more streaming companies, like Netflix, start offering movies and TV shows in this format. Also, there are talks of a significant restructuring within Sony's TV and PC businesses this year, where the company will focus on cutting losses and attain a sustainable recovery.
Bottom-line
The growing range of new products and services as well as the high demand for PS4 is a bright spot for Sony. The strength of the PS4 systems continues to be impressive and should give investors confidence for the long-term prospects. However, Sony's failure to adjust its business strategy in the current business climate has led to deteriorating PC and TV businesses, resulting in losses. The reduced forecast for fiscal year 2014 from revenue of $76.65 to $74.71 billion and net income from $490 million to $290 million also points to the same direction. I think a major restructuring will allow Sony to channel resources to grow businesses and support its core areas of growth, like the PS4 business and opportunities in the UHD TV market in 2014.
Disclosure: I have no positions in any stocks mentioned, and no plans to initiate any positions within the next 72 hours.
Business relationship disclosure: Fusion Research is a team of equity analysts. This article was written by Rohit Gupta, one of our research analysts. We did not receive compensation for this article (other than from Seeking Alpha), and we have no business relationship with any company whose stock is mentioned in this article