Spectra Energy (NYSE:SE) is a diversified natural gas utility with plenty of catalysts for growth of earnings and dividends. The catalysts will originate across the natural gas industry, but are anchored its regulated utility, Union Gas, and ownership of two publicly traded master limited partnerships, Spectra Energy Partners (NYSE:SEP) and DCP Midstream (NYSE:DPM). With a market capitalization of $23 billion and an Enterprise Value of a bit more than $40 billion, an investment in large-cap SE offers exposure to both regulated natural gas assets and major natural gas infrastructure.
SE recently restructured into four distinct operating units. The gas utility is categorized as the Distribution operating segment and consists of subsidiary Union Gas Corp. Union Gas is a regulated natural gas utility serving Ontario and represents 33% of overall 2012 revenue, 18% of overall 2012 net earnings and 16% of overall Sept 2013 assets. For the first nine months of 2013, Union Gas contributed 23% of SE's EBITD. Union Gas has assets in natural gas storage, pipelines and residential/commercial/industrial gas distribution. While customer count increased by 20,000 for the first 9 month of 2013, growth is in line with peers at an average pace of 1.5%. Below is the service area for Union Gas.
Service area Union Gas: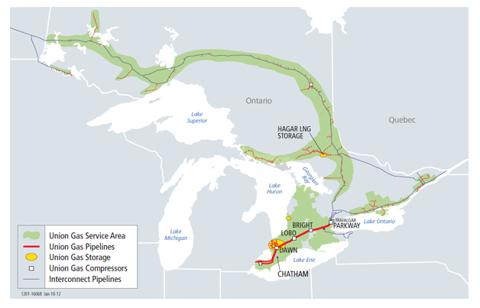 The service area incorporates 1.3 million customers. The Ontario Energy Board OEB regulates Union Gas and last October approved a 5-yr rate plan effective Jan 1, 2014. The OEB allowed margins include no profit on the sale of natural gas, as this cost is a direct pass-through to the customers, and an annual distribution rate escalator of 60% of the inflation rate.
For the first nine months of 2013, Union Gas generated about the same income as in 2012. Lower revenues from short-term pipeline contracts and lower storage prices offset customer rate increases. Like many diversified utilities, Union Gas provides steady regulated income for the parent company and is an anchor for operating cash flows.
The catalysts for above average growth lie in the other three operating segments, in addition to the continuing evolution of its corporate structure.
Below is a graphic outlining the operating segments of SE, from the most recent investor's presentation and appendix: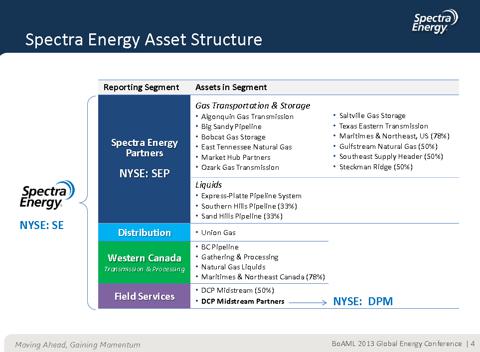 In addition to Distribution/Union Gas, SE operates a transmission and processing business in western Canada, and owns substantial interest in publicly traded Spectra Energy Partners and DCP Midstream. As of Sept. 2013, Transportation and Storage assets comprised 42% of total company assets, Western Canada 19%, Liquids 7%, and Field Service 4%, respectively.
Over the past year, SE has dropped-down assets into the MLP SEP while retaining an 82% interest though ownership of partnership units and being the designated General Partner of the partnership. In 2013, SE purchased the oil pipeline Express-Platte and then sold it to SEP. As of last November, SE completed the drop-down of both the Express-Platte pipeline and all assets of the operating segment formally known as the US Transmission business. SE received $2.7 billion in cash, 178 million newly issued SEP units, and SEP assumed $2.4 billion of SE debt. Based on a market cap of $5.1 billion, SE's 82% interest plus its 2% GP interest equals about $4.2 billion.
Categorized as Field Services operating segment is SE's 50% interest in a joint venture with Phillips 66 (NYSE:PSX) The joint venture is known as DCP Midstream (DPM) and is a publicly traded MLP structure. DPM is the largest natural gas liquids player in the midstream industry. SE's 50% interest would have a market capitalization of around $2.6 billion.
The last operating segment is Western Canada. These assets include gas processing and pipelines from northern British Columbia and northern Alberta gas fields to the US/Canadian border near Seattle.
Below is a graphic of these assets: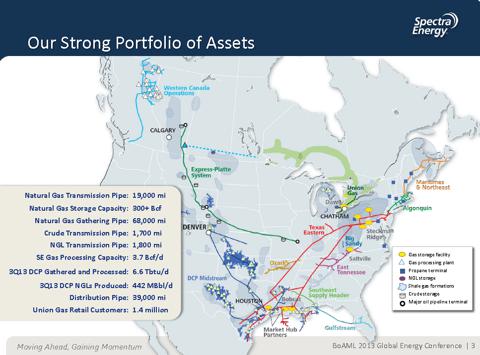 Based on the geography of these assets, the company's potential should be rather obvious. SE is anticipating spending almost $2.5 billion a year over the next decade expanding its fee-based footprint in these areas. Plant and equipment assets will double when this investment program concludes. Below is a graphic of these capital expenditures, by operating segment. About half the expected investment will be in businesses currently falling under the MLP Spectra Energy Partners.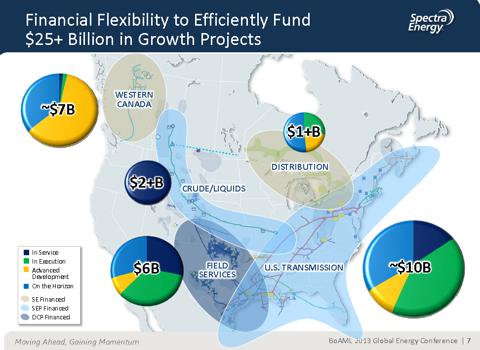 These investments will increase exposure to several growth platforms:
Marcellus Shale - Currently, SEP has major pipeline and storage assets that are in the fairway of the Marcellus. In addition, SEP operates the Algonquin and the Maritimes and Northeast pipelines that will connect the growing Marcellus production to the gas-starved northeast.
Eagle Ford, Permian, and Mid-Continent - DCM is in the process of building out new gas processing and NGL infrastructure to support surging natural gas liquids production.
Montney and Horn River - The Western Canada segment of SE operates processing and pipeline assets from these fields to Vancouver, BC. As LNG terminal development progresses along the western coast of Canada, SE will become the preferred provider of pipeline services from these fields to the new LNG export terminals.
LNG Export Terminals - As LNG facilities move ahead along the Canadian west coast, the Gulf Coast and in the Northeast, SE will expand its processing and pipeline assets to service these projects.
General Partner SEP - As the General Partner and a large unit holder of SEP, SE will generate substantial income from both general partner fees and from distributions from SEP. Distributions are expected to increase for $2.02 per unit in 2013 to $2.42 per unit in 2015. The General Partner fees are expected to grow from $40 million in 2013 to over $225 million in 2015. These two sources of income could equal over $800 million in 2015 or about $1.20 per SE share.
General Partner DPM - SE and PSX act as the general partners of the DCP Midstream Partners MLP. In 2013, DPM paid the general partners about $53 million in fees. Based on the growth of DPM asset, these fees are expected to increase to about $200 million in 2015.
SE management believes the assets as outlined above will produce 10% growth in earnings and dividends. At 12 times anticipated EBITDA and operational cash flow, share prices could climb from their current $35 to $42 - $49. In addition, with a current yield of 3.8% and the potential for a 10% dividend growth rate, SE could be considered a core energy holding for dividend growth investors.
SE is a major natural gas infrastructure company. It transports about 12% of US natural gas consumption and offers about 7% of the total US gas storage capacity. Nearly half of the company's earnings stem from stable, long-term contracts for firm capacity across this system.
SE has transformed itself into a regulated utility, a MLP General Partner, a MLP investor, and a natural gas infrastructure company. For investors looking for exposure to a gas utility, and a natural gas infrastructure company without the tax implications of a MLP structure's K-1 reporting requirements, should seriously review Spectra Energy. It is recommended that all current and potential investors review both the latest investor presentation linked above along with the more in-depth appendix found here.
Disclosure: I am long SE, DPM. I wrote this article myself, and it expresses my own opinions. I am not receiving compensation for it (other than from Seeking Alpha). I have no business relationship with any company whose stock is mentioned in this article.