Most of my readers know that I consider Realty Income (NYSE:O) to be the "crown jewel" of REIT-dom. Not so much because I have deep roots in the "free-standing" asset sub-sector, but more so because I believe the Escondido-based REIT has one of the very best risk management models in the world.
Before you throw darts at me, I want to remind you that there is a big difference between risk management and property management. It's true that free-standing properties generally require very little property management - they shouldn't since the landlord is not responsible for the 3 Ts: taxes, tenants, or toilets.
I am referring to risk management or in simple terms, intelligently bearing risk for profit. There's a lot that goes into the role of risk management and many have written extensive articles and even books on that subject. I like how Howard Marks (in his book, The Most Important Thing) defines it:
Great investing requires both generating returns and controlling risk. And recognizing risk is an absolute prerequisite for controlling it.
I love pictures and charts and as you know, I often use FAST Graphs to illustrate the success (or failure) of a company's risk management platform. One of the essential attributes for risk control is to grow and maintain a consistent record of earnings (of Funds from Operations) performance and Realty Income's history is a classic lesson in risk control.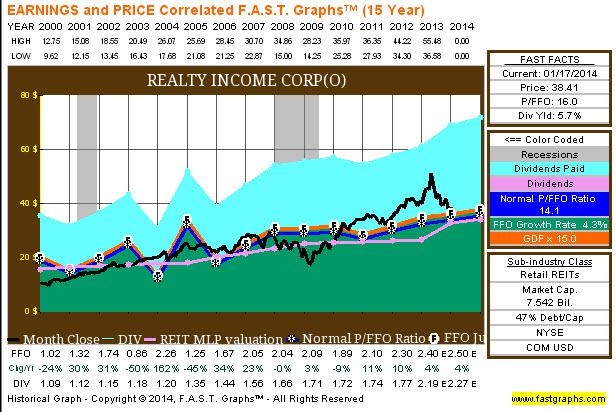 What REIT is the Next Dividend Machine?
With a record of almost 20 years in a row of annual dividend increases Realty Income has become a legendary model of dividend repeatability. Tom Lewis, the former CEO, was instrumental in building the evolutionary platform and the message of the brand is summed in the company's magical mantra: "The Monthly Dividend Company®."
Some of the mysteries in the world always revolve around the next "king of the mountain." We all know that LeBron has become the next M.J. (Michael Jordan) and Peyton Manning has become the next Roger Staubach. So who will be the next "monthly dividend machine"?
On a recent earnings call, STAG Industrial's (NYSE:STAG) CFO, Gregory Sullivan, gave us some clues:
There are a couple of drivers one is that we mentioned this I think in our last call perhaps so we've been 'building' out the machine.
Bingo. STAG may be the next dividend machine. I have been following the Boston-based REIT since the IPO in November 2011 and since that time the company has built an impressive record of performance - up over 143% in 26 months.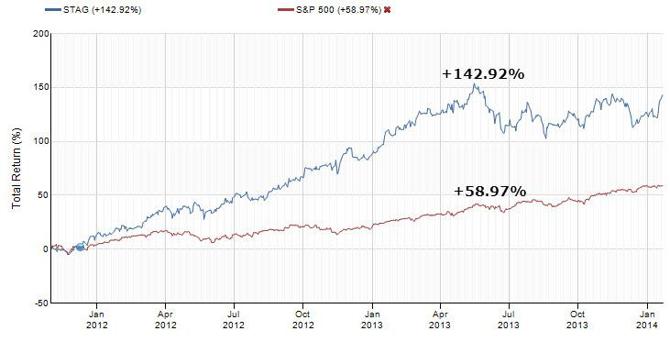 Even recently, STAG has been the leader in the broader free-standing sector with a 30-day Total Return of 11.75%.

It's now time to check the stats and determine whether or not STAG has the skills to keep putting points on the board. More importantly, can STAG be the next dividend machine?
The STAG Brand
STAG Industrial was formerly known as STAG Capital Partners, and the predecessor company has been around since 2004. STAG Industrial closed on its IPO in April 2011 when it generated around $205 million (in gross proceeds). The offering included 13,750,000 shares of common stock priced at $13 per share. The STAG acronym stands for "Single Tenant Acquisition Group."

Since the IPO STAG has grown by over 140% in assets or around $1.2 billion in total assets today (as of Q3-13). STAG's total capitalization is around $1.57 billion and the company's market capitalization is just under $1 billion (as of Q3-13).

STAG's differentiated single tenant net lease thesis is rooted around its attractive current and total returns that offer less historic volatility than other sectors. Because of STAG's Class B (secondary markets) Industrial investment rationale the company enjoys low capital expenditures and lower tenant improvement costs (relative to other property types).
Also, STAG's Class B tenants tend to stay longer since moving costs and business interruption costs are expensive relative to relocating a "critical function" facility. Consequently, these stable occupancy metrics make STAG less volatile with more predictable cash flow generators.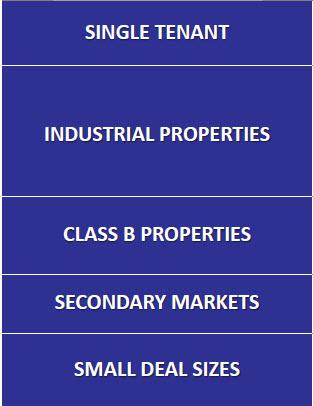 STAG also benefits from more stable occupancy rates than the primary markets, and because of the smaller deal sizes, STAG has limited competition. Most of STAG's competitors are poorly capitalized local buyers with limited competition from larger investors (or REITs).
On a year-over-year basis, the square footage of STAG's properties increased by around 50%. At the end of the third quarter of 2013, the company owned 201 industrial buildings totaling 35.5 million square feet, a significant increase from 121 buildings owned at the end of the second quarter of 2012. During the third quarter the company acquired six buildings. The 1.9 million square feet acquired represented approximately a 5.8% increase in the square footage of the company's real estate assets over the previous quarter.
Given the relatively small size of the platform, STAG is able to "move the needle" much quicker than the larger counterparts like Prologis (NYSE:PLD), Realty Income, or American Realty Capital Properties (ARCP).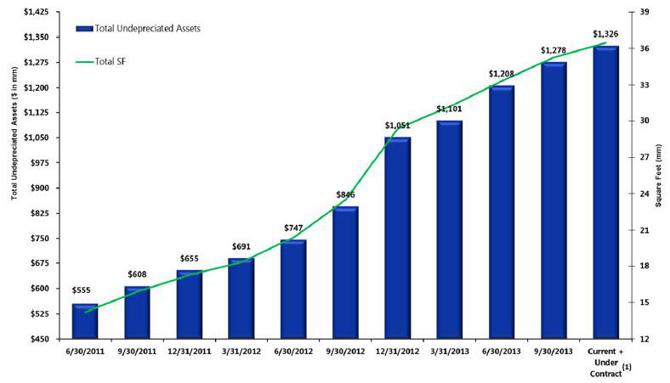 Compared with the Industrial peers, STAG has acquired more assets than most. Over the previous two years STAG has acquired over $800 million in assets.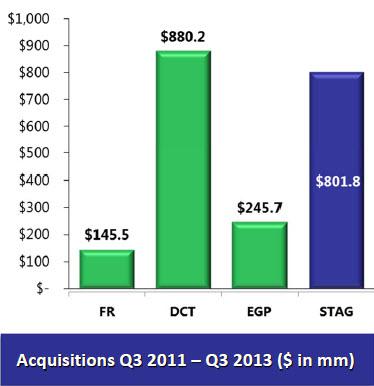 Since June 2011 STAG has increased total assets by over 144%.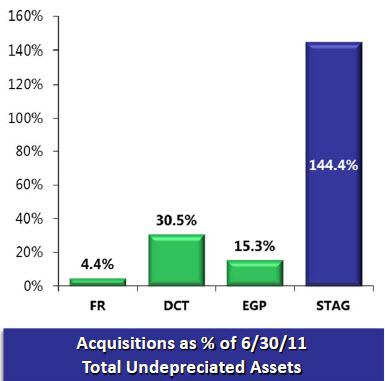 While many of STAG's peers are competing in the same pool, STAG harvests its assets in a smaller pond where spreads are wider. The company's average building size is 176,000 square feet with an average lease term of 5 years.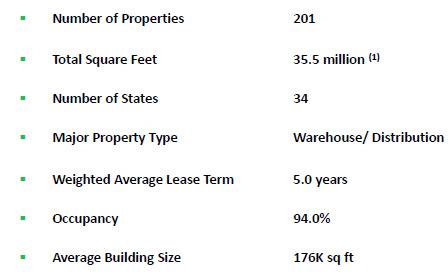 STAG is Building Out a Diversified Platform
As part of STAG's improved diversification strategy, the company has continued to expand into new markets as evidenced by the snapshot below (total annualized rent by building geography):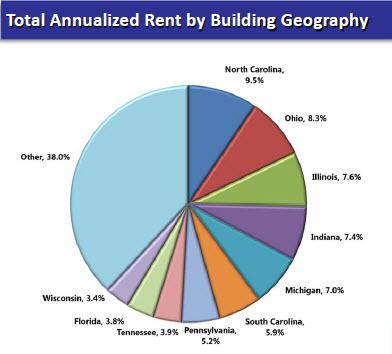 STAG has also begun to expand west of the Mississippi. During the second quarter (2013) earnings call, STAG's CEO, Ben Butcher, explains his company's investment strategy:
We are agnostic as to markets. So we don't follow some macro prognosticators determination of the best markets to be in and then rush out to try and buy an asset in one of those markets - likely too much competition. We're really looking for the best deals on a fully considered and underwritten basis for our shareholders. So we're spread out across the map based on where we find the opportunities.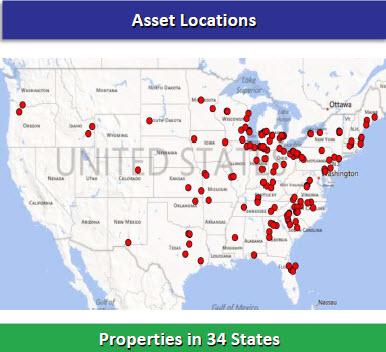 STAG has also performed like a "well diversified virtual industrial park" (source: Investor presentation) as evidenced by the increased diversification in STAG's tenant industry makeup: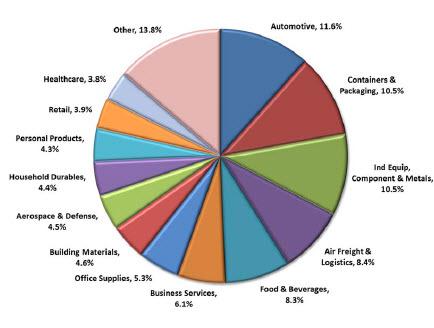 In the third quarter International Paper (NYSE:IP) moved down from STAG's number one tenant to the number two position. Solo Cup Company is now STAG's largest tenant representing 3% of total revenue. All of STAG's other top tenants represent less than 3% of total revenue.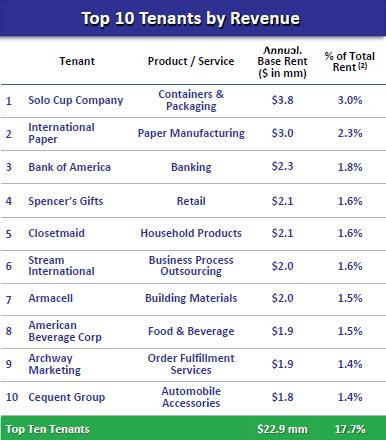 STAG Moving Up the Credit Curve
As noted above, Realty Income has built its stalwart reputation on its fortress-like balance sheet. Although STAG does not have the "blue chip" credentials of Realty Income, the smaller "wanna be" is moving in the right direction.
In June (2013) Fitch Ratings assigned an initial credit rating for STAG of BBB- to the company. Also, the rating agency rated the company's $139 million preferred stock at BB. Fitch's rating takes into account STAG's low leverage, strong fixed-charge coverage, strong liquidity and sizable unencumbered asset pool. Here is a snapshot of STAG's secured debt compared with the broader peer group: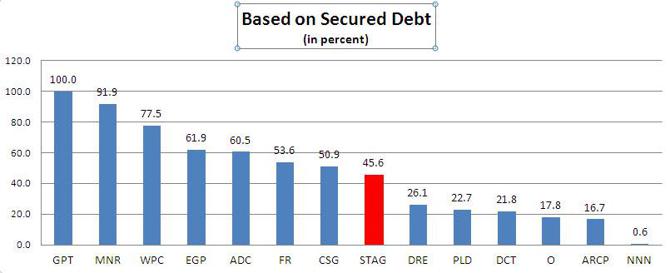 Given STAG's extremely strong credit statistics facilitated by the new investment grade rating, the company's financing strategies continue to emphasize unsecured financings while maintaining credit metrics consistent with investment grade rating and the financial flexibility allows the company to continue to grow.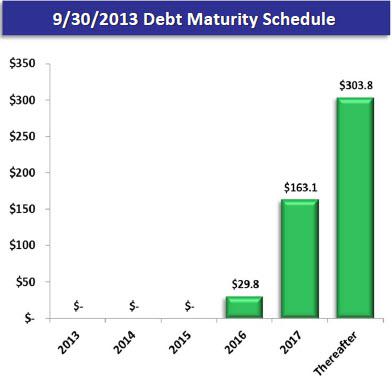 Other debt ratios are strong including fixed charge ratio of 2.8x, floating debt of 14%, and debt to assets of 41%.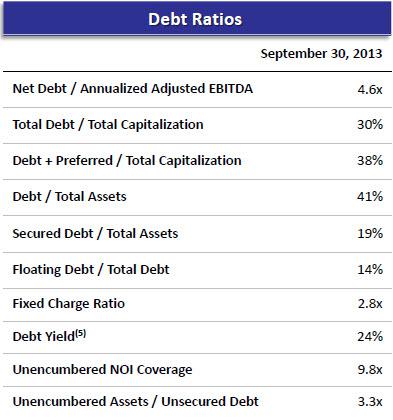 STAG also has manageable debt maturities (none until 2016):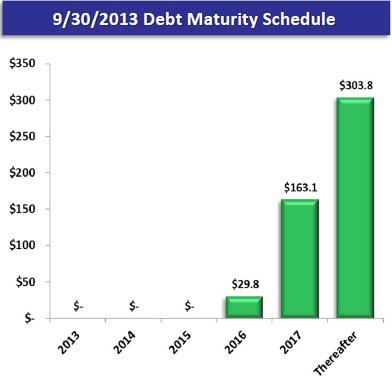 Here is a snapshot of STAG's Total Capitalization that consists of $1.025 billion in equity, $227 million in mortgage debt, $250 million in unsecured loans, and $139 million in preferred (Series A).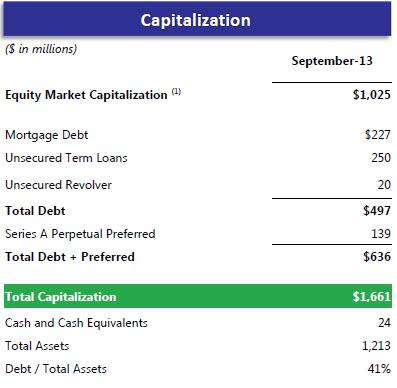 Risk Control Means Sustainable Occupancy
Realty Income's occupancy has NEVER dropped below 96%; that is since the company commenced over 44 years ago (public for 19 years). Obviously that means that the "Big O" has been highly successful at not only buying good assets but also keeping them occupied.
Maintaining income is just as important as growing it and since STAG has begun to build a track record of tenant retention. As noted above, STAG's average lease term is 5 years, and the company has maintained low near-term rollover and high tenant retention. 21% of STAG's tenant rollover is through 2015 as compared to the peer average rollover of around 36% (over the same period).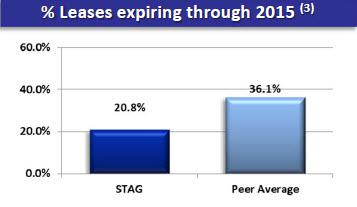 STAG's third quarter year-to-date tenant retention rate was 61% and the company signed 800,000 square feet of new leases during the third quarter. The current occupancy rate is 94% and the lease rollover schedule appears favorable.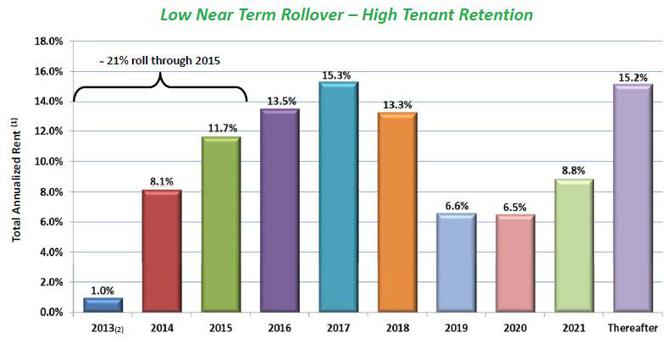 Is STAG the Next Dividend Machine?
In the third quarter (2013) STAG's Core FFO (Funds from Operations) increased by 60% over the third quarter of 2012. Also Core FFO per share significantly increased by 21% over Q3 of 2012, while maintaining low 30% leverage.
STAG's AFFO (Adjusted Funds from Operations) for the quarter increased 60% over the third quarter of 2012. This is important since it reflects the low CapEx nature of the portfolio. Because of the single tenant focus of the business, STAG's leasing and CapEx cost continues to be quite modest.
During the third quarter STAG approved and moved payment of the dividend on a monthly from a quarterly basis. Ben Butcher, CEO of STAG, explains:
We see this move to put the funds in the hands of our shareholders sooner, as consistent with our focus on providing predictable cash flows and durable dividends.
STAG has begun to look a lot like Realty Income, not only by paying monthly, but also increasing frequently. Around a month ago STAG announced that it had approved a 5% increase in the Company's annual common stock dividend from the current annual rate of $1.20 per share to $1.26 per share.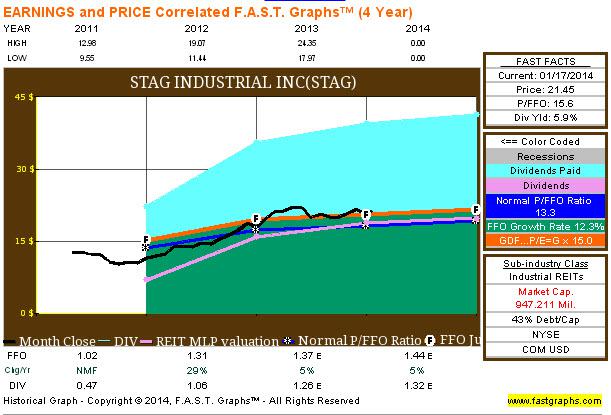 STAG's current dividend yield is 5.74%, seemingly attractive when compared with the overall peer group: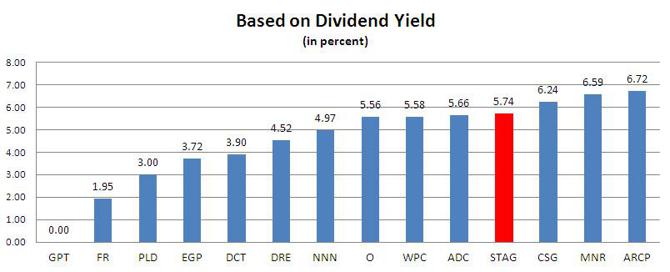 STAG's third quarter AFFO payout ratio was 86% and the existing portfolio has been able to generate a dividend yield that is roughly twice the average REIT dividend, which STAG can continue even if it didn't buy another asset.
In terms of guidance, STAG's only guidance for 2014 is that it expects to grow assets by another 25% next year, typically financed at 40% leverage. That should "move the needle" nicely and I won't have any problems sleeping well at night.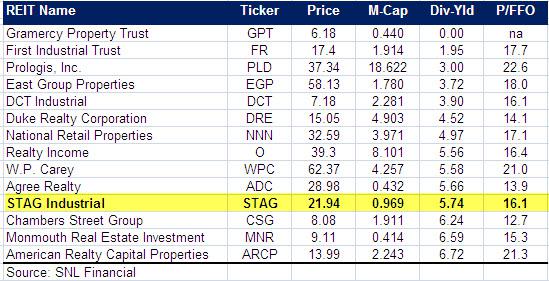 STAG is trading at $21.94, a tad above my BUY target of $21.00. If you are a newsletter subscriber you will see STAG in my SALSA portfolio and I am pushing hard to get to a full concentration now. The company's fourth quarter earnings will be released on February 13th. STAG's Price to Funds from Operations (P/FFO) multiple is reasonable (fairly valued) at 16.1x.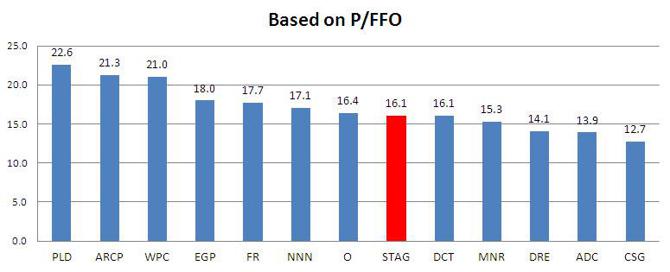 In closing, we can definitely see STAG's progress in becoming a dividend machine. Rome was not built in a day and neither was "The Monthly Dividend Company." However, it's clear to see the progress being made at STAG and I believe the company's management team has been working tirelessly to build a differentiated brand of dividend repeatability.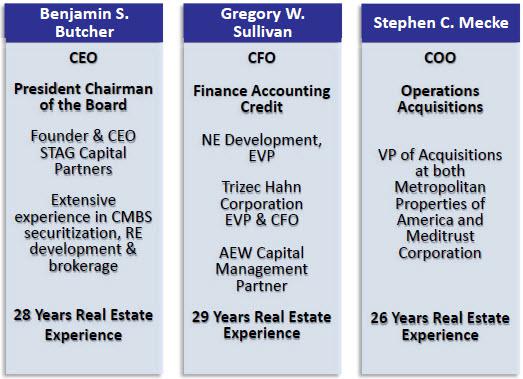 Lasting differentiation is the essence of investing strategy and it is quite clear that Realty Income has earned an incredible reputation on not just paying out monthly dividends but also by performing a valuable task built in a manner that serves its customers better and more profitably. The dividend machine is built on the strongest sources of differentiation and that is why this REIT is considered (by me) to be the crown jewel - nobody does it better (at least for now).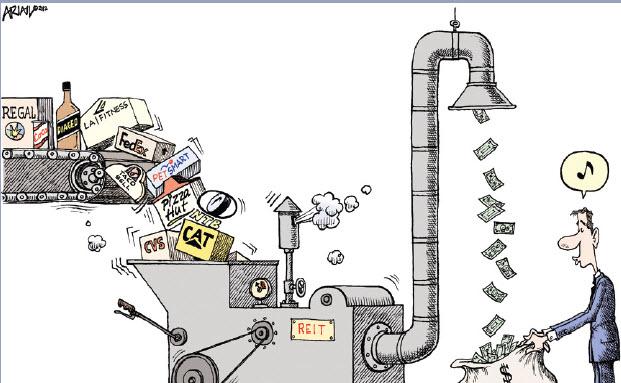 Check out my REIT newsletter - iREIT Investor - the source for intelligent REIT investing.
Source: FAST Graphs, SNL Financial, STAG Investor Presentation.
REITs mentioned: (NYSE:FR), (NYSE:EGP), (NYSE:DCT), (NYSE:DRE), (NYSE:WPC), (NYSE:NNN), (NYSE:MNR), (NYSE:CSG), (NYSE:ADC), and (NYSE:GPT).
Disclaimer: This article is intended to provide information to interested parties. As I have no knowledge of individual investor circumstances, goals, and/or portfolio concentration or diversification, readers are expected to complete their own due diligence before purchasing any stocks mentioned or recommended.
Disclosure: I am long O, DLR, VTR, HTA, STAG, UMH, CSG, GPT, ARCP, ROIC, MPW, HCN, OHI, LXP, KIM. I wrote this article myself, and it expresses my own opinions. I am not receiving compensation for it (other than from Seeking Alpha). I have no business relationship with any company whose stock is mentioned in this article.