It's kind of interesting that Research in Motion changed their name to BlackBerry (NASDAQ:BBRY), and not much has gone right since and certainly not for the "BlackBerry" brand. We would not be surprised to see them change the name again, and spin off a few divisions to focus on their Mobile Device Management and enterprise business. There is quite a bit under the hood, so our opinion is these shares will be moving higher in 2014 and lots of value can be unlocked with some moves to monetize the Messaging business, the Patent portfolio, and the QNX division for Automotive software applications.
First, the metrics:
524 million shares; $4.75 Billion market cap
$3.45 Billion of that market cap is in cash or $6.50 per share in cash roughly on a $9.10 stock, according to FinViz.com
This means the market is valuing the entire enterprise at only about $1.3 Billion or $2.64 per outstanding share for the business
Management owns 15%, Institutions 60%, and shorts are at 20%. That leaves not much in the real trading float, does it? 5% we figure, or 25 million shares of real trading float right now. Shorts are starting to cover because they were over 30% just 60 days ago. But if they have 110 million roughly shares shorted going into January 2014, that's a lot of demand to push the stock up right?
So why would the handset maker (formerly known as Research in Motion, the erstwhile Canadian behemoth who amusingly changed their name to BlackBerry as the market had already shifted consumers away from their phones)... suddenly turn around?
A few reasons: 4 Main ingredients for a big move up this year
1. A new CEO who may be one of the best in North America. In fact, he just bought 25,000 shares last week at $8.25 per share in the open market.
2. A change in business model towards Enterprise Software/Security etc... a massive market in which they already have huge inroads. The various divisions and patent portfolio seem very under real market value as they are buried in the company (spin-offs ahead??)
3. Skepticism by the investing public, and lots of shorts...
4. The Chart pattern
The best stocks have always come only after massive skepticism. Amazon (NASDAQ:AMZN), Netflix (NASDAQ:NFLX), Priceline (NASDAQ:PCLN), Google (NASDAQ:GOOG), and the list goes on. Skepticism is crucial for a stock to drive higher as eventually those same people convert and begin driving demand for shares up. Do most analysts hate BBRY? Yep. Do most investors want to buy it? Nope... Check the box for Skepticism.
New CEO:
John Chen is the former CEO of Sybase. If you may recall, Sybase was nearly bankrupt or close, pretty much left for dead in their industry. They were turned around though by Mr. Chen. His track record shows 55 consecutive quarters in a row of profitability and then they sold out to software giant SAP for $5.2 Billion. He is slowly changing the business model for BBRY. He took over only 2 months ago as CEO. Chen has already begun making big management changes. Three weeks after his Nov. 4 start date, BlackBerry's marketing, finance, and operations chiefs left the company. In early November, Chen appointed former SAP executives as BlackBerry's new heads of enterprise services, corporate strategy, and marketing. (Sounds like ALQA bringing on former Bristol Myers and Celgene people the CEO worked with).
Business Model: 4 Divisions - Handsets; BES10 (mobile device mgmt); QNX (Auto Infotainment); BBN
After years of losing market share to Apple and Google Inc.'s Android, the company is trying to make a comeback by zeroing in on business customers. They offloaded their phone manufacturing to FoxConn for a 5-year contract. This will lower the costs and allow them to focus on what they can do profitably.
They wrote down over $4 billion in assets as well (Called throwing in the kitchen sink into a bad quarter).
BES10- Mobile Device Management/Software
The company is transforming into an Enterprise Software Business. Mobile Device management is the hot sector now and private companies with less than 1/6th the customer footprint of BBRY are getting $1 billion valuations before even being public! The other interesting security-based fact is BBRY is the only company authorized by the US government to operate on US Department of Defense networks. This includes 7 other G7 Governments around the world. When security is becoming more and more important on mobile devices, this is a big leg-up for BBRY. The company calls this division BES10, and this is where analysts are probably not sure how to value the stock, hence the possible surprise going forward.
QNX- Auto Infotainment
This area is a fast-growth area for Auto Manufacturers as the dashboard becomes a computerized center console for entertainment, phones, internet, automated cooling and heating systems, satellite radio, and more. I can attest because I drive a 2014 BMW 535xi and it's so full of amazing technology inside the car that I only use maybe 1/3rd of the capability. QNX is considered the leader in this space, they could spin this division out alone and get a large valuation for it, in our opinion. Chen believes this is the "Crown Jewel" of BBRY. Making sure all of these inter-changing parts work together is crucial for auto manufacturers, and QNX is the clear leader.
BBM- The original instant messaging Business:
John Chen Conference Call Quote:
"Also, the other thing is, I'm really excited about the potential selling or offering more different features on the BES10. So I'm really looking at BES10 as a base server, and there will be other options that I will take into the market. For example, just for one, enterprise BBM, for the regulated industry, it's a really, really strong offering, from a compliance, audit, and privacy, secure environment. And you guys know a lot about our messaging system. I think that's also an addition to the BES10 that we'll differentiate ourselves against other competitors who have just the basic, vanilla MDM, for example."
This segment of the business has 80 million users and growing, though WhatsApp has 400 million and Snapchat more as well. We can see a potential big upside here as another division or spin-off.
Patents:
1334 patents alone in 2013 approved, and nobody is sure what the portfolio is worth, but $1-$3 billion has been thrown around. To be sure, the company could figure out how to monetize this asset.
So what we have here is a sum-of-parts company that is going to figure out how to make the whole worth a lot more. Right now, the Whole is seemingly worth less than the sum of parts. Chen has to figure out how to best monetize each division value and for shareholders get it recognized. That is the hard part.
Our technical views, for what it's worth, are below.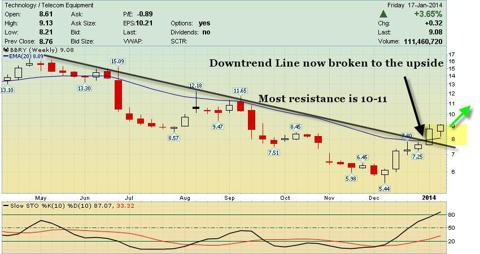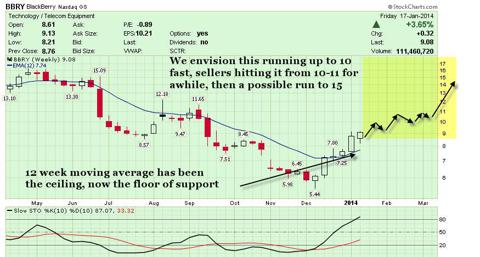 Disclosure: I am long BBRY. I wrote this article myself, and it expresses my own opinions. I am not receiving compensation for it. I have no business relationship with any company whose stock is mentioned in this article.