The "Kiss of Death" is a 1995 film with Nick Cage that is as perplexing as is the Kohl's Company's (NYSE:KSS) failure to grow its share-holders' value.
A Kohl's investor should attempt to discover the cause of its long-term regression. There are many appealing investment opportunities with both web-based and traditional retailers. Now is a favorable time to make a decision.
Kohl's sales and profits had rapidly grown from its public offering in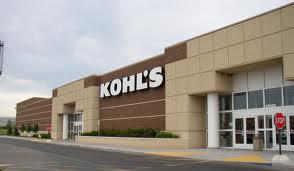 1992, when its adjusted stock price was $1.62 per share, until May 2002, when it peaked at $77.75. Since then its price has fluctuated, up and downward, and closed at a new peak of $58.06 on November 6, 2013. It settled to a close of $52.59 on Jan 21, 2014. In 2011, Kohl's began to pay a quarterly dividend of 25 cents. It recently began re-purchasing its stock to maintain share price. Since May 2002, investing in Kohl's has not been productive.
Kohl's maintains a below-average profit margin compared to other department stores, 36.25% (2012). This is lower than Macy's (NYSE:M) 40.3% (2012), Nordstrom (NYSE:JWN) 38.8% (2012) and greater than Dillard's Inc. (NYSE:DDS) 35.5% (2012). Kohl's is the twentieth largest retailer in the US, the second largest department store chain by volume, and first by number of stores, 1157. It has done a marvelous job of building stores, but not increasing stock-holder value. Its record of sales and gross margin shows deficiencies in its financial results that indicate why value has not increased.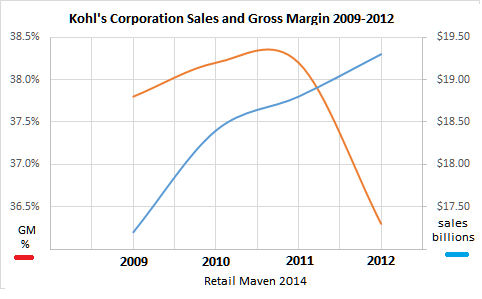 Page 30 of a recent Kohl's flyer features a $29.99 George Foreman Grill. The identical item is offered for $24.95 at Macy's. After a 20% Kohl's coupon is applied, Kohl's net price is one dollar less than Macy's. Its flyer displays other items whose prices are readily compared.
Its Ninja Pro Ultima blender was offered at $279.99, while Bed Bath and Beyond (NASDAQ:BBBY) offers apparently the same item for $259.99. Using widely available coupons, the BBBY customer will pay $16 less.
These are not exciting savings. A diligent shopper probably could discover even better prices at the competition. Home items are not the best example to predict Kohl's future since they represent only 18% of its sales, and they are often used as a loss leader to obtain store traffic. They are included because prices of Kohl's large quantity (50.2% in 2012) of private and exclusive brand name items, along with many items of apparel, are impossible to compare. Kohl's must compete on factors other than price to thrive.
Kohl's large volume apportionment of private brand merchandise should be a benefit to the bottom line of its income statement. Merchandise whose price cannot be compared generally bears high margins, but Kohl's margins declined in 2012. This anomaly is difficult to assess. It may have something to do with Kohl's aggressive use of discount coupons. This assessment is not because coupons reduce gross margin when used to purchase, but for a more subtle and complex reason:
I make an important distinction between the terms "Coupons" and "Discounts." A "Coupon" is a document that allows a customer to receive a price rebate after purchasing an item. A "Discount" is a price reduction.
Coupons are best used on home items because there is a tradition of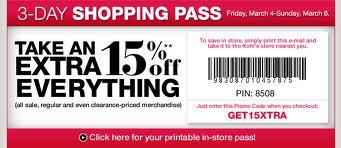 manufacturer's rebates applied to kitchen maintenance and home utility merchandise. Coupons are not best used with fashion items because the customers feel a loss of their purchase value when buying a high profile item using a coupon. A single large discount when applied to a fashion item tells the customer, "I'm really what you want. The store has specially chosen you to receive a discount because you deserve me." The customer feels special.
If one carefully evaluates coupon usage, one discovers that coupons are utilized at almost all department stores. Coupons used at stores like Macy's have many more items excluded from the choice of desirable merchandise than does Kohl's.
Withholding of discounts, which first appears to be an impediment to improving a store's sales and profit, becomes an advantage. In this case, because use of a coupon cheapens the high-quality merchandise in the customer's mind. Removing the coupon's usage strengthens the customer's resolve to buy. One should examine the wish of a young bride who wants her engagement ring purchased at an elegant store like Cartier or Tiffany, both high margin retailers, and you will understand. The higher the price, the more desirable the purchase.
It is inconceivable that a coupon be used in such an instance.
A quality brand name and exclusive high fashion merchandise, when offered with a coupon discount, don't sell rapidly. The store must supply further large discounts to sell out its inventory. Usually this is a larger discount than they could have offered in the first place.
In addition to Kohl's lack of understanding in the use of proper selling methods as outlined above, Kohl's uses the same promotional strategy today as it has done for many years. Customers may be tired of this. They want new and exciting innovations at their retailer.
Another cause for Kohl's low margin and reduced sales is Kohl's decreasing number of store personnel, which brings lower quality customer service.
Kohl's tells in its annual report:
An important aspect of our pricing strategy and overall profitability is a culture focused on maintaining a low-cost structure. Critical elements of this low-cost structure are our unique store format, lean staffing levels.
Three quarters of Kohl's employees are part-time. Lean staffing and a large number of part-time employees does not promote high quality customer service.
The above factors are in good part responsible for Kohl's sub-standard margin and only slowly increasing sales. A small percentage such as a 3% gain in margin at Kohl's would be a cause for an increase of $600 million in profit. This would be a 51% increase for the year 2012. Imagine the increase in Kohl's stock price if this event occurred.
Kohl's has been careful with management of expenses, except for advertising where its cost is 5.2% of sales (2012). Macy's advertising cost is almost a percentage point lower at 4.3%. This difference indicates that Kohl's spends its advertising dollars inefficiently, as shown by Macy's higher margin and higher total sales per store.
Kohl's is aging and needs change. Kohl's renovated 100 stores during 2011. This is beneficial to its business, but does not gain it full advantage of its expenditure because its retains the racetrack-styled aisles where customers travel in concentric circles. These are outdated and are generally believed to slow down sales. Customers need a periodic change in order to believe that their favorite store is part of the modern world.
A California judge just reinstated a lawsuit alleging, that Kohl's misrepresented list (non-sale) prices to inflate the appearance of markdowns on items. A jury will now decide whether that case proceeds. The outcome of this action is not very important because the retail public knows little about such matters. The significant aspect of being accused of such activity is that it represents management's lack of awareness of what is occurring in its industry.
This is further evidence that Kohl's management is looking in the wrong direction for increased profits. On the positive side is Kohl's smooth entry into E-commerce. Though I believe that traditional retailers will walk a slow path to the Internet, here lies a small window for Kohl's to shine.
The Future
The problems that have afflicted J.C. Penney (NYSE:JCP) and Sears (NASDAQ:SHLD) have placed a great deal of business volume up for grabs. Kohl's will certainly be a recipient of some of this new business. This will act as a buffer to keep Kohl's sales elevated. It should slow the large decline that we have seen for the last 3 years.
When the market finally stabilizes, Kohl's will be attacked from all sides: Bed Bath and Beyond is a stronger supplier of home goods, Macy's is a more important store for fashion, Marshalls and T.J.Maxx will undercut them in price, and Dillard's will supply better service and higher quality merchandise. This competition will eventually act as a restraint to Kohl's growth.
The trend at Kohl's has been to grow in size but not in concept. Its position in the retail scene is too strong to disable it financially, but it is difficult to see how it will outshine its peers because there is no evidence that it is changing operating methods to keep up with new business practices.
My direction in the retail investment sector is toward medium-sized, web-based companies that have a long track and profit record, or toward organizations that have a view of the market place that strays from tradition, such as TJX Companies.
The chart shown below shows how Kohl's has fared against its peers.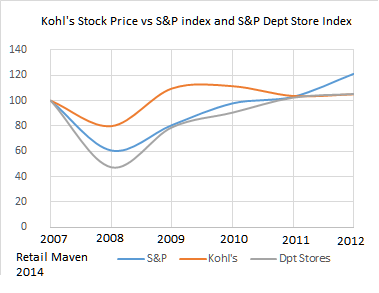 Disclosure: I have no positions in any stocks mentioned, and no plans to initiate any positions within the next 72 hours. I wrote this article myself, and it expresses my own opinions. I am not receiving compensation for it (other than from Seeking Alpha). I have no business relationship with any company whose stock is mentioned in this article.